Every prospect has a different path to the NHL. Recent top picks Auston Matthews and Patrik Laine are expected to step into their respective lineups this fall and make an impact, but not every NHL draft pick can step into the top league in the world and succeed at such a young age. Many great players could be considered "late bloomers", players who weren't highly regarded throughout their younger days but emerged as NHL stars later in their careers. In fact, the average age of an NHL rookie is a shade over 22 years of age, showing that players able to hit their stride in the NHL as teenagers are more outliers than the norm.
Most players spend years developing in other leagues to prepare themselves for the best professional league in the world, from the AHL to European professional leagues such as the KHL and the Swedish Elite League. While the favorites for the Calder Trophy seem to be the top draft picks every year, it often comes down to these overlooked prospects who establish themselves sooner than expected and break out unexpectedly. Here are five young and relatively unknown players who could take the NHL by storm in the near future.
Francis Perron, C, Ottawa Senators
The Ottawa Senators have unearthed some draft-day steals in recent years, from 30 goal scorer Mike Hoffman to 2015 Calder Trophy finalist Mark Stone. The latest potential late-round forward discovered by Ottawa could be Memorial Cup star, Francis Perron. Despite entering his QMJHL career with some fanfare as a high first-round draft choice in the 2012 QMJHL Draft, Perron's slender frame and underwhelming production led to him being selected in the seventh round of the 2014 NHL Draft. However, the Laval, Quebec native has done nothing but make the Senators' late flier on him look like a bargain in the two seasons since he heard his name called.
His outstanding final season in junior really put him on the top prospect radar, as he captained the Rouyn-Noranda Huskies to the best record in the CHL and a QMJHL championship, the first President's Cup in franchise history. Perron's offense also took a huge step forward, jumping from 76 points to a team-leading 108 points. Along the way, he made the QMJHL's First All-Star Team and was named the league's Most Valuable Player. In the playoffs, Perron continued his historic season, leading the circuit in both assists and points, garnering playoff MVP honors as well.
A speedy forward with good hockey sense, Perron has nothing more to prove at the junior levels and will likely graduate to the professional ranks as soon as this fall. Once considered too one-dimensional to ever become a top-six player in the NHL, Perron has rounded out his game and his much-improved shot has made him a true scoring threat. The Senators are in need of more scoring talent to surround franchise player Erik Karlsson with, and Perron could become Ottawa's next homegrown star sooner rather than later.
Danton Heinen, C, Boston Bruins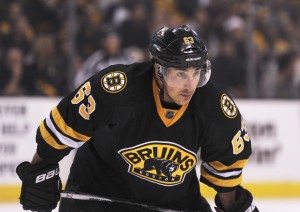 The Bruins had one of the most successful stretches of any team in the past five years, thanks in large part to their ability to draft and develop successful NHL players. Key components of their last championship team, such as Patrice Bergeron, Milan Lucic, and Brad Marchand, were all picked outside the first round and have gone on to high-profile professional careers. While the Bruins have faded recently, missing out on consecutive playoff appearances for the first time since the 2006 and 2007 seasons, there looks to be some young talent in the pipeline that should be helping the big club sooner rather than later.
The Bruins have focused on stockpiling young talent recently with five first round draft picks in the last two years, but their best prospect may be an underrated fourth round pick in 2014, Peter Chiarelli's final draft with the team. Danton Heinen, who went 116th overall two years ago, has turned himself into a legitimate prospect with two very strong seasons at the University of Denver. The Pioneers' leading scorer for the past two years, Heinen has rounded out his game from his time in the BCHL and, after signing his first contract last spring, is set to make his full-season professional debut this season.
Heinen has added strength as well and now weighs in at 185 pounds, and he will need to keep filling out in order to handle the physical rigors of playing the center position in the NHL. Heinen was able to get his first taste of the AHL level at the end of last season, notching a couple of points in his first stint with the Providence Bruins. He's likely to spend most of next season there, as the Bruins look to be deep at the forward position and able to afford one of their top young players time to prepare himself for the NHL. Heinen's speed, smooth hands, and impressive awareness on the ice should make him one of the Baby Bruins' top scorers, and if Boston's big guns get struck by injury, expect Heinen to be one of the first names called upon to fill the scoring gap in the NHL.
Brandon Montour, D, Anaheim Ducks
The Anaheim Ducks have won four consecutive division titles despite their apparent internal budget, thanks largely to their young defensive corps. Hampus Lindholm, Sami Vatanen, and Cam Fowler were among the youngest top three defensive groups (by average time on ice) of any playoff team last year, and reinforcements for aging veterans Kevin Bieksa and Clayton Stoner appear to be on their way. Recent first round picks Shea Theodore and Jacob Larsson headline what is arguably the best group of defensive prospects in the league, but 2016 AHL All-Rookie Team member Brandon Montour could become the best of the bunch.
Related: Prospect To Watch: Brandon Montour
Despite possessing underwhelming size and strength for a defenseman, Montour, a second-round pick in 2014, has put up big numbers wherever he's played. After being named the USHL's Player of the Year and averaging more than a point per game in 2013-14, Montour moved on to the college ranks for the 2014-15 season with big expectations. Montour blew away those expectations across three levels, finishing the season with a 14-game stint in the AHL and setting the stage for a high-profile full season professional debut.
Despite being surrounded by a middling team in San Diego, Montour tied for his team lead in points and ended his year with a slew of awards to his name, including an AHL All-Star nomination, AHL All-Rookie Team, and a spot on the AHL's First All-Star Team. Montour's great skating ability and superb passing skills made him a regular on AHL highlight reels throughout the year, and his booming shot boosted the Gulls to the third-best power play in the AHL. With how much the Ducks defensive corps struggled to move the puck last season, Montour's high-flying style could see him make an impact in the NHL as soon as next year.
Jordan Subban, D, Vancouver Canucks
The Subban brothers have a knack for making headlines, from oldest PK making waves with his trade to Nashville this summer and middle brother Malcolm one of just three goaltenders since 2011 to be drafted in the first round. The youngest of the bunch, defenseman Jordan Subban, looks to be well on his way to becoming the third Subban brother to crack the NHL. A fourth-round pick of the Canucks in 2013, Jordan has improved by leaps and bounds and now sits on the cusp of cracking the NHL.
Subban's OHL career wasn't quite as decorated as his brother PK's, but his final season, in which he tallied 25 goals, earned him a Third All-Star Team nomination and the Bulls' franchise record for goals from a defenseman in a season. Despite his small stature, Subban moved to the pro ranks in 2015-16 and excelled for the playoff-bound Utica Comets, leading the team's defenders in goals and points.
Subban, like his brother, is a great puck-moving defenseman and an excellent skater from the back end. His puck skills are well-developed, allowing him to consistently move the puck out of danger with his speed or his passing ability. His big shot and passing skill is also a weapon on the power play, where his vision and hockey sense shines through as the quarterback of the play. With the lack of scoring the anemic Canucks offense received from their defense last season, Subban's offensive abilities should be awfully attractive. While he could stand to gain strength and improve in his own end, Subban's impressive play at such a young age has him primed to crack an NHL lineup in the near future.
Esa Lindell, D, Dallas Stars
The Dallas Stars were able to score their way to a division title in 2015-16, despite giving up the most goals of any playoff squad and possessing one of the most inconsistent defensive groups in the league. With a star-studded forward group in tow, the Stars have focused on adding young defense through the draft, and they are about to reap the rewards in the near future. One of their top young blueliners is 2012 third-round pick Esa Lindell, a Finnish defenseman who recently completed his first full season in North America.
Lindell's impressive AHL debut earned him a nod to the AHL All-Star Game, and his 14 goals led all rookie defensemen. His strong two-way play earned him some international recognition as well, as he was selected to represent Finland at the World Championships for the second consecutive year and brought home a silver medal. His great year was punctuated by a short stint in the NHL, playing four games for the Stars at the tail end of the season.
A big body with good mobility and hockey sense on the back end, Lindell has all the tools to become an effective two-way defender for the Stars. Alongside fellow highly-touted defense prospects Julius Honka and Mattias Backman, the Texas Stars had one of the league's youngest defensive corps. Dallas lost some important contributors on the back end this summer, so they'll be counting on their well-regarded trio of young blueliners to fill the void and Lindell could be an NHL regular by this fall.
Joseph Aleong is an At-Large writer for THW from Toronto, Ontario. He is a graduate of Brock University in St. Catharines, ON. Follow him on Twitter @josephaleong11