Thursday morning, Adrian Dater of Bleacher Report tweeted that the Tampa Bay Lightning may be preparing to make a run for NCAA free agent Jimmy Vesey.  Yes, there is a lot of competition for the left winger, but if Steve Yzerman can offer Vesey a top six spot in Tampa, the 22-year-old would probably consider signing there. But, the fact the Bolts would consider entering the Vesey sweepstakes is mind-boggling to me. The Lightning have a perfectly fine top six on the left side in Jonathan Drouin and Ondrej Palat.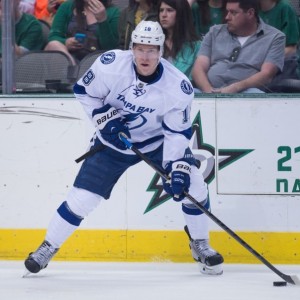 Maybe Tampa's relationship with Drouin is not completely healed like we thought it was, or Palat is asking for too much in contract negotiations. But as far as I know, none of those two possibilities are accurate, and it doesn't make sense to swap in Vesey for either Drouin or Palat.
Then again, there is a salary cap to consider. Both Palat and Drouin are restricted free agents next summer, and even if Ben Bishop is moved the Bolts will be tight against the cap ceiling. But why not move a player like Jason Garrison or Valtteri Filppula instead? Yzerman may have to settle for a meager return because of the veterans hefty cap hits, but it's better than giving up a young asset.
Depth On The Left Wing
Going back to Vesey, even if he settles for a role on Tampa's third line, maybe in exchange for a chance to win a cup, his addition still doesn't fit into Tampa's long-term outlook. Don't forget the Lightning still have notable names Adam Erne, Dennis Yan, Mike Halmo (a 25-year-old recent signing from the Islanders) and Jeremy Morin waiting in the pipeline on the left side. In addition to that, WHL standout Brayden Point is too small to be an NHL centre and shoots right-handed, meaning he could also end up playing left wing. So, there really is no room for Vesey, a Hobey Baker winner, on the Bolts roster.
With all this depth in the left wing position,  you would think Yzerman may be forced to trade a winger in the future. The Lighting may not have Vesey on their team, but if he signs in Toronto, Steven Stamkos & Co. will have to get used to facing the former Harvard student on the opposite end of the ice.
Where do you think college standout and unrestricted free agent Jimmy Vesey will land? Feel free to comment your thoughts in the comment section below.
Born a hockey fan, I am a journalist who has been writing for nearly 2 years. I love covering all NHL teams, and own the Instagram account @hockeynews.ig