Day 7 of the 2023 World Junior Championship brought a lot of intrigue and a ton of goals and also gave us our four semifinalists: Czechia, Sweden, the United States, and host nation Canada. The marquee matchup of the entire tournament is set to unfold on Wednesday, with Canada and the United States set to meet in the semifinals. Meanwhile, Czechia will continue its campaign for gold in a showdown with Sweden, and Latvia will try to secure its spot in next year's tournament by finishing the relegation round with a second victory. Let's preview all the action from Day 8.
Relegation Round, Game 2: Austria vs. Latvia (11:00 AM ET)
Austria: Final Roster
Latvia: Final Roster
Austria's rough tournament has continued into the relegation round after losing to Latvia 5-2 in Game 1. If they lose again on Wednesday, they will not play at the top level in next year's WJC. But they did score in the first contest, something they only did once in their previous four matches. Ian Scherzer, a 2023 Draft prospect, supplied the primary assist on both Austrian goals (scored by Luca Auer and Vinzenz Rohrer, who is Austria's only NHL-drafted player).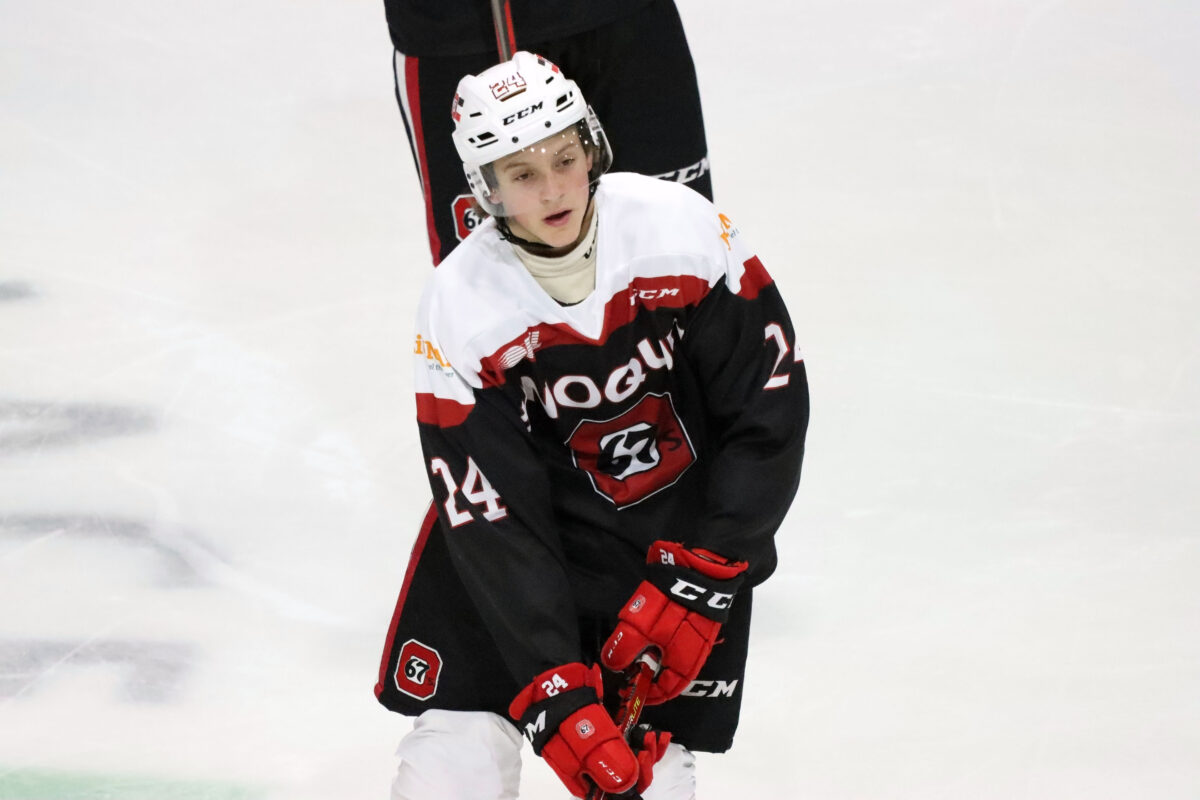 Even so, Latvia was dominant in game one. Emīls Veckaktinš managed two goals, while Dans Locmelis, a fourth-round pick of the Boston Bruins, scored his second goal of the tournament. Austria did not make Latvian netminder Patriks Berzins work especially hard, sending only 13 shots his way. They will have to find a way to exert more pressure to have a chance of surviving in Game 2. But the way this tournament is unfolding, expect Latvia to handle business here and secure their spot in the 2024 tournament.
Favorite: Latvia
Players to Watch: Ian Scherzer, F, Vinzenz Rohrer, F [MTL] (AUS); Emīls Veckaktinš, F, Dans Locmelis, F [BOS] (LAT)
Semifinal 1: Czechia vs. Sweden (2:30 PM ET)
Czechia: Final Roster
Sweden: Final Roster
Czechia has had a sensational tournament so far and cemented their place by conquering Switzerland with a massive 9-1 victory. After five games, Czechia is first in the tournament in scoring and scoring efficiency, second in the penalty kill, second in save percentage (SV%), and fourth in power play efficiency. They have been dominant. And now, they are one win away from guaranteeing themselves no worse than a silver medal, which would be an absolute coup for them. 2021 third-round draft pick Stanislav Svozil continued his strong tournament and now has eight points. He is one of seven players on the deep Czechia roster with six or more points. And while he fell one point short of that milestone, 2022 second-overall pick Šimon Nemec has continued to excel and lead his team to great heights.
Related: 2023 WJC 3 Up, 3 Down: Czechia vs. Switzerland
---
Latest News & Highlights
---
Across the ice, Sweden reversed its fortunes from the summer tournament by beating Finland (who eliminated them in the semifinal in 2022) 3-2. They needed two goals in the final five minutes, which they got from 2023 Draft prospect Leo Carlsson and 2021 fourth-round Chicago Blackhawks draft pick Victor Stjernborg. The late comeback has put them in the semifinal yet again, where they will enter with a lot of momentum against arguably the darlings of the WJC so far. Swedish goaltender Carl Lindbom (Vegas Golden Knights) also continued his excellent tournament with 33 saves. He has a good chance to be named the top goaltender at the WJC, with a .942 SV% and a 1.79 goals-against average (GAA) in five games. He'll be a tough riddle for the red-hot Czechian offense to solve.
On paper coming into this tournament, anyone would have given Sweden the nod. But now, there is no clear favorite. Czechia arguably has more momentum, and they are the cinderellas of the semifinals, having last medaled in 2005. A win here would stamp their ticket to their first final since winning back-to-back golds in 2000 and 2001. Sweden, on the other hand, has been to six finals since Czechia last medaled, but they have only taken gold once. Both teams will be hungry for a guaranteed medal, and there is no way to pick an obvious favorite here.
Favorite: Push
Players to Watch: Stanislav Svozil, D [CBJ], Šimon Nemec, D [NJD] (CZE); Leo Carlsson, Carl Lindbom, G [VGK] (SWE)
Semifinal 2: United States vs. Canada (6:30 PM ET)
United States: Final Roster
Canada: Final Roster
Canada vs. the United States in a WJC — this is as good as it gets. And while they might not be fighting head-to-head for the gold medal, each will recognize that a victory here will make them the heavy favorite going into the final. The story of Team Canada at this tournament has been all about one man — who, at 17 years of age, can barely be called a man yet — Connor Bedard, the future first-overall pick in the 2023 NHL Draft. Bedard has been breaking records left and right and sits high atop the points leaderboard, with an absurd 21 points in five games, nearly doubling his American counterpart, Logan Cooley, who sits in second place with 11. The Americans' sole job will be finding a way to slow down Bedard. If they can do that, they have a clear path to victory.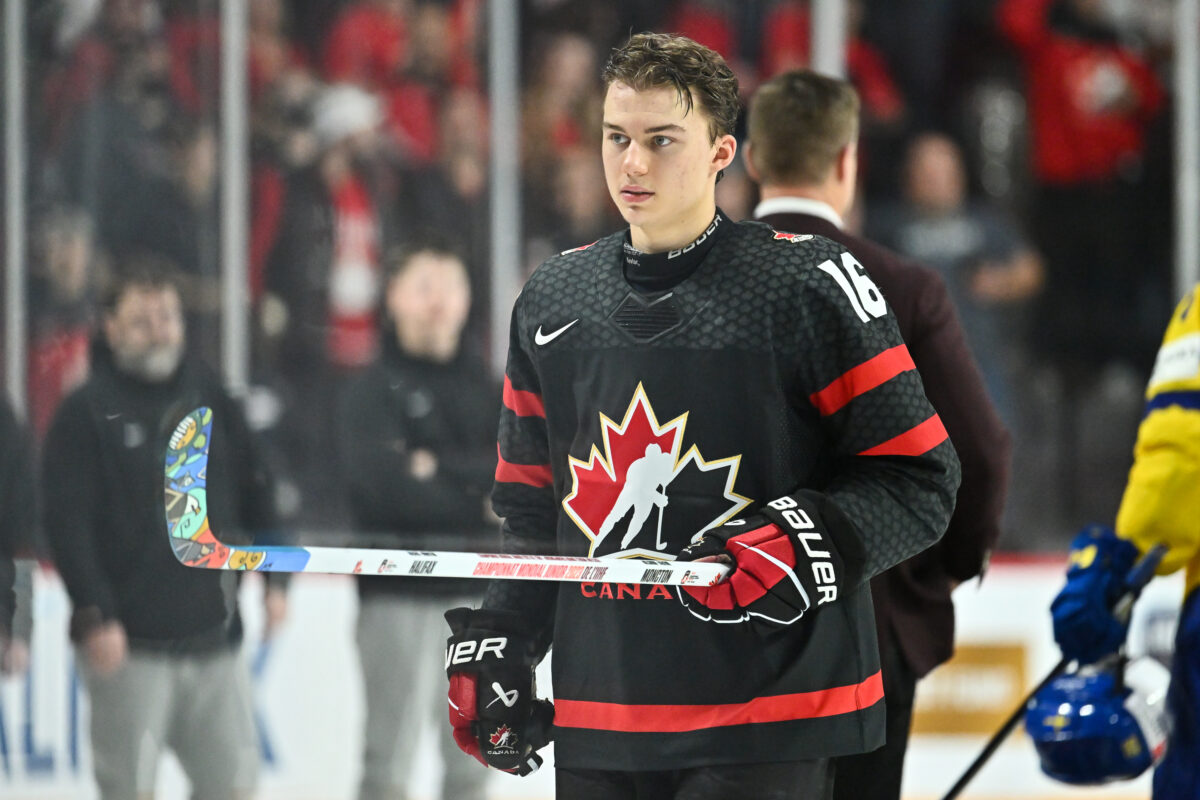 The United States has had plenty of scoring of its own, but theirs has been a committee approach. Cooley leads with 11 points, but his University of Minnesota teammate and fellow 2022 first-round draft pick Jimmy Snuggerud is right behind him at 10, and Cutter Gauthier is right behind them with eight. The Americans have also arguably had the hotter goalie, by slim margins: Trey Augustine has a .938 SV% and a 1.36 GAA in 220 minutes, while Thomas Milic of Canada has maintained a .921 SV% and 1.68 GAA in 213 minutes.
This will be a fascinating game to watch and should be the most tightly contested and most dramatic game of the tournament to this point. The United States will be focused on stopping Bedard, but they cannot ignore the rest of the loaded Canadian roster. Meanwhile, Canada, who have had some defensive lapses against Czechia and Slovakia so far, will have to stop the deep American offense from piling up goals. This may come down to a battle of blueliners. There should be goals aplenty, but the team that makes that one pivotal stop may walk away victorious.
Favorite: Push
Players to Watch: Connor Bedard, F, Logan Stankoven, F [DAL] (CAN); Logan Cooley, F [ARI], Jimmy Snuggerud, F [STL] (USA)
So Close, and Yet So Far…
There is no more brutal place to lose than the semifinal. Yes, you have the consolation of a bronze medal game, but you also know that you failed so close to the precipice. The teams that advance today will be guaranteed no worse than silver as they battle in the final on Thursday. The teams that lose will meet on Thursday afternoon to determine a bronze medalist. We have been treated to a fantastic tournament so far, and there is little argument that the four teams that deserve to be here are in the semifinal. Each of them is capable of winning the two games they have left to win. Now, all they have to do is execute when the puck drops.