The Philadelphia Flyers and Buffalo Sabres will faceoff for the third of four meetings today at the Wells Fargo Center in Philadelphia.  The Flyers won both of the previous two meetings and will look to snap a two-game losing streak.  The Flyers are 2-2-1 in their last 5 and went 7-4-1 in February.  Philadelphia is currently in first place in the Atlantic Division as well as the Eastern Conference cumulating a record of 40-17-6 for 86 points.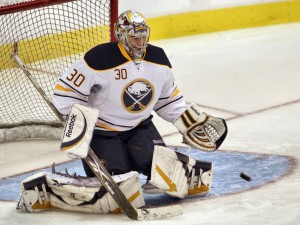 Buffalo is a team that is on the outside looking in on the Eastern Conference.  They are 30-25-8 (68 points) and are currently in 9th place in the Eastern Conference trailing the New York Rangers by two points for the eighth and final play off spot (the Rangers have played 3 more games than the Sabres).  The final spots in the Eastern Conference are up for grabs and the Sabres will be anxious to gain any kind of ground they can.  The Flyers have been playing poorly since the All-Star break and will undoubtedly look to send a message to a possible first round play off opponent.
In two previous matchups, Philadelphia beat Buffalo handily, outscoring the Sabres by three goals in each game (6-3 in the first game and 5-2 in the second game).  The Sabres had 5 different goal scorers and 9 different players who registered a point in both meetings but their defensive flaws ultimately allowed the Flyers to get the better of Buffalo.  Considering that Buffalo has a superstar goaltender in Ryan Miller, I would like to focus on how Miller performed against the Flyers this season.
Ryan Miller had a career year last season registering a record of 41-18-8.  He had a Goals Against Average (GAA) of 2.22 and a save percentage of .929% with 5 shutouts, all of which were career highs. This season, Miller has dropped off a little bit to a record of 27-18-7. His 27 wins are the 9th most in the league and his 18 losses are ranked 10th.  He has started 53 of Buffalo's 66 games, which is the 4th most starts in the NHL.  He has a 2.65 GAA (30th in the league) and a .914 save percentage (24th) with 3 shutouts (tied for 14th).
In 25 road games this season, Miller has performed well.  He is 13-8-4 and recorded 2 of his 3 shutouts on the opposing team's ice.  He has a road save percentage of .915% and a GAA of 2.64.  Miller is 5-4-2 in 11 games in February and is currently 1-0-1 in March.  Miller's last shutout occurred in January against the San Jose Sharks, in San Jose.
Unfortunately for Buffalo, Miller has weaknesses that give the Flyers an advantage.  Miller has allowed 53 goals in the second period this season, which are the most goals he has allowed in any period.  Philadelphia has scored 75 goals in the second period this season, which is second best in the NHL and is their highest scoring period.  In addition, Miller is 0-2 against the Flyers this season.  He has allowed 9 goals on 65 shots and has a .862 save percentage with a 4.54 GAA.  In the first meeting in Philadelphia, Miller allowed 5 goals on 33 shots.  His 5.08 GAA and .848 save percentage was the second highest of any road game he has played this season.
Philadelphia is on a slide.  7 of their last 10 games have been decided by 1 goal and they are 5-4-1 on that run.  The Flyers haven't won a game by more than 2 goals since January 25th, a game against the Montreal Canadiens (5-2).  The Flyers' power play has been anemic as of late, dropping to 23rd worst in the NHL (16.5%). The team's inability to score power play goals has certainly been attributed to their mini slide.  The Sabres penalty kill is ranked 19th in the league stopping 81.4% of their opponents power plays. Philadelphia is 4-of-7 on the power play against Buffalo this season and the Flyers will undoubtedly look to score some special team goals and take advantage of Miller's inability to stop them this season.
Some key players on Philadelphia to focus on are Claude Giroux, Jeff Carter, Danny Briere, and Scott Hartnell. Giroux and Carter both had monster Februarys and that is largely attributed to their being paired together on the same line.  Giroux had 9 assists in February and a team-high 11 points.  Carter scored a team-high 5 goals and tallied 5 assists.  Of Carter's 10 points, Giroux had a point on 8 of the plays, whether it be by scoring a goal or recording an assist. Briere has scored 2 goals and has 4 assists totaling 6 points against his former team.  Scott Hartnell has 2 goals, 2 assists, and is one of 11 different Flyers to register points against the Sabres this season.
Be on the lookout for the Versteeg-Richards line as well.  Versteeg has now played 8 games in the orange and black and tallied 2 goals against his former team, the Toronto Maple leafs on Thursday night.  Ricahrds recorded an assist on both goals and the two have begun to develop some chemistry with one another.
The Flyers and Sabres will faceoff tomorrow for a 1 pm puck drop in Philadelphia.
The Hockey Writers is:
1) a top tier emerging media hockey resource
2) a collective of some of the best hockey writers on the Internet
3) a radio show
4) one of the best NHL Prospects resources on the net
4) a source for an in-depth look at the NHL
5) your first destination for 'meatier' hockey information