Either the Vancouver Canucks or Boston Bruins will be crowned champions tonight. With it, the Conn Smythe Trophy will be awarded as playoff MVP. This prestigious award will put the winner in a class with the most clutch players in the history of the NHL. While only one guy can be the MVP of the whole playoffs, each team had that one player who dragged the team as far as he could. Some teams went out before the play really heated up, but they each had someone to make them competitive. Here are the MVPs for each team.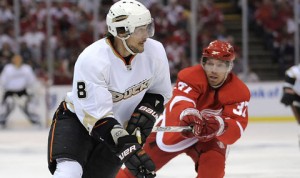 Anaheim Ducks – Teemu Selanne
Should Selanne decide to retire, he'll have the record for points by a rookie (132) and points in a player's last season (80). He kept up his scoring pace in the playoffs and was Anaheim's most consistent player. He had six goals and seven points in six games in a first-round loss to Nashville, recording points in every game. He would finish the series with four power play goals and scored at critical times including single-handedly turning a 2-0 deficit into a tie game in 30 seconds during Game 3 and scoring the game-winning goal in Game 4.
Boston Bruins – Tim Thomas
Thomas will likely win the Conn Smythe Trophy and it will be well deserved. He had a few hiccups, losing the first two games at home to Montreal and allowing at least four goals four times against Tampa Bay. But his stats are only slightly below his record setting numbers in the regular season as he has a .937 save percentage (compared to .938 in the regular season) and a 2.06 goals-against average (compared to 2.00). Since Game 7 against Tampa Bay, he has a .966 save percentage and 1.15 goals-against average. The most telling stat is that he is 10-1 in the playoff when facing at least 35 shots, including making a career high 52 saves in Game 2 of the second round against Philadelphia.
Buffalo Sabres – Marc-Andre Gragnani
Gragnani has yet to secure a permanent spot on the Sabres' roster, but his playoff showing should go a long way towards helping his cause. He led the team in scoring in their seven-game exit to Philadelphia in the first round with a goal and seven points; his five power play points also led the team. He finished with an even plus-minus rating on a team where there were only three plus players and was rewarded with the third-most ice time on the team (21:53 per game). On the defensive side of the puck, he had 12 blocks (tied for second on the team) and six take-aways (tied for first).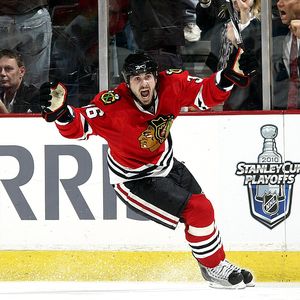 Chicago Blackhawks – Dave Bolland
The Blackhawks were on the verge of being swept by Vancouver when Bolland returned from a concussion in time for Game 4. He recorded four points in a 7-2 drubbing of the Canucks, getting on the board just 1:43 into his first game of the series. He then had two points in Game 6 with both points pulling the Hawks even with Vancouver. His plus-6 led the team and nearly helped the Blackhawks become the fourth team ever, and second in as many years, to rally from a 3-0 deficit.
Detroit Red Wings – Pavel Datsyuk
In 11 games, Datsyuk was held off the scoresheet only once. After a second consecutive underwhelming season, though this time due to injury, he responded with the highest points per game average in the playoffs in his career, posting four goals and 15 points in 11 games and registering the assist on the best goal of the playoffs. His plus-10 rating is the highest of anyone in the playoff not on Boston and he was only a minus once. He was also physical, recording 27 hits and only Ryan Kesler, who has played 13 more games, has more than Datsyuk's 21 take-aways.
Los Angeles Kings – Kyle Clifford
The rookie play very inspired hockey and was the most exciting player on the Kings. He had three goals and 16 hits in six games; he was especially good in Game 5, scoring the game-winning goal. He also played tough, setting the tone for the series with a fight against Ben Eager in Game 1.
Montreal Canadiens – Carey Price
Price was the only reason Montreal had a lead in the series at all. Although he didn't win a round, he sure went a long way towards shaking his bad playoff reputation; his .934 save percentage is second in the playoffs as is his 2.11 goals-against average. He was the main reason Montreal was able to force Game 7, making 11 saves in the third period and 31 overall as they clung to a 2-1 lead in Game 6.
Nashville Predators – Pekka Rinne
He was a bit inconsistent at times, but also lights out when he had to be. He led Nashville to its first playoff series win in franchise history then bested Roberto Luongo in the best goalie duel of the playoffs in Game 2 of the second round. Vancouver was a much better team, but Rinne made it very difficult for the 'Nucks to eliminate the Predators. He was pulled in Round 1, but came back to win the next two games against Anaheim. If it wasn't for Rinne, Nashville gets swept by Vancouver, if they even make it that far.
New York Rangers – Henrik Lundqvist
Like Rinne, Lundqvist made it much more difficult for his team to be eliminated. His .917 save percentage and 2.26 goals-against average are remarkable considering he went 1-4 against Washington. Every game was within two goals. Tight games are usually a strength for Lundqvist, but he can't be expected to do much when the Rangers only score eight goals in five games. He certainly made it difficult for Washington and had New York been able to mount any sort of attack, the series certainly would have been longer.
Philadelphia Flyers – James van Riemsdyk
Van Riemsdyk showed his power forward potential in the playoff this year and was Philadelphia's most consistent offensive threat. He was third among forwards with 19:23 played per game, was third overall with 27 hits and had 23 more shots than anyone else on the team. A co-MVP nod goes to Claude Giroux who assisted on six of van Riemsdyk's goals and led the team with 11 assists and 12 points.
Phoenix Coyotes – Shane Doan
Doan played as inspired as he ever has, doing his best to prove the Coyotes belong by trying to win the first series in the desert. He was everything for Phoenix, leading the team with three goals, five points, 24 hits and was tops among forwards with 21:42 per game. He nearly tied up Game 2 against Detroit by himself and had eight hits in Game 1 and an astounding 11 in Game 4. He was only a minus-2 which isn't bad for having been outscored 18-10.
Pittsburgh Penguins – Arron Asham
It's hard to pick after Pittsburgh blew a 3-1 lead, but Asham was fantastic is getting a 3-1 lead in the first place. He had three goals in four points in the first three games and was a plus in each one. He was physical, recording at least three hits in each game of the series. He wasn't called upon often, but when he was, Asham was a force on the forecheck and showed up at the right times to provide offense.
San Jose Sharks – Joe Thornton
Jumbo Joe had his best playoff performance ever, setting career highs with 14 assists and 17 points. He was clutch against the Kings in the first round with two game-winning goals including the series-winner in overtime. He had six assists against Detroit and was strong in San Jose's only win in the conference final. He played a good all-around game for 22:15 a night, recording 18 hits, 14 blocks, 20 take-aways and won 59.2 percent of his draws.
Tampa Bay Lightning – Dwayne Roloson
Roloson has cemented himself as one of the top playoff goalies in the league. He could have done a lot of damage the past few years if he wasn't toiling in Edmonton and Long Island. He went 10-6, helped rally the Lightning from down 3-1 to Pittsburgh while allowing four goals in the last three games of the series, held Washington to 10 goals in a second-round sweep and though he struggled at times in the conference final, he led the regenerated Lightning within one goal of the Stanley Cup final. He finished the playoffs with a 2.51 goals-against average and .924 save percentage.
Vancouver Canucks – Ryan Kesler
Kesler has been Mr. Everything for the Canucks in these playoffs. He is fifth on the Canucks in blocks (26); fourth in time on ice (22:44), hits (76); third in goals (7), points (19), PIM (47); second in assists (12), game-winning goals (2), shots (70); and first in take-aways (24) and faceoff percentage (54.7). He held Jonathan Toews in check after he had his best offensive season and had a hand on 11 of 14 goals against Nashville. If he didn't get hurt in Game 2 of the final limiting his effectiveness, this series could be over already.
Washington Capitals – Alex Ovechkin
Ovie tried his best to help the Capitals overcome their playoff hump , but he received little help and their season again ended in disappointment. He led the team with five goals, 10 points and 40 hits, 15 more than any other Cap. He scored consistently and at big times. In Game 1 against New York he scored the game-trying goal in the third period to send the game to overtime; in Game 3 he had points on both goals that evened up the game; he assisted on the game-opening and scored the game-winning goals; against Tampa Bay in Game 2 he again scored the goal to send the game to overtime with 1:08 to go; and in their elimination game he scored a go-ahead goal at the end of the second. He did all that while hitting everything in sight. Had some of the other stars on the team chipped in, they could have done some damage this year.