As most teams approach the 20 game mark in the 2014-15 NHL season, we can begin to draw some significant conclusions about the season. So far, there have been a number of huge surprises that have resulted in huge shakeups in the standings. Some were predicted by many, like the regression to the mean for the Colorado Avalanche based on their underlying possession numbers. Others like the emergence of the Calgary Flames were not predicted by anyone.
Across the board, there are a number of surprising statistics that have defined the first quarter of the 2014-15 NHL season. Here are 30 of the most surprising:
The 2014-15 NHL Season in 30 Statistics
1. Sidney Crosby has more power play points (12) than 15 NHL teams have power play goals.
2. The Calgary Flames went from 28th in ES GF/GA in 2013-14 (.80) to 9th this season (1.18).
3. Tyler Toffoli has more shorthanded goals (4) than every other NHL franchise.
4. The two highest paid UFA forwards from the 2014 offseason in AAV (Thomas Vanek at 6.5M/year and Paul Stastny at 7M/year) have combined for 15 points this season.
5. Scott Hartnell has more multi-point games (4) than RJ Umberger has points (3). They were traded straight up for each other this offseason.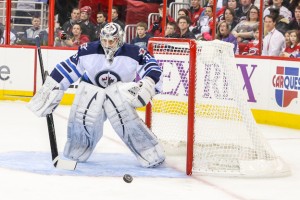 6. Ottawa has not won a game in which they outshot their opponent this year, despite being 14th in the league in shots per game.
7. Ondrej Pavelec has never had a save percentage above .915 in a season before 2014-15. This season, his .923 save percentage is third among all goalies with at least 15 starts.
8. Mathieu Perreault (33) and Zach Bogosian (37) are 1st and 2nd in the NHL among players in shots who have not scored a goal yet.
9. After scoring 14 power play points last year, Jarome Iginla has yet to record a power play point this year.
10. Sami Vatanen started the season by scoring 10 power play points in a row before scoring his first even strength points on November 12th.
11. The two Pennsylvania teams are the only teams in the league with two players that have combined for more than 40 points on the year (Giroux & Voracek, Crosby & Hornqvist/Malkin).
12. The three leading skaters in Corsi-On in the NHL (with at least 10 games played) are all on the same line for the Chicago Blackhawks (Sharp-Toews-Hossa).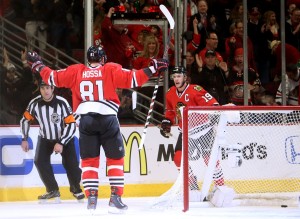 13. After leading the league in penalty minutes in 2013-14, the Flyers have taken the 5th fewest penalty minutes in the league.
14. The New Jersey Devils' penalty kill went from 1st in the NHL in 2013-14 (86.4%) to 30th this year (70%).
15. The Colorado Avalanche have won just 18.2% of games in which they don't score the first goal this year. They won 40.5% of such games last year.
16. Five players (Giroux, Malkin, Foligno, Kunitz, and Bozak) have more power play goals than the Buffalo Sabres.
17. The LA Kings are giving up the 6th most shots per game in the league (32.6) after giving up the second fewest (26.2) last year.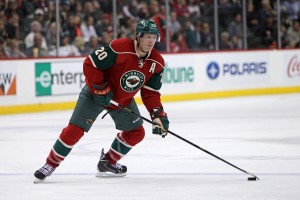 18. Ryan Suter is playing over 29 minutes/game for the third consecutive year. No other defenseman has done it in one season since Nicklas Lidstrom and Adrian Aucoin in 2002-03.
19. After never taking more than 250 shots in a season, Claude Giroux is second in the league in shots, and is projected to finish with 384.
20. Lars Eller has four game winning goals this season after collecting three in his first 286 career NHL games.
21. Ryan Carter is 6 points away from tying his career high in points in his 8th NHL season.
22. Colorado has gone from scoring the 4th most goals in the league (2.99) last year to the 5th fewest this year (2.37).
23. The Calgary Flames are 5th in the league in goals per game despite taking the third fewest shots per game.
24. The Nashville Predators lead the league in ES GF/GA at 1.53 after finishing 25th last year (.88). 1.53 would be the highest mark since the 2009-10 Capitals.
25. Henrik Lundqvist currently has his highest GAA in a season in his career (2.51), and his lowest save percentage since 2007-08 (.916).
26. The Minnesota Wild penalty kill is 2nd in the league at 89.3% after finishing 4th from the bottom in 2013-14 (78.8%).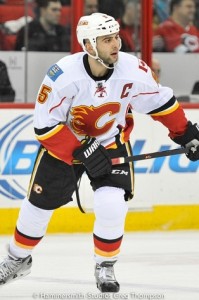 27. Mark Giordano and TJ Brodie (both defensemen) are the 8th highest scoring pair of teammates in the league with 36 points. Every combination above them is comprised of two forwards.
28. After scoring a combined 22 goals in 152 games last year, noted assist-biased playmakers Joe Thornton and Henrik Sedin have scored 12 goals in 38 games this year.
29. In 11 games against opponents outside his division, Tyler Seguin has 19 points. In 7 games against divisional opponents, he has 3 points.
30. After missing just 9 games due to a cancerous tumor, Olli Matta is scheduled to return to play for the Pittsburgh Penguins on Tuesday night.
The 2014-15 NHL season has already given us many thrills and exciting players. And we're only at the quarter pole. Let's hope the rest of the season is just as exciting.