As the 2023-24 NHL season approaches for the Edmonton Oilers, the same roster is at camp, with a handful of PTO players and Connor Brown joining them. This team knows what it is and what it's capable of. Now it's simply of matter of executing and having each member of the roster pull their individual weight and come together as a team.

In a two-part bold prediction series, the first part looked at four individual performances. It focused on Evan Bouchard, Leon Draisaitl, Jack Campbell, and Darnell Nurse. In part two, the focus is on the team. What can be expected of this group as the season unfolds?
Oilers Will Win The Pacific Division, Make Stanley Cup Final
The Oilers are gearing up for another season with high expectations, relying on the consistent scoring prowess of Connor McDavid and Draisaitl, and the crucial support from the surrounding cast. The team will sink or swim based on the chemistry in a familiar top six that added Brown to the mix. If they can avoid injuries they have arguably the deepest forward group in the NHL and if names like Ryan McLeod and Dylan Holloway can take another step, Edmonton's top nine is scary.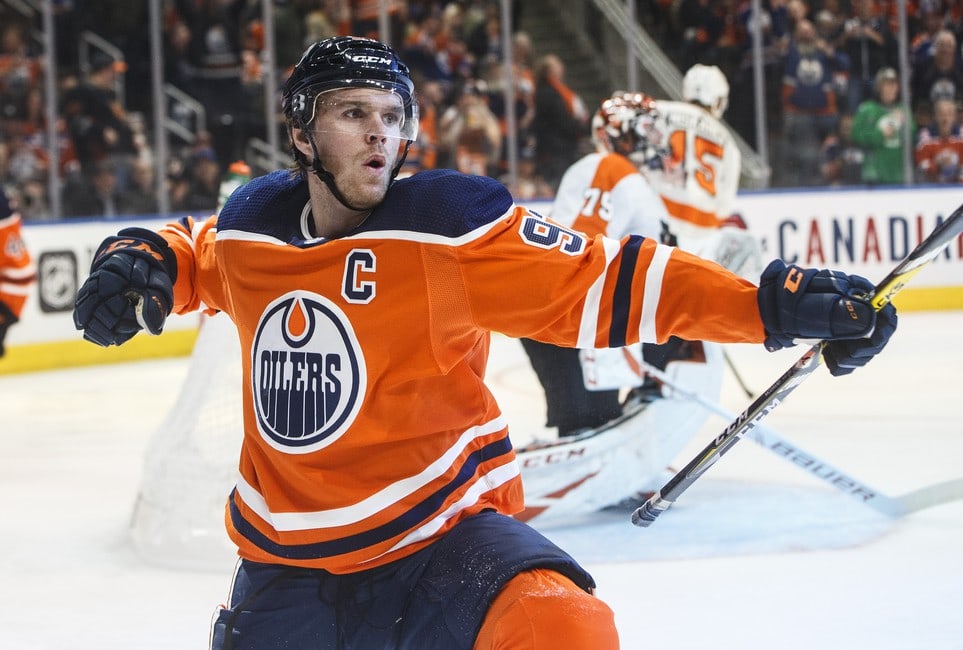 The Oilers are in a tough division, that right now looks like a three-horse race. They should have their hands full with the Los Angeles Kings and Vegas Golden Knights, but I believe there are major question marks with both of those teams. The Kings went all in to add Pierre-Luc Dubois and the Golden Knights are always one roster gamble away from being either really good or lighting the season on fire.
From there, the road to victory likely goes through Carolina, Toronto, New Jersey, or Florida. The Oilers can, if they play their game and find a new gear on defense, beat those teams.
Oilers Power Play Stays Red Hot
The Oilers might never see a season as successful as last year where the power play broke records in the NHL. Frankly, no other team may ever reach a 32.4% success rate. Still, the Oilers have no reason to think they can't get close. The first unit hasn't changed. In fact, one could argue it's gotten more dangerous with Bouchard in the mix all season long.
Related: Oilers News & Rumors: McDavid, Crosby, McLeod, Akey
This is another campaign where the team has a chance to work on new plays, grow more comfortable with each other, and come up with man-advantage attacks opposing teams haven't seen before. Most other teams either removed a key piece or switched things up. The Oilers are now on their third straight year with almost exactly the same group. That's important to note.
The Oilers Add A Major Player at the Trade Deadline
While there's no cap space to do anything now, as the trade deadline approaches, expect the Oilers to look at every possible option. Knock-on-wood space doesn't become available because of an LTIR situation, but should it, expect the Oilers to act as the Golden Knights and Tampa Bay Lightning have before them (bringing back an injured player just in time for the post-season). Also, expect that some players who haven't signed or are looking to move on from their respective teams will push to be moved to Edmonton where they'll have a chance to win the Cup.
---
Latest News & Highlight
---
It might not even take until the deadline for the Oilers to add. Names like Phil Kessel, Jonathan Toews, and Patrick Kane have been linked to the Oilers. If they (or another potential impact player) come cheap enough, Edmonton could look to find a place to fit one of them in.
Oilers Will Trade Their First-Round Pick in 2024
As part of their quest to win the Cup, GM Ken Holland will go all in this season, especially since it's likely his last as the team's manager. That 2024 first-round pick is definitely in play and there's more than a 90% chance the team will trade it, looking for an improvement in an area of weakness.
It's not clear yet what hole they'll need to fill, but if the Oilers can find a player who comes in and impacts the team like Mattias Ekholm did this past year, Holland will be on the lookout for him. There are so many big names that have question marks attached to their contracts for next season, the rental market should be a fascinating one.