At some point in every goaltender's career, they face the unfortunate yet necessary role of being a backup.
It's unprecedented for a goalie, especially as they reach the NHL, not to be put into a backup role to nurture them into one day being a starter.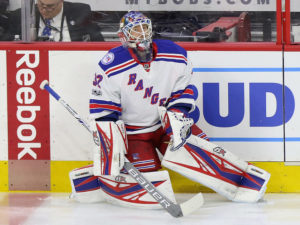 Even for those who enter the League with great promise and potential, like some of those listed below, they will go through a process en route to becoming a starter. However, the trouble is when that goaltender is clearly NHL ready but has no space to play due to an already existing and thriving starter.
When that situation happens, rumours swirl of potential trades which often come to fruition. For example, see Cory Schneider, Martin Jones, Cam Talbot, and just this year, Antti Raanta.
So, who may be among the next wave of starting goaltenders in the NHL? Well, look no further than some of the current backups.The only problem for the majority of these masters of the meshed mansions is the man standing in front of their dream, an uber talented starter.
NHL Backups Who Deserve a Starter's Role
Age: 25
Acquired: Drafted 112th overall in 2010
NHL Experience: 51 starts, 28 wins, .923 SV%
Drafted as a Memorial Cup champion with the Windsor Spitfires, Philipp Grubauer has endured a long but steady development curve. Since being drafted, Grubauer found success in the ECHL over a year and a half period, eventually earning a spot with the Hershey Bears of the AHL. Grubauer spent two half seasons there, the second of which was split with time in Washington, where he was given an opportunity and ran with it.
After another full AHL year in 2014-15, Grubauer finally locked down the backup position with the Capitals. In the two years since he has been a perfect backup. He has played 46 games in that time, posting a .918 SV% in 2014-15 and then a stellar .926 mark in 2016-17. Among goaltenders to appear in at least 20 games, Grubauer's save percentage ranked fourth, and his 2.04 GAA ranked second.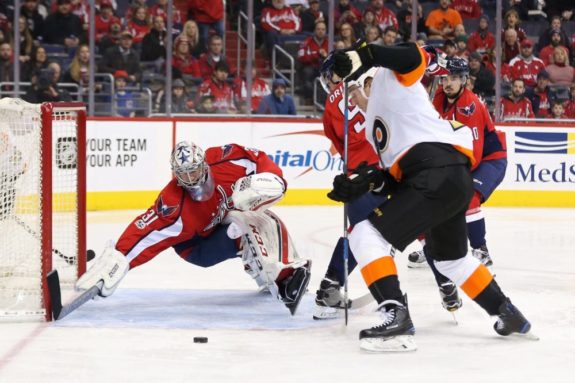 Standing at 6'1 and 183 pounds, he has the frame to cut down on shooting angles, but his best asset is his athleticism. He has the ability to make split second decisions and has the lateral movement to make desperation saves look natural.
Unfortunately, sitting behind Braden Holtby on the depth chart means that becoming a starting goaltender in the NHL will be a daunting task. At 27 years of age, and arguably in his prime with three more years on his contract, Holtby will not be giving up his position anytime soon.
Grubauer recently signed a one-year contract with the Capitals worth $1.5 million as a pending restricted free agent. As a result, he will again be an RFA next offseason. Should Grubauer put in another solid season as a backup in 2017-18, he may be looking to move on to a team with an opportunity to start 50-60 games a year.
Is he ready for that kind of work? Another year as one of the League's top backups would suggest that, yes, he is more than ready to be a starting goaltender in the NHL.
Age: 22
Acquired: Drafted 99th overall in 2013
NHL Experience: 20 starts, 10 wins, .922 SV%
Among the multitude of Finnish goaltenders in the NHL, Juuse Saros played his junior hockey with HPK in Liiga, the Finnish Elite League. After dominating the U20 league in his NHL Draft-eligible season, with a 1.86 GAA and .933 SV%, Saros moved up to Liiga in 2013. He would spend two seasons in the league, posting a .923 and .929 SV%. As a 20-year-old, Saros came to North America for a job with the Milwaukee Admirals of the AHL.
After a tremendous rookie year with the Admirals, featuring a 2.24 GAA and .920 SV% and a spot on the All-Rookie Team, Saros was able to split time between the AHL and NHL in 2016-17. In 21 games with the Predators, Saros posted a .923 SV%, tied for ninth-best among goaltenders with over 20 games, and a 2.35 GAA, ranked 13th. He proved his ability to play at the NHL level with success, despite lingering doubt over his 5'10" frame.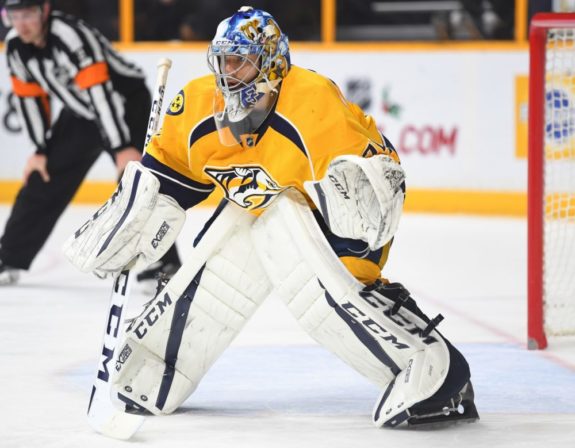 As a small goaltender by today's standards, Saros needs to combine aggressive positioning with instantaneous reactions to be able to thrive in the NHL. One of the quickest lateral goalies in the League, Saros is virtually never out of position.
The only obstacle standing between Saros and a starting job is Pekka Rinne. Rinne is coming off of a fantastic year, capped by a ridiculous playoff run. At the age of 34 and with two more years left on his contract, Saros' position as a starter is not exactly imminent.
Saros will enter the last year of his entry-level contract in 2017-18 and will become an RFA next July. Expectations have Saros spending a full year in the NHL next year before signing a one or two-year deal with the Preds. After that, Rinne's future with the team will be much clearer, as well as Saros' opportunity to either be promoted or potentially be moved to a team looking for a starter.
Saros is one of the most exciting young goaltenders in the game today and has been brilliant in his two years in North America, leaving no doubt as to his future as an NHL starter.
Age: 25
Acquired: Selected in Expansion Draft 2017
NHL Experience: 74 starts, 28 wins, .914 SV%
Drafted by the Colorado Avalanche, 49th overall, in 2010 from the Seattle Thunderbirds, Calvin Pickard's junior career gave him more opportunity and exposure than he could ask for. Pickard faced an average of 36 shots per game in his draft year, then 40 and 38 in the two years following. Oh, and he played over 60 games in each of those three seasons. As a result, Pickard was as prepared as possible for the transition to the AHL.
Pickard started the following two seasons for the Lake Erie Monsters, the Avalanche's old AHL affiliate, gaining maturity and experience at the professional level. In 2014-15, he would get his opportunity to shine with the Avalanche and shine he did. Over 13 starts, Pickard posted a ridiculous .932 SV%, earning him the confidence of Avs management. In 2016-17, Pickard was given the chance to start due to Semyon Varlamov's injuries. In 48 starts, Pickard won just 15 games for the League's worst team.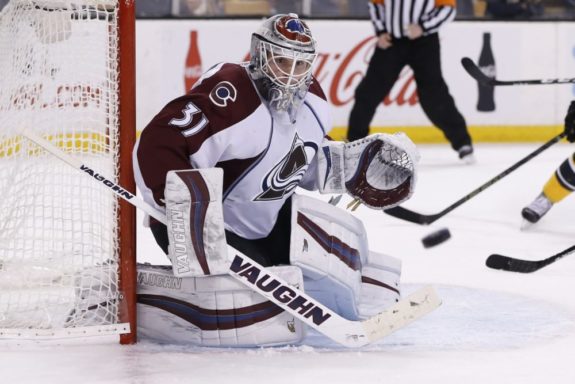 Now, Pickard will suit up for the Vegas Golden Knights in 2017-18. With one more year on his contract before becoming an RFA, Pickard will back up Marc-Andre Fleury. As a 25-year-old, it will be a huge season for Pickard to be able to prove his potential to start with regularity in the NHL.
With the 32-year-old Fleury signed for two more years in Vegas, Pickard's agent may be wise to graze the market for a job opening. As with many backups, it's not easy to wait for the guy ahead of you to either be traded or retire. Unfortunately, that means either testing the free agent market as an RFA or possibly demanding a trade in order to find a permanent position in the NHL.
Pickard is quickly entering his prime, making this season a huge opportunity; is he a backup, or a starter? His performance will go a long way towards answering that question.
Age: 24
Acquired: Drafted 130th overall in 2012
NHL Experience: 79 starts, 39 wins, .910 SV%
Connor Hellebuyck's situation is the exception to this list. After annihilating the NCAA for two seasons following his NHL Draft year, Hellebuyck signed with the Winnipeg Jets and moved on to professional hockey. He was given ample opportunity with the Jets, who lacked a true number one goaltender. His rookie year in the AHL, 2014-15, was strong, with a 2.58 GAA and .921 SV% over 58 games.
The next year, Hellebuyck split time between the AHL and NHL. He earned 26 starts with the Jets, winning half of them and posting a promising 2.34 GAA and .918 SV%. This past season, he was given the reigns as a result of the decline of Ondrej Pavelec. He got 53 starts, but his numbers fell a little as the team struggled defensively, with Hellebuyck facing 31 shots per game.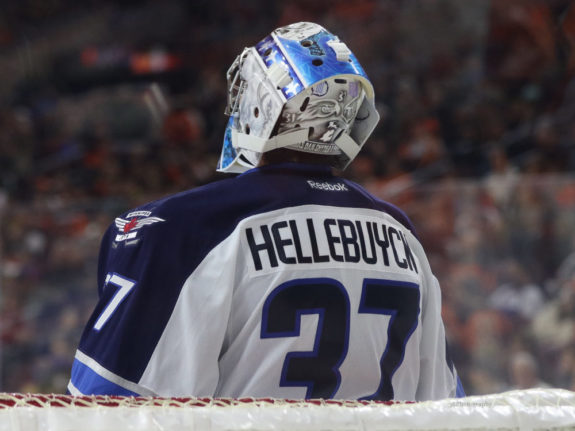 The 24-year-old has ideal size for a goaltender, standing at 6'4″, 207 pounds. He has shown an ability to be a game-changer at the junior level and simply needs to show a more consistent level of performance to stick as a starting goaltender in the NHL.
Heading into 2017-18, Hellebuyck remains an RFA, likely to re-sign with the team through arbitration. However, his co-workers will look different this year. Pavelec is out and Steve Mason is in, with a two-year contract. Mason's $4.1 million cap hit is also not a backup's money, pointing towards a battle for the starter's role.
Unlike the other goalies on this list, Hellebuyck has a true shot at being a starter next year, but it all depends on his performance. If he can outdo Mason on a regular basis, the job is his.