Defencemen come at a premium in today's NHL. It explains why Canucks' general manager Jim Benning had trouble finding a trading partner for Hunter Shinkaruk.
Benning publicly came out and said that he tried to trade the 21-year-old winger for a defenceman, but ultimately "settled" for Markus Granlund. Don't expect Benning to be done hunting for a defenceman just yet.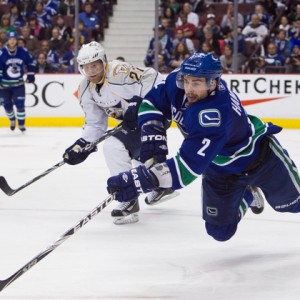 All season,the Canucks biggest weakness has been their defence. Chris Tanev and Alex Edler have formed a solid first pairing, while rookie Ben Hutton looks like a lock in the top four for years to come.
After that it's murky to say the least. Matt Bartkowski had his best game of the season against Ottawa on Thursday night, but overall he turns the puck over too much and struggles in his own end. Yannick Weber doesn't defend well and even though offence is supposed to be his strong suit, he hasn't registered a single point at even strength this season.
Journeyman Alex Biega has filled in admirably and earned himself a two-year deal with the Canucks. However, he shouldn't be relied on anything more than a depth option for the club.
That leaves us with Dan Hamhuis. The veteran defenceman will certainly be traded if he waives his no-trade clause before Monday's deadline. Chicago, Los Angeles, Dallas and Washington have been rumoured to be the most interested teams, although interest has seemingly waned in Chicago and Washington.
CHI's interest in VAN D Dan Hamhuis has cooled considerably. At THIS moment, CHI focusing more on lower-level depth options on blueline.

— Bob McKenzie (@TSNBobMcKenzie) February 26, 2016
The Blackhawks might look for a defenceman with a smaller contract, although the Canucks would most certainly retain salary or take a bad contract in a trade with Chicago. It's harder to see Hamhuis reunited with Barry Trotz in Nashville after the Capitals traded for Mike Weber earlier in the week.
With the Canucks looking to sell some of their assets on deadline day, a young defenceman is something the organization desperately covets. They are likely looking for a prospect in their early twenties who is close to competing for a job in the NHL. Here are five possible targets for the Canucks.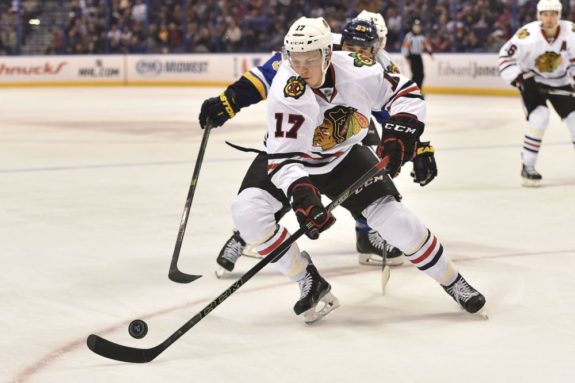 Ville Pokka, Chicago Blackhawks
Let's start with one of the defenceman who's name has already popped up in rumours. The Blackhawks likely don't want to part with the talented 21-year-old, who has 28 points in 53 games for the Rockford Ice Hogs.
However, the Blackhawks would be wise to add a defenceman to their top four, and Hamhuis fits the bill. Their interest in Hamhuis' has reportedly "cooled" likely due to Benning's high asking price, but adding Hamhuis to the top four alongside Duncan Keith, Brent Seabrook and Niklas Hjalmarsson puts them in good shape for a long playoff run.
The Canucks would receive a young, well-rounded right-shooting defenceman who could push for an NHL job as soon as next season. It would also be a victory if Chicago could pry Hamhuis away from Dallas, who appears to be the front-runner for Hamhuis' services.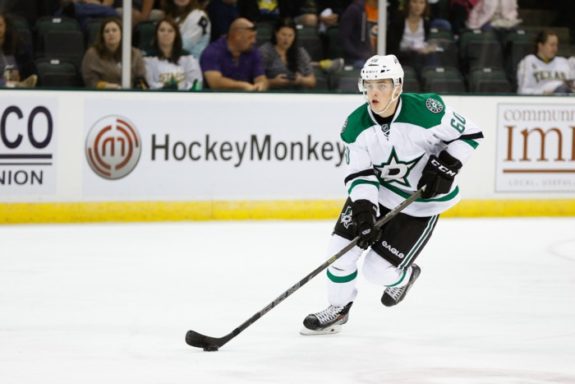 Julius Honka, Dallas Stars
The Dallas Stars need some help on the back end if they hope to make a run for the Stanley Cup this spring. The irony of the situation is, they have a plethora of young defencemen in their system.
Dallas is clearly the best fit for Hamhuis, and they have the assets available to trade for him.
Hamhuis confirms that Dallas and the #stars have many attractive qualities and he would consider a move there. #Canucks

— Dan Murphy (@sportsnetmurph) February 27, 2016
The group is made up of Patrick Nemeth, Jyrki Jokipakka, Jamie Oleksiak, Esa Lindell and Julius Honka. John Klingberg is included among the young defencemen, but the sophomore Swede isn't going anywhere. Ditto for Patrick Nemeth, who has arguably been the most impressive among the young defencemen.
The most logical fit for Hamhuis is in Dallas, although it might take a little more from the Canucks to pry Honka away from the Stars. In his second AHL season, Honka has made improved and sits fifth overall among AHL defencemen in scoring.
Julius Honka is a coveted offensive D in Stars system, but probably untouchable. #Hamhuis #Canucks

— Ben Kuzma (@benkuzma) February 27, 2016
The Canucks do have another undersized offensive defenceman producing in Utica, in the likes of Jordan Subban. With that being said, they might try to target a more well-rounded defenceman.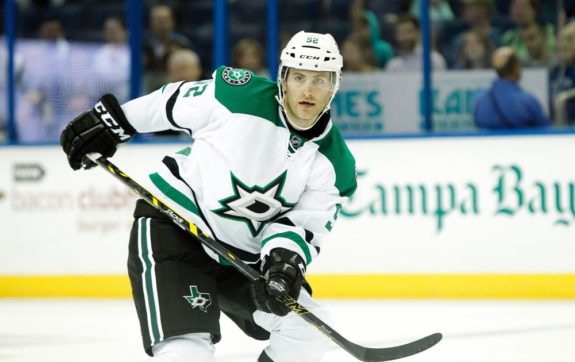 Esa Lindell, Dallas Stars
Honka's teammate with the Texas Stars could also be a target for the Canucks. The third Finnish defenceman on this list has had an excellent first full season in North America, cracking the top ten for points among defencemen in the AHL.
Although he's a left shot (the Canucks likely prefer a right shot), he's got a bit more size than Honka. He even made it into four games for the Dallas Stars earlier in the season.
Of course the Stars don't have to part with any of their young defenders. My THW colleague Jordan Dix wrote about how the Dallas Stars should avoid a Dan Hamhuis trade alltogether. However, Dallas has allowed more goals per game than any team currently in a playoff position.
If Dallas is Hamhuis destination, Stars have big, young D in Oleksiak, 23, and Nemeth, 24, who might be available. #Canucks

— Ben Kuzma (@benkuzma) February 27, 2016
Ben Kuzma of The Province Newspaper suggests the Stars could give up some of the younger defencemen currently playing with the big club. However, if Dallas doesn't want to shake up their current roster, dealing Lindell or Honka is their best option.
Trevor Murphy, Nashville Predators
One team that hasn't popped up in the Hamhuis sweepstakes is the Nashville Predators. Hamhuis has already lived in Nashville so adjusting to the city might be easier for him.  The Predators already have a bonafide top four with Shea Weber, Roman Josi, Ryan Ellis and Mattias Ekholm. Barret Jackman is also in the mix but after that, their blueline lacks depth.
Petter Granberg and Anthony Bitetto, the next two defenders on the depth chart, have played a combined 41 NHL games. Adding another defenceman to the mix would help Nashville during a playoff run.
Also, Radim Vrbata could be an option up front for the Predators. On the wing, both Craig Smith and Colin Wilson have struggled offensively in Nashville this season. Vrbata also has experience playing with Ribeiro during the 2013-14 season where they both put up respectable numbers.
Dan Hamhuis controls his destiny. Talk of waiving no trade for 1 of 3 teams. Could still return @VanCanucks as UFA. CHI, LAK, WAS. #champion

— Brian Lawton (@brianlawton9) February 27, 2016
Hamhuis name hasn't been linked to the Predators, but stranger things have happened on deadline day.
In terms of young defencemen, Trevor Murphy could become a trade chip for the Predators. The 20-year-old defenceman has put up 21 points in 37 games in his first season with the Milwaukee Admirals. He should cost less than the previous three defencemen mentioned.
Despite being undersized at 5'11,  180lb, Murphy plays a physical game and doesn't shy away from contact. He has over 100 PIM's in his final junior season and has 35 PIM in 37 games with the Admirals this season.
Nashville has the third-lowest cap hit in the league and has room to take on these contracts. However, after last years' debacle with Cody Franson and Mike Santorelli, the Predators might stay away from the trade market this season.
Brandon Montour, Anaheim Ducks
The Ducks likely don't need help on defence, although you could argue Hamhuis is an upgrade over Clayton Stoner or Simon Depres. The Ducks also do have some room under the salary cap to make an addition.
Once upon a time, Hamhuis and Kevin Bieksa did form an excellent shutdown pair during a Stanley Cup playoff run. His familiarity with Bieksa and Kesler could make Anaheim a destination where Hamhuis would waive his no trade clause.
Vrbata could also be an option for the Ducks offense heading into the postseason. Despite Vrbata's struggles, he's still outperforming some of the Ducks other wings such as Jakob Silfverberg or Patrick Maroon.
In return, the Canucks could target Brandon Montour, who is lighting up the AHL in his first full season. He is second among AHL defencemen in scoring with 40 points in 49 games. The second-round pick from 2014 also shoots right.
Similar to the Dallas Stars' situation, Montour sits behind many young defencemen on Anaheim's depth chart, including Cam Fowler, Josh Manson, Hampus Lindholm, Simon Depres and Sami Vatanen. Montour would be closer to NHL action in the Canucks organization.
Any other ideas of who the Canucks could target at the deadline? Leave a comment below or reach me on Twitter @beggs37.