The 2014-15 NHL season is shaping up to be, barring a dramatic turnaround, yet another disappointing season for the Edmonton Oilers.
Despite various free agent singnings and trades completed throughout the 2014 off-season, the Oilers are still in need of significant upgrades at relatively every position. Not only do they need greater depth at center (although McDavid could soon be on his way), but Edmonton also needs to upgrade their defense and most importantly, their goaltending.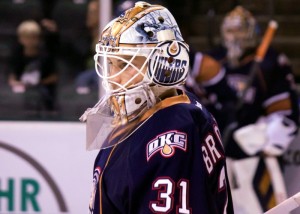 The current tandem of Ben Scrivens and Victor Fasth are not the solution for the Oilers moving forward. Although they temporarily fill the role, Edmonton needs to boast a young, star goalie who can develop his game alongside the Oilers' other young stars.
Internally, Laurent Brossoit of the Oklahoma City Barons would be a great choice to fill this role. For more on Brossoit, check out: Laurent Brossoit Deserves and Opportunity in the Edmonton Crease
However, external options could be a more likely alternative for the Oilers, yet for the goalies on the following list, the price tag would not be cheap.
1. Michael Hutchinson – Winnipeg Jets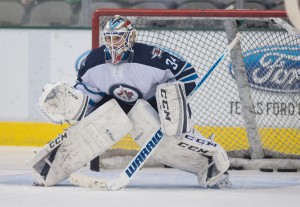 Michael Hutchinson is an excellent young goaltender and is one of many players enjoying breakouts seasons this year.
After appearing in three games with the Jets last season, Hutchinson has been given a greater amount of playing time in Winnipeg resulting from Ondrej Pavelec's inconsistent play. The results have been spectacular, as Hutchinson has straight up stolen games for the Jets this season.
Having now appeared in nearly 20 games, Hutchinson ranks second in the NHL with a .931% save percentage and is third in goals against average with a sparkling 2.00 GAA.
At the age of 24, prying such a stellar young goaltender from the Jets would be extremely difficult, but possible for the Edmonton Oilers who currently retain an arsenal of highly valuable assets. Sending Jordan Eberle to Winnipeg would be sustainable, especially so if the Oilers were able to design a larger trade which would see multiple players moving in each direction.
2. Petr Mrazek – Detroit Red Wings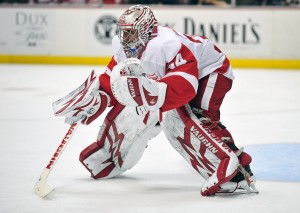 At the age of 22, Petr Mrazek is another interesting option for the Oilers. Mrazek has seen sporadic amounts of playing time throughout his three years within the Red Wings organization, appearing in 20 games.
Despite his minimal playing time, Petr has been awesome when given the opportunity, recording a .921 % save percentage and 2.03 GAA in his NHL career. Thus far in 2014-15, Mrazek has appeared in nine games, recording five wins with a save percentage of .916 and GAA of 2.29.
Mrazek clearly has the potential to be a NHL goaltender, however the current situation in Detroit's crease has made it tough for any team, let alone the Oilers, to potentially acquire Mrazek's services. A recent injury to Red Wings starter Jimmy Howard; a slight groin tear which will see him miss 2-4 weeks of playing time, will ensure Mrazek stays at the NHL level and continues to see playing time, time which will likely further his case as an NHL goaltender.
Despite this situation, Mrazek could be the one goaltender on this list which the Oilers have the best chance of acquiring. In his current role, Mrazek is stuck behind Jimmy Howard on the depth chart, a position which would make it extremely difficult for Mrazek to become the Red Wings' future starting goaltender.
3. Calvin Pickard – Colorado Avalanche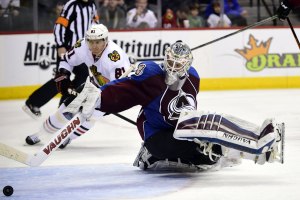 It's quite possible that Calvin Pickard is the least well-known goalie on this list, however, if he continues to play the way he has this season with the Colorado Avalanche, it won't be long before he is a household name.
For the 22 year old Moncton, New Brunswick native, it has been an extremely successful first year in the NHL. Following various injuries to starter Semyon Varlamov and poor play by backup Reto Berra, Pickard was given the chance to play in the NHL and has been spectacular.
Only 14 games into his NHL career, Pickard has managed a 6-6-2 record with a league best .934% save percentage and eighth best 2.21 GAA.
Obviously 14 games in the NHL isn't a great amount of experience, so it's hard to say that Pickard will one day be a guaranteed NHL starter, however he has been extremely impressive with the Avalanche. Yet Pickard finds himself in a similar situation to Petr Mrazek, as he currently sits behind definitive number one Semyon Varlamov on the depth chart.
The Avalanche are relatively strong up front, but could afford to add some depth on the back-end, however the Oilers are thin on defensemen themselves. As a result, a draft pick would be a more likely form of compensation in a potential deal.
4. Jake Allen – St. Louis Blues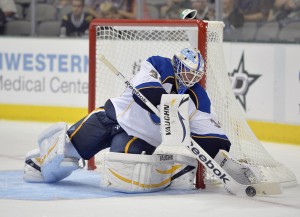 It has been yet another frustrating season for Jake Allen in St. Louis.
Allen has long been considered one of the top goaltending prospects in the NHL, but thus far has failed justify his presence in the league as a number one goaltender. For a long time, Allen was behind both Brian Elliot and Jaroslav Halak on the Blues depth chart, however when Halak was traded last season, it opened the door for Allen.
Then some guy came along named Martin Brodeur and once again, Allen saw his playing time impacted.
Allen hasn't been great this season, which is troubling considering he plays behind one of the NHL's strongest teams. Through 20 games Allen has a 12-5-2 record, while his individual numbers haven't been impressive, recording a .901% save percentage and a 2.69 GAA.
Allen is still largely considered a top goaltending prospect, however at the age of 24 and having had relatively little NHL success, chances are his trade value has taken a hit as a result.
The Oilers and Blues have a history of making trades and are rumoured to have been in discussions earlier this season. A player for player trade seems out of the question, as the Oilers do not have any players comparable to Allen of the same value. Yakupov could be an interesting option, however like most of these deals, would likely have to be part of a larger deal.
5. Andrei Vasilevskiy – Tampa Bay Lightning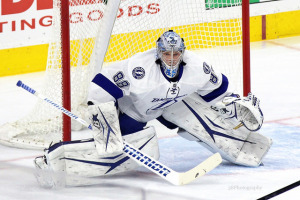 Andrei Vasilevskiy of the Tampa Bay Lightning is largely considered the top goaltending prospect in the NHL. Drafted by the Lightning in the first round, 19th overall in 2012, Vasilevskiy has been a star wherever he has played, whether it be in the KHL, with Russia in the World Junior Championship, or now in North America with the AHL's Syracuse Crunch.
For Vasilevskiy, he has been successful virtually everywhere he has played, while the tradition continued this season when Andrei made his first starts in the NHL.
Although it was only four starts, the results of which were a clear indication of Vasilevskiy's potential at the NHL level. In those games, Andrei recorded a 3-1 record, .937% save percentage and a 1.76 goals against average, his only loss coming in a 3-1 decision to the New York Islanders in which he allowed two goals on 47 shots.
Vasilevskiy would certainly be the most difficult of these goaltenders for the Oilers to acquire. However, the Lightning already have a bona-fide number one in Ben Bishop who is 28. Vasilevskiy, who is only 20, appears ready for the NHL, however the major question is whether the Lightning are willing to make Andrei play in either the AHL or as an NHL backup for the considerable future.
Unless Vasilevskiy can supplant Bishop, it looks as though Andrei will have to wait his turn in Tampa Bay, meaning he could become available to other teams if significant upgrades could be required in return. With the Lightning looking destined for a deep playoff run, this could become a realistic option for the Bolts in the near future.
It would certainly cost Edmonton one of its core players, however making such a trade would be beneficial for the Oilers in the long run, as they require a future number one goaltender likely more than anything else.