At the half way point of the 2014-15 NHL season, a number of players and goaltenders are enjoying breakout seasons in the league. These emerging stars are directly beneficial to the success of their teams and are essential in giving their clubs an opportunity to win on a nightly basis.
Let's take a look at ten players who are having breakout seasons in the NHL this year:
Tyler Johnson – Tampa Bay Lightning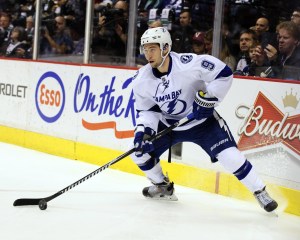 A Calder Trophy finalist this past season, Tyler Johnson is enjoying a breakout season this year with the Tampa Bay Lightning. Despite his small stature, Johnson is incredibly skilled and consistently productive. A little over half way through his 2014-15 season, Johnson currently sits sixth in league scoring with 17 goals and 45 points through 42 games.
Johnson is a mere five points away from surpassing his career high of 50 which he set last year in his rookie season, which 40 games left to play.
Not only is Johnson becoming an elite offensive producer, but he is also responsible in the defensive end. His plus 26 rating is tied with teammate Nikita Kucherov as the best in the league.
Vladimir Tarasenko – St. Louis Blues
Having played in 42 games this season, St. Louis Blues star Vladimir Tarasenko has already surpassed his previous career high in points a mere half way through the year.
Tarasenko has been one of, if not the most entertaining player to watch in the NHL this season. Vladimir has an insane amount of skill with the puck, abilities which have led to amazing, jaw dropping goals on multiple occasions, the most memorable of which came in a game against the New York Rangers. A goal which could be the goal of the year.
With 44 points so far this season, good for eighth in the NHL, Tarasenko has also added 23 goals, an amount which ranks third in the league. At this pace, Tarasenko is having a breakout season and will likely finish with over a point per game in only his third season in the NHL.
Like Tyler Johnson, Tarasenko, on top of becoming a consistent offensive threat, is also among the best in the NHL in terms of plus/ minus, ranking third in the league with a plus 23 rating.
Nikita Kucherov – Tampa Bay Lightning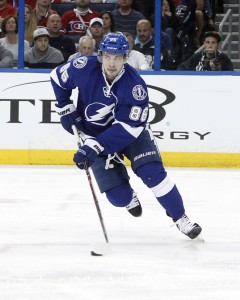 Nikita Kucherov is a player who receives little recognition for his abilities in the NHL, yet is quietly becoming a young star with the Lightning.
In only his second season in the NHL, Kucherov, like Tyler Johnson, is a small yet highly skilled and offensively dangerous player. After a mere 18 points in 52 games last season, Kucherov is having a breakout season. Through 43 games this season, Nikita had scored 17 goals and 41 points despite averaging around 16 minutes of ice time per game.
On pace to score close to 80 points this season, Kucherov, alongside Johnson have provided the Lightning with sensational depth scoring to this point and are largely responsible for Tampa Bay's spot atop the Eastern Conference standings.
Michael Hutchinson – Winnipeg Jets
In talking about breakout seasons, this list would not be complete without the inclusion of Winnipeg Jets goaltender Michael Hutchinson.
After suiting up in three games last season for the Jets, Hutchinson has been simply outstanding so far this season, so good in fact the most would say he is near in assuming the role of the Jets' number one goaltender.
In his first full season in the NHL, Hutchinson has been spectacular, recording an 11-4-3 record in 18 appearances. His statistics in particular are what has been most impressive, as Michael has a .931 Save Percentage and a 2.00 Goals Against Average, stats which are number two and three in the entire NHL.
Check out this awesome save by Hutchinson against the Dallas Stars:
https://www.youtube.com/watch?v=oHkraNuCiFo
Hutchinson's best quality is his ability to give the Jets consistent goaltending, something Winnipeg have struggled to count on from Ondrej Pavelec. If Hutchinson continues to play at the elite level which he has thus far this season, Michael's breakout season could cement his position as the number one goaltender of the Winnipeg Jets.
Nick Foligno – Columbus Blue Jackets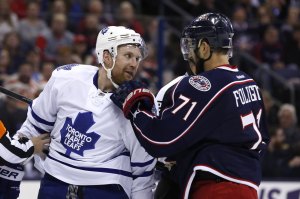 Remeber when the Columbus Blue Jackets delt Marc Methot to the Ottawa Senators for Nick Foligno in 2012? It's safe to say the Blue Jackets are the definitive winners of that trade, as Foligno has become one of Columbus' most reliable players at both ends of the rink.
Foligno is having a breakout season offensively, as although he has played only 39 games this season, Nick is only eight points shy of surpassing the career best points total he set in the 2011-12 season. His 18 goals at this point in th 2014-15 season already equals his previous carer high in goals scored.
18 goals and 40 points has Foligno on pace to finish in the 80 point range, elite production and largely the reason why the Blue Jackets were quick to secure Foligno's services for the considerable future, signing Nick to a six year contract extension worth $33 million dollars.
Filip Forsberg – Nashville Predators
Filip Forsberg was drafted 11th overall by the Washington Capitals in the 2012 NHL Entry Draft. Remember that? Because Capitals fans surely do. The exchange of Forsberg to Nashville in exchange for Michael Latta and Martin Erat looks poised to go down as one of the worst trades in the NHL history.
Meanwhile, Forsberg is in the midst of a breakout season with the Predators.
Currently in his first full NHL season, Filip is scoring at nearly a point per game pace with 38 points through 41 games. He has been a dominant force with the Predators this season, and his contributions are largely responsible for Nashville's explosion to the top of the Western Conference standings.
Check out Forsberg's goal against future Hall of Famer, Martin Brodeur:
Further, like many other players on this list, Forsberg is not only great offensively, but in his own end too, as his plus 22 rating is fourth best in the NHL, illustrating his commitment to playing a 200 foot game.
Johnny Gaudreau – Calgary Flames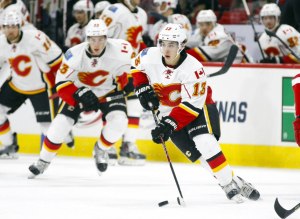 Who needs a rookie season to get acclimated to the NHL game? Certainly not "Johnny Hockey", who is in the middle of a breakout season in his first year in the league.
Checking in at 5 foot 9, 150 pounds, what Gaudreau lacks in size he makes up for in skill.
42 games into his rookie season, Gaudreau hasn't missed a beat since making the transition from College hockey to the NHL, having already scored 13 goals and 32 points with the surprising Flames.
A rookie of the year contender, Gaudreau looks to be on pace to finish the 2014-15 season in the 60 point range, production typically elite enough to take home the honor, yet in such a strong rookie class nothing is certain.
Calvin Pickard – Colorado Avalanche
Calvin Pickard is yet another player who is having a breakout season in the NHL, however, unlike the others on this list, Pickard's presence in the NHL comes as more of a surprise rather than an expectation.
When the Avalanche opened the 2014-15 season, Semyon Varlamov and Reto Berra were expected to be the top two goaltenders on the team and demand the majority of the playing time. However, after multiple injuries to Varlamov early in the season and inconsistent play from Berra, Pickard was given an opportunity and didn't look back.
In 14 appearances this season, Pickard has been spectacular. Although he owns a 6-6-2 record, Pickard leads the NHL in Save Percentage at .934% and is eighth in Goals Against Average with a GAA of 2.21.
Take a look at this amazing save by Pickard:
https://www.youtube.com/watch?v=7YwiAz1TWPg
Although Semyon Varlamov is the undisputed number one goaltender in Colorado when healthy, Pickard has and continues to make his case for not only more playing time, but potentially the opportunity to be a number one goaltender in the NHL.
Ryan Strome – New York Islanders
Although he was drafted fifth overall in the 2011 NHL Entry Draft, the 2014-15 season marks Strome's first full season in the NHL, having played 37 games last season.
While many hockey fans, especially those in New York at the time, would have loved to see Strome make the jump from junior to the NHL, an extra year of OHL hockey with the Niagara Ice Dogs and experience with the AHL's Bridgeport Sound Tigers looks to have been a great decision by the Islanders.
After a slow start this season, Strome has begun to enjoy a breakout campaign, having now scored 30 points in 42 games. This production by Strome has been remarkable considering he has been averaging around 15 minutes of ice time per game.
Projected to be a top NHL center ice man in the NHL, Strome's production thus far this season has been a great indication of his potential at the NHL level. A 60 point season from Strome would be an incredible contribution to the Islanders, especially in a season in which they look destined for a strong playoff run.
Jakub Voracek – Philadelphia Flyers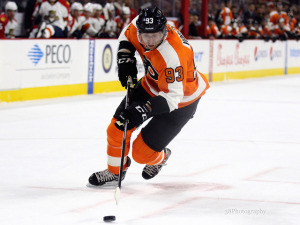 This list wouldn't be complete without the inclusion of the league's current leading scorer.
Having already scored 52 points in 43 games so far this season, Voracek is the only NHL player currently on pace to come near the 100 point plateau. Voracek, who set a career in points this past season with 62, will undoubtedly surpass this total this season.
At the age of 25, Voracek has already played in almost 500 career games, while his offensive production looks as if it will only continue to grow. However, Voracek's breakout season could become a side note if the Flyers fail to turn around their season. Despite boasting two of the league's top three goal scorers in Voracek and Claude Giroux, the Flyers still find themselves in the bottom of the Eastern Conference standings.
However, Voracek and his clear skill should situate Jakub as a building block with the Flyers for years to come, especially if he can continue his torrent scoring pace.