The Rangers' Playoff Outlook
With the 2014-15 NHL season rolling on into the last two months, teams are gearing up for the playoffs. More teams are finalizing their trade deadline status as buyers or sellers, and the New York Rangers once again appear to be firmly in the buying category. Reports have already circulated regarding the Rangers asking about Phil Kessel (the price was rumored to have been far too high), among others. The rumor mill will likely grow stronger as the March 2 trade deadline approaches.
With this in mind, we'll take a look at what the Rangers need to do before they head into the Playoffs if they want a return to the Stanley Cup Final. Not all of these things can (or should) be solved by trades, of course, but all will have to happen in order for the Blueshirts to put together another deep playoff run.
1) Get More Depth Scoring
One of the hallmarks of last season's Rangers was the amount of scoring provided by their bottom two lines. In fact, their third line of Derick Brassard, Mats Zuccarello, and Benoit Pouliot carried the scoring load for much of last year's playoffs. This year has been a different story for the Rangers, however. Their current third line of Carl Hagelin, Kevin Hayes, and J.T. Miller has been pitching in and doing well, but they are far from being the power trio that fueled the Rangers last year.
Why does lack of depth scoring matter? Simply, because it makes the opposing team's job easier. If the Rangers' sole scoring threat is Rick Nash, then their opponent's game plan can revolve around stopping Nash.  If other teams can smother Nash defensively and Rangers not named Rick Nash can't score, then this year's playoff run could be over very quickly for the Blueshirts.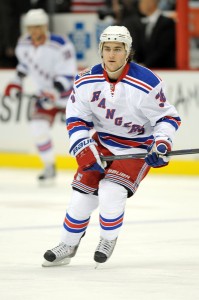 The worst part of this scenario is that, in spite of his Hart Trophy-worthy regular season, Nash will get the blame. While he was largely invisible during the past two playoff seasons, we have since learned that post-concussion symptoms played a big role in both cases. This year, he could be totally healthy and still not score simply because other teams could devote two (or more) players to shutting him down. The Rangers need other players to step up in order to prevent this scenario from happening.
The Rangers currently have the pieces to make this happen, but they need to find a way to get consistent production from their bottom lines. Failing that, GM Glen Sather will need to add a depth player at the deadline.
2) More Fourth Line Puck Possession
Things get worse when you look at the Rangers' current fourth line. Not only is the line of Tanner Glass, Dominic Moore, and Lee Stempniak not scoring, they've been unable to pin the other team in their defensive zone. Anyone watching last year's Rangers playoff run routinely witnessed their fourth line of Moore, Brian Boyle, and Derek Dorsett/Dan Carcillo hem opposing teams in their own zone for full shifts at a time. Not this year. In spite of the fact that Moore holds the team's best faceoff percentage, the Rangers fourth line possession numbers are among the team's lowest.
Jesper Fast has been a bright spot, and could turn things around for the fourth line if given the chance. He will be returning from a knee injury sometime in early March. Alternatively, the Rangers could trade for a good fourth-line possession player–as there will certainly be affordable options available at the deadline.
3) Win More Faceoffs
No surprise here–the Rangers have been absolutely horrible on faceoffs all season. The only NHL team with a worse faceoff percentage than the Rangers (46.8%) is the Buffalo Sabres (45.4%). They make up for their problems on draws with team speed–by forcing turnovers and counter-punching very well.  But handing the puck to the opponents so regularly will catch up to them in the playoffs.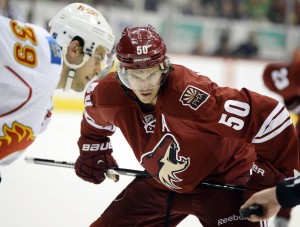 The answer here is not as easy. Short of sending Derek Stepan to face-off boot camp, any help would have to come via trade. Solid centers are guaranteed to be in high demand for the trade deadline, though. Yes, Antoine Vermette is available, but how much will the Arizona Coyotes want for him when multiple teams come knocking? This brings us to point 4…
4) Don't Overpay For a Rental
In our earlier article on the Rangers' upcoming salary cap issues, commenter David Miller pointed out that it's never a good thing to give up a player under contract for a "rental" player whose deal is expiring. We can only hope the Rangers management team feels the same way. By giving up too much for a player they will not be able to retain (*cough cough* Antoine Vermette), the Rangers could be shooting themselves in the foot.
For a team in "win now" mode, sometimes overpaying a rental is the only option–but the Rangers have been setting themselves up for the long term, with multi-year extensions for almost all of their core players. There's no reason to short-circuit that process for a quick fix, and any playoff success this season can still be had without adding short-term players.
5) Add Depth on Defense
This seems strange to say for the Rangers, who have been good defensively this year, but they could use some extra help on the blueline. Their last few games have seen a marked rise in goals against.  This is not entirely due to Henrik Lundqvist's injury–the trend began before the Carolina game. Their third defensive pair of Dan Boyle and Matt Hunwick/John Moore have been victimized most often, but even stalwarts Dan Girardi, Marc Staal, and Ryan McDonagh have been making more mistakes.
At the moment, neither Hunwick nor Moore has been able to consistently fill the third defensive pair role. They could certainly get some help on defense for a good price, and they have been rumored to be looking at Carolina Hurricanes defender Andrej Sekera. Another solid option would be Jeff Petry of the Edmonton Oilers.
One way or another, any Rangers trade deadline deal would likely be for a role-player. Don't look for a repeat of last year's Callahan-for-St. Louis blockbuster. But don't look for Glen Sather to stand still either.  If recent seasons have told us anything, that's just not his style.