Sometimes it just feels like the only thing you do is play hockey and eat — Henrik Lundqvist
Between barbecuing, outdoor parties and general miscellany, summer is indeed the season for eating. Alas, the autumnal equinox has now come and gone, so the other half of King Henrik's pronouncement is about to happen. It's time to play (and for us couch potatoes, watch) hockey.
Each year, the new hockey season is filled with fresh, interesting story lines worth watching. Last year, Tyler Toffoli was on the watch list, as was Slava Voynov. Martin Jones was an afterthought in Manchester, as was Tanner Pearson. The Kings had lost their title to the Chicago Blackhawks and were facing a long, steep climb up the mountain once more. There were whispers in certain corners that the eight-seeded Kings were a "fluke" champion in 2012, and pundits were now fawning over crosstown rival Anaheim and inter-state foe San Jose.
We all know what ultimately happened. Coming into this season, the 'fluke' label has been discarded in favor of 'possible dynasty'. While all that remains be seen, it's another year, and thus brand new stories to watch. The following are five worth keeping an eye on.
Drew Doughty and the Norris Trophy watch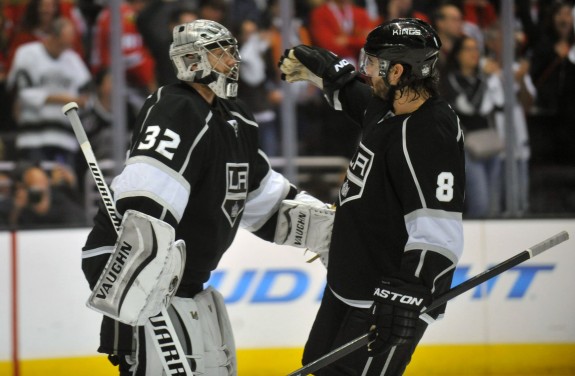 Every year, we all say the same things about Drew Doughty. He's widely acknowledged as one of the very best in the NHL at his position, a guy that has future Norris Trophy winner written all over him. Backing that up, he was seventh amongst league defensemen in ATOI (25:42) last year, ninth in
Corsi For Percentage
, and 18th in hits. Solid numbers, all.
Unfortunately for Doughty, Norris Trophy winners consistently score at a high level, something he hasn't accomplished since 2009-10. The fewest number of points by a winner (not counting lockout-shortened seasons) in recent memory was Zdeno Chara's 50 in 2008-09, with an average of 65 over the past ten campaigns. Even with his ice time, high Corsi For and surprising physicality, he's going to need to get out of the 30s and 40s in total points if he ever hopes to be shining up that trophy on his mantle someday.
The Mike Richards watch
Given his offensive output in recent seasons as well as his periodic demotion to the fourth line, it's almost hard to remember that the 29-year old Richards was a perennial 30 goal, 60+ point player with the Philadelphia Flyers. He should be in his prime, and yet he was this close to becoming a compliance buyout victim. "Everyone knows what this guy brings. He's very hard to find," said GM Dean Lombardi, assessing Richards. "I just think he's at a stage in his career where he has to change the way he prepares in the offseason. You can't prepare the same way at 29 you did at 22. That's what it comes down to."
Richards reportedly came to camp in great shape. Given his $5.75 million cap hit and contract that runs into the next decade, it's imperative he returns to form. Can he rebound this season? That will absolutely be an unfolding story to watch.
The Dustin Brown watch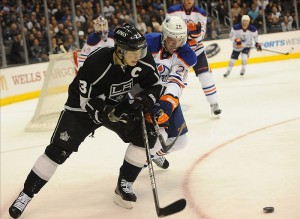 The Kings captain
signed an eight-year extension
in 2013. He hasn't hit the skids for as many seasons in a row as Mike Richards, but Dustin Brown suffered through his worst campaign since 2005-06 last year. Also just 29, he should be peaking, not declining, although the years of physical play may be taking their toll. Regardless, like Richards, he's here for a long, long time.
Sure, L.A won the Cup despite Brown's struggles, but they cannot afford to have nearly one-sixth of their cap tied up in two players vastly underperforming offensively. Brown has to be better. A lot better.
Tyler Toffoli and Tanner Pearson
On the plus side, there's Tyler Toffoli and Tanner Pearson. Both are young (22), recent high draft picks that have had immediate success at the NHL level. Toffoli played in 62 games, averaging 12:56 of ice time and scoring 29 points. He stepped it up big time in the playoffs, notching 14 points in 26 game. Pearson appeared in just 25 games (7 points), but also stood tall in the playoffs, recording 12 points.
Toffoli and Pearson were paired with Jeff Carter during much of the playoffs, and the results speak for themselves. Watch for Darryl Sutter to give the trio a chance to recreate their chemistry once again this year. Are these two youngsters ready to take the next step in their development and become offensive stars in the making? Watch and learn, Kings fans.
Can the Kings repeat?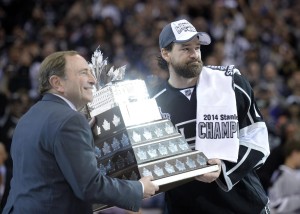 It's a tall order. Not only is the West absolutely loaded, but history just isn't on L.A.'s side. The last repeat champion was the Detroit Red Wings, who accomplished it in 1996-97 and 1997-98. In this day and age, it's
hard
to win one title, much less two in a row.
However, the Kings have plenty going for them in their quest for yet another Cup. For starters, they have a franchise center (Kopitar), franchise defenseman (Doughty) and franchise goaltender (Quick). They've got enviable depth up and down the line. Darryl Sutter has proven himself to be one of the best head coaches in the NHL, and Dean Lombardi one of the top GMs. Other than the return to form of Richards and Brown and the defense adjusting to the loss of Willie Mitchell, there aren't many unknowns on this Kings team to watch out for.
Disconcertingly for the rest of the NHL, the Kings project to be even better this year. Marian Gaborik re-signed this past offseason and when healthy, has the electric skills necessary to jump-start an otherwise inconsistent offense. Watch for a very solid regular season in L.A., and after that, it's anyone's guess whether or not they have what it takes to get back to the Cup finals.
As a matter of fact, I discussed that very scenario in this piece a couple of months ago. Watch out, Nostradamus — watch out.
Walter McLaughlin is a Los Angeles Kings correspondent for The Hockey Writers. He is an avid sports fan, having followed the Kings since living in L.A. in the mid-1970's, as well as suffering through Seattle sports teams' general futility. He has a Bachelor's degree in Finance and has worked in community banking for over 25 years, specializing in SBA loans. He is married and has two daughters.