Just a few short months ago the Montreal Canadiens embarked on a promising season. With many key players hitting their prime, this felt like a do or die year for Carey Price, Max Pacioretty, P.K. Subban and head coach Michel Therrien.  Then injuries hit and losses ensued, followed by losses, and then more losses and has, finally, culminated in a media war.  Oh dear.
Habs fans have been spoiled recently, watching their team steadily improve with a roster that excited and entertained, as the team made its way into consecutive playoff appearances, including a visit to the Eastern Conference Finals in 2013-2014.  The Habs started 2015-2016 with a record 9 straight regulation wins.
And then the wheels came off, or Price fell to injury.  Either way, the Habs are now eight points out of a playoff spot with a 6-18-1 record in their last 25 games.
An unprecedented tumble in NHL history.
What do hockey fans do when their team is so bad it's painful to watch?  Painful, because even the simplest pass is intercepted for an odd man rush the other way or every entry into the defensive zone by the opposition is a scoring threat.  What do fans do when the team as a whole is in such shambles that fans can no longer play the blame game, or come up with valid conspiracy theories to explain away a seemingly lost season?  There are ways to cope.
Here are five ways Habs fans, or any hockey fans for that matter (I'm looking at your Oilersnation) can make it through a devastating season:
1. Find another team.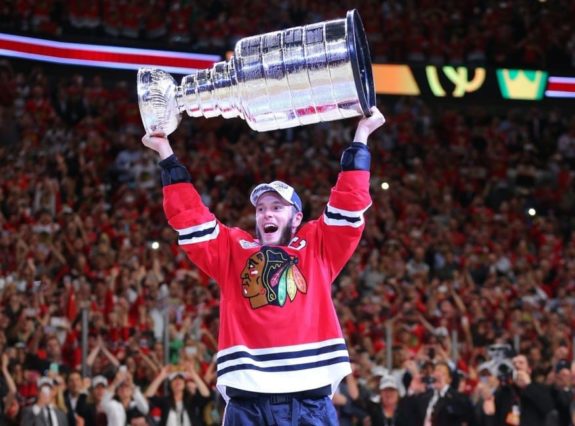 This one is surprisingly easy, unless you want to cheer for a Canadian team; in which case you're back where you started, since the Habs and Vancouver Canucks are the closest teams to a playoff position, and the chances are not good.
After their last minute loss to the Colorado Avalanche on Wednesday, the Habs have a 5.8% chance of making the playoffs; and the Canucks, after falling to their opponent 5-2 in three consecutive games, have dropped to a 4.4% chance of making the postseason.
I recommend going cross-Conference and cheering for a team that doesn't have a playoff history with the Habs, and who's also a bonafide winner like the Chicago Blackhawks or LA Kings.  Both appear to be a lock for a playoff position barring a meltdown of Canadiens-proportions. The Anaheim Ducks are another good option, since their season is a mirror image of the Habs' so far.
2. Create a drinking game when/if you keep watching.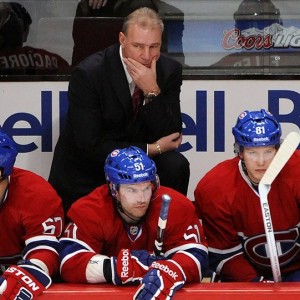 Games are hard to watch the Habs are so bad you're pretty sure your beer league team could beat them. If you decide to keep watching, why not create a drinking game to ease the pain? The upside here is two-fold: 1. Given the challenge, you can make the game entertaining even when the Habs are endlessly employing the dump-and-chase "system" to no avail; and 2. If the game is not going your way, at least you will have imbibed enough drinks to make it less frustrating.
A couple of suggestions: Have a drink every time David Desharnais shows up on the power play. Considering the Habs have drawn the fourth most power play opportunities in the league at 192, prepare yourself accordingly. Or, have a drink every time Gallagher smiles at an opposing player you dislike; because that's just fun.
3. Find the irony in analytics.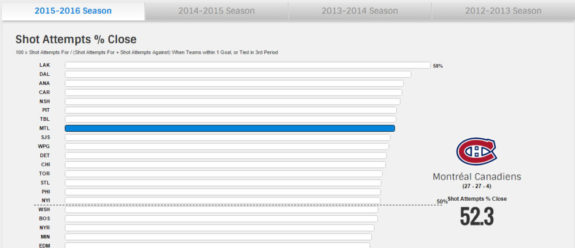 One of the few bright spots, statistically speaking, for the Habs is that they somehow find themselves on the positive end of the Corsi ratings with a 52% CF, good for 6th in the league.
In recent years, the team has fared much better in the standings only to find themselves below the 50% marker, an indication that their possession numbers weren't strong enough to make the playoffs or thrive once there. While that might be true, it would seem that possession numbers mean little when every shot is a solo effort that banks off the goalie's crest, the post or a teammate (another drinking game: have a drink each time the puck leave's a mark on the opposing goalie's jersey).  Having the puck, in the Habs' case, does not translate into winning games no matter how much time they spend passing and shooting. In fact, the CF stat stands as an anomaly against what fans are watching every night. Plus, it's fun to rile up analytics practitioners.
4. Be tank-ful for the upcoming draft.
The #Condon broke. #Habs should be tankful. #Matthews #BigFinn #BiggerFinn #NHLDraft

— Karl Werleman (@karlwerleman) February 16, 2016
Wishing the Habs tank to the bottom of the Eastern Conference is not for everyone, and not my panacea of choice, but there seems to be a considerable number of fans who are hoping for a top five draft pick, or better still, top-touted prospect Auston Matthews.
Rooting for your team to stay winless down the stretch is heart wrenching and never actually viable since no one who has ever played hockey is able to throw a game in the hopes of a better future.  But, a future brighter than this one is worth hoping for at this point.
5. Focus on worse seasons you've endured.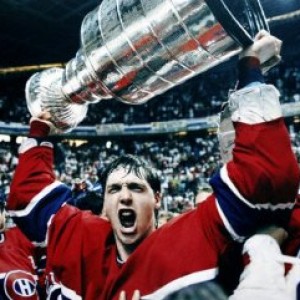 As bad as this season may seem, there have been worse ones. Sure, no team has ever led the league at the quarter mark only to tumble into obscurity by the 58th game, but there have been more devastating moments in the franchise's 107 year history that could make this one seem like a blip when it's finally over.
There was the 2011-2012 season that everyone likes to forget, when the team finished dead last in the Eastern Conference despite that Pacioretty, Price and Subban were all on the team, albeit still young. This was the season that saw Mike Cammalleri, in stunning fashion, traded mid-game for mentioning how poorly the team was playing, which they were.  The trade, came less than two months after the team fired head coach Jacques Martin and replaced him with Randy Cunneyworth, whose coaching days will be remembered as a trivia question.
And of course, there was the 1995 season when goaltender Patrick Roy was traded, because (arguably) a rookie coach felt it was the right decision to leave his star goaltender in nets after allowing nine goals.  The story is heartbreakingly recaptured here by Lyle Richardson at Spectors Hockey and stands as the moment the franchise changed courses, embarking on the longest Stanley Cup drought in Canadiens history.
It's almost over.
You have options, Habs fans, to make it through the final quarter.  The best case scenario would be to escape the February weather for some warmer climate where it's harder to find reminders about the Habs (or your NHL team). But with constant news and score updates at your fingertips, it might just be easier to bear the pain, using a buffer to get through the most dire moments as the Habs skate bowlegged and haggard through their final 24 games.  With the occasional win against the Toronto Maple Leafs or Boston Bruins we might survive it unscathed.