The Montreal Canadiens scored five times in the second period en route to a 8-3 thrashing of the Boston Bruins in one of two National Hockey League games played last night. The other contest saw the New York Rangers and Chicago Black Hawks battle to a 2-2 tie.
Bruins Blow Early Lead
Boston came into the Montreal Forum and for 24 minutes looked like they were going to match the Canadiens stride for stride. Leading 2-1 after one period and 3-1 just four minutes into the second, the Bruins and rookie goalie Bernie Parent looked like they were about to steal a couple of points from Canadiens right in their own back yard. Only 31 seconds after Dean Prentice put the Bruins up 3-1, the roof fell in on Parent and his mates and the rout was on.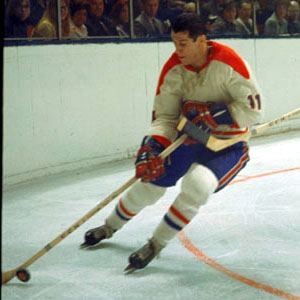 The first period was a wide-open affair with Boston leading 2-1 after 20 minutes, thanks mainly to Parent. John Bucyk put Boston in front before Dick Duff scored his first of two to make it 1-1. Murray Oliver scored with a minute to play in the opening frame to put Boston up by one.
After Prentice's goal at 4:17 of the second made it 3-1, Claude Larose and John Ferguson scored just 34 seconds apart to even things up at 3-3. Henri Richard, Duff and Bobby Rousseau then scored in the second half of the middle stanza to make the score 6-3 after two.
Canadiens added a couple of more goals in the third, with Ralph Backstrom and Rousseau with his second of the night doing the honours.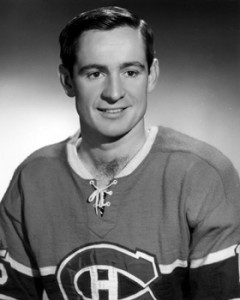 The game was wide-open and sloppily played by both sides, but only one minor disturbance took place. Dick Duff and Reg Fleming, who have no love for each other at the best of times, squared off half way through the third. Duff was tagged with a double minor as the aggressor, with Fleming getting only two minutes.
This wasn't one of Parent's better nights. After a strong first period, he wilted under the offensive pressure exerted by Canadiens and the ineptitude of his own defense. It didn't help that he completely fanned on two backhand shots that ended up in the net.
Charlie Hodge got one of his infrequent starts in goal for Montreal. Coach Toe Blake said that there was nothing wrong with regular netminder Gump Worsley, he just wanted to get Hodge some work. Hodge responded with a tidy performance.
Rangers Tie in Francis' Coaching Debut
The New York Rangers battled back to tie the powerful Chicago Black Hawks last night to give Emile Francis a point in his National Hockey League coaching debut.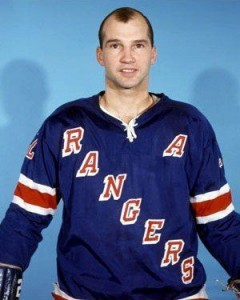 Don Marshall scored midway through the final period to bring the Rangers back from a 2-1 deficit. The real hero for the Rangers was veteran goalie Don Simmons. Simmons, making his first start of the season, made 23 saves in a strong performance in the hostile environment of Chicago Stadium. His best stops were breakaway chances by Bobby Hull and Doug Mohns.
The teams were even after the first period. Red Hay opened the scoring for the Hawks, when he converted a pass from Eric Nesterenko as the two Hawk forwards broke in on a two-on-one rush.
Ranger captain Bob Nevin got that one back less than two minutes later. Rangers Phil Goyette picked up a loose puck when it was mishandled by Hawks rearguard Doug Jarrett. Goyette fed Nevin who beat Chicago goalie Glenn Hall from about 10 feet.
The second period's only goal was Dennis Hull's first of the season. Hay made a great pass to the younger of the Hull brothers and he whipped a bullet past Simmons, who had no chance.
That set the stage for Marshall's tying goal. Bobby Hull was serving a Chicago bench penalty for too many men on the ice when Marshall cashed in on a great set-up from Goyette.
Hornets Sting Reds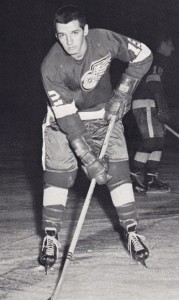 Pit Martin scored the game-winning goal as the Pittsburgh Hornets doubled the Providence Reds 4-2 in the only American Hockey League game last night.
Murray Hall, Ted Hampson and Ron Harris also scored for Pittsburgh. Ed Kachur and Jim Mikol replied for Providence.
Hershey Bears of the AHL scored four goals in two minutes and eight seconds to edge the WHL  San Francisco Seals 5-4.
Hershey's four quick ones came off the sticks of Roger DeJordy, Gary Dornhoefer, Bobby Leiter and Pete Conacher. Nick Polano scored the fifth and game-winning goal.
Seals goal-getters were Wayne Connelly with two, and Gerry Brisson and Tom Thurlby with singles.
Nats Tie St. Louis
Canada's national hockey team came back from being down 3-1 to gain a 3-3 tie with the St. Louis Braves of the Central Professional Hockey League last night in exhibition play in Winnipeg.
Fran Huck, Jean Cusson, and Ted Hargreaves scored for the Nationals. St. Louis marksmen were Brian MacDonald, Gary Kilpatrick and Oscar Gaudet.
Notes: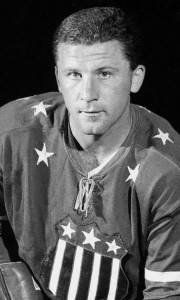 Chirp Brenchley, dismissed as St. Catharines Black Hawks coach last week, has signed on as coach of the Toledo Blades of the International Hockey League.
Joey Bamford, former OHA Junior A goalie with Guelph, will play for the Toronto Marlboros when they face the Russian National Team next week. Bamford, 24, is with the Fort William Beavers of the Lakehead Senior League.
Don Marcotte of the Niagara Falls Flyers has been called up to the National Hockey League by the Boston Bruins. He has scored 16 goals in 18 games in the OHA Junior A league this season.
Fred Glover, playing-coach of the AHL Cleveland Barons, will be out of action for four to six weeks due to torn cartilage in his knee. Captain Bill Needham will fill in for Glover.
Toronto Maple Leafs have called up forward Wally Boyer from the Rochester Americans of the AHL. Toronto farmed Larry Jeffrey to the Amerks in an effort to get the 22-year-old left-winger untracked.
Leafs also sent defenseman Claude Labrosse from Victoria of the WHL to Rochester to take the place of whichever defenseman the Leafs call up from Rochester. Al Arbour is the most likely candidate to join the Leafs.
The New York Rangers have sent defenseman Rod Seiling to their Minnesota farm club in the CPHL. Seiling will be used as a left-winger by Minnesota. In 16 games with New York, Seiling has three goals and five assists.
Los Angeles Blades of the WHL announced that NHL veteran Jerry Toppazzini has joined their team. The Blades drafted Toppazzini last summer but he did not sign with the team until this week.