In the only National Hockey League game played last night the Montreal Canadiens hosted the New York Rangers and blanked the Broadway Blueshirts 2-0 before a pre-Christmas throng of over 13,000.  The win, however valuable in the standings, may prove to be a costly one, as big centre Jean Beliveau left the game only three minutes in with a sprained knee.
A sprained knee for Beliveau
Beliveau was hurt in a collision with Ranger defenceman Jim Nielson.  He was knocked off balance and fell awkwardly.  He was unsure just how badly he was injured after the game:
"It's hard to say how bad it is right now.  It's pretty stiff and it hurts when I try to bend the knee."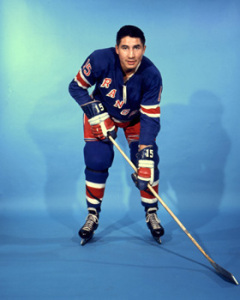 Dave Balon and Yvan Cournoyer took care of the offence for Montreal, each scoring once.  Charlie Hodge made 25 saves to record a well-earned shut out.  It was his second whitewash of the season, both coming at the expense of the Rangers.
Duff, Hicke make debuts
Both Dick Duff and Bill Hicke made their debuts with their new clubs after being involved in the four-player trade between the two teams earlier this week. Duff played very well, earning several good scoring opportunities, although he failed to make good on them.  He was originally given an assist on Cournoyer's goal but that was later changed by the official scorer.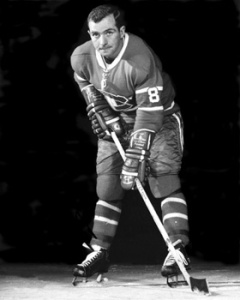 Duff started on a line on the left side with Beliveau and Bobby Rousseau, but that all changed when Big Jean left the game.  Montreal coach Toe Blake put together a line with Rousseau in the middle between Duff and Cournoyer which was quite effective.
Hicke skated on a New York line with Jean Ratelle and Vic Hadfield but seemed invisible most of the night.  He managed only one shot on goal.
Plante solid for Rangers
The only bright spot for the Rangers was the work of veteran goalkeeper and former Canadien Jacques Plante.  He was brilliant at times and made 34 saves.  It was his play alone that kept the score reasonably respectable for New York.
AHL Aces to make helmets mandatory
The Quebec Aces of the American Hockey League will make helmets mandatory for all players. It is believed this is the first time a professional team has issued such an edict to its players.
General manager Robert Martineau said that the club has been considering such a move for quite a while, but was pushed into a firm decision after two players recently suffered serious head injuries.
Defenceman Jimmy Morrison sustained a fractured skull when he fell to the ice and struck his head on December 10.  This past Sunday, another defenceman, John Hanna, suffered a concussion.
Martineau says that the protective helmets have been ordered and should be available for the Aces' next game.  All players will be required to don the headgear.
Retired police detective, involved in hockey at all levels for over 50 years. Member of Society for International Hockey Research and presently a video analyst for the leader in advanced hockey analytics (we work exclusively for 2 NHL clubs, and provide advice on an ad hoc basis to many other clients). Currently the Assistant General Manager for the Pelham Pirates of the Greater Ontario Junior Hockey League. Previously owned the Faceoff computer hockey simulation and also provided all player ratings for the EA Sports series of NHL computer games from the late 90's into the mid 2000's.