As the Stanley Cup playoffs resume tonight in Montreal and Detroit, one series has already degenerated into a war of words.
Everybody has something to say
In the Montreal-Toronto series, everyone is getting into the act of exchanging not-so-pleasantries.  Not only are the coaches, Toe Blake of Montreal and Punch Imlach of Toronto, sniping at each other, but Canadiens' president David Molson, Leaf president Stafford Smythe and even NHL president Clarence Campbell fired verbal salvos at the various participants.
Campbell vs Imlach
Campbell started things off by charging that the Toronto Maple Leafs "did not come here to play hockey", strong words from any league president.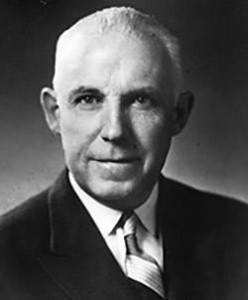 Campbell further commented, "The game was played in an atmosphere of intimidation on the part of the Leafs."
Despite his rather pointed comments towards Toronto, Campbell stated that Imlach will not be fined for his vilification of referee Vern Buffey.
When told of Campbell's comments, Imlach called Campbell's allegations ridiculous.
"He's got his nerve telling me how to run my  business.  His job is to run the NHL, not the Toronto Maple Leafs."
Campbell fired back: "No one is telling him how to run his team.  He's entitled to run it any way he wants to, but he knows the rules of play."
Imlach's comments about Buffey's officiating would normally result in a substantial fine and / or a suspension for any coach making such statements.  However, Campbell, who acknowledged that the official did err in how the penalties were assessed as a result of that second-period altercation in game one, basically confirms that Imlach had every right to be upset by not taking any disciplinary action.
Campbell wouldn't comment on why Imlach escaped a fine, but did say, "I would have to believe that Buffey  originally intended to assess a major against Roberts.  The penalty was announced that way. Later, it was washed out.  Whether it was Buffey or the penalty timers who made that change, I am unable to say."
The following video describes the fracas in which Roberts left the bench.
Milt Dunnell of the Toronto Star blames antiquated timekeeping equipment on the problems experienced in game one.  Because of the excessive number of penalties happening concurrently, the timers were confused as to when players should be released from the penalty box.
Aside from the issue with Roberts, John Ferguson spent two extra minutes in custody, Ted Harris escaped the sin bin two minutes early and Pete Stemkowski was released three minutes before he should have been.
Campbell says that new equipment has been approved and should be installed in one or two NHL rinks for next season.
Campbell also said that he wants to review film of the incident in which Toronto defenceman Kent Douglas clubbed Montreal forward Dave Balon with his stick, knocking him to the ice. The incident took place before the game telecast began, and it appears video tape is not available.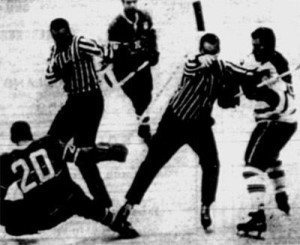 Campbell said, "Douglas was lucky Balon got up.  Let's say we were all lucky."
Imlach vs officials
Imlach commented further on the officiating:
"All I want them to do is call the game,  give me all the penalties I deserve.  But do the same thing for the other team, too, and make sure they serve them.
"We had a foul-up here last year with the same penalty timekeeper.  Yet he's back this year.  Someone somewhere is incompetent when things like this can happen.
"Why, Buffey admitted to George Armstrong at the end of the second period that we got robbed on that Roberts thing, but he did nothing about it."
Imlach said that he was so upset, he was going to leave the bench and go onto the ice after Buffey.  He would have, except for Tim Horton.
"Tim Horton stepped in front of me and said, 'you're not going out there'."
Blake vs Imlach
Toe Blake answered Imlach with an outburst of his own.
"All he tells you is about the penalty Jim Roberts didn't get and the extra time his guy served, but he doesn't say anything about his guy (Stemkowski) getting on the ice two minutes too soon, or Ted Harris serving two minutes too much.
"I'm sick and tired of his talking.  He came in boasting how he was going to chase the Singer Midgets out of the rink.  Well, he didn't do it. And now he's screaming.
"He told all of us at the meeting in June that he wouldn't abide by the no talking rule (protesting penalties).  So he sends Bob Pulford off the bench five times to complain and Pulford never got one misconduct.  I don't hear him saying anything about Buffey goofing that.
"Punch is always talking about rough stuff.  How he's going to out-tough  us.  Well, let him come out and throw some punches himself. I'll be glad to meet him half-way."
Molson vs Smythe
Canadiens' president David Molson even chipped in with charges that Maple Leaf players had instructions from their management to "do as much damage as possible."
Molson described the Toronto play:  "It's disgraceful.  It's intolerable.
"Certain aspects of that game were a disgrace and could only damage hockey's image.  And I blame it strictly on the philosophy and approach of the management of a National Hockey League team.
"It's not the fault of the players or the referees.  It was obvious that one team had been instructed by its management to go out and do as much damage as possible.  It's the management's responsibility and no one else's."
Toronto President Stafford Smyth didn't want to be left out of the discussion, calling Molson's allegations "typical Montreal playoff strategy."
"Every year they like to stir up the pot and get it boiling in every direction.  Then the fans roar, the referee is on his guard, and before you know it, we're in the penalty box.
"It's Canadiens' standard tactic, but it seems to work in this town, anyway."
The series continues tonight with Montreal leading, one game to none.