Sam Pollock, the crafty general manager of the Montreal Canadiens, thinks the Russian national hockey team fits the definition of "professional" and he would like to eventually see a world pro league featuring teams in North American and European cities.
Pollock, in Toronto to see a team of OHA Junior A all-stars play the Soviets tonight and then his own Montreal Junior Canadiens tomorrow in Montreal, thinks the Russians should be given a shot at playing our professionals. But that doesn't mean his Canadiens or the Maple Leafs would be lining up against the Reds anytime soon. He outlined how he envisioned a process whereby our pros would faceoff against the Russians to Dick Beddoes of the Globe and Mail.
We'd be pleased to play them on a pro basis, with NHL rules.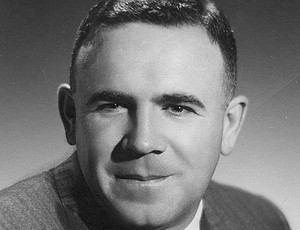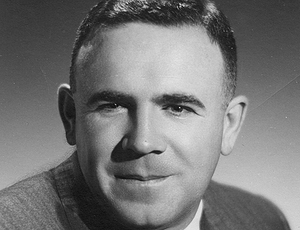 Pollock believes that the Russian players, who are engaged in training and playing hockey for about 10 months a year, are truly professional. The International Ice Hockey Federation still classifies them as amateurs. The Russians have said repeatedly they want to play against our professionals, but as of yet, no such meeting has been arranged.
Pollock doesn't think the Russians have earned the right to play NHL teams quite yet, and has a plan as to how they can show their readiness.
I think they should qualify for the NHL by playing Rochester or Quebec.
Rochester and Quebec are the current divisional leaders of the American Hockey League. Pollock feels that they are now good enough to have their "pros" play ours and leave their amateurs to play teams such as our Canadian nationals.
Pollock was asked if it would be outrageous to imagine the NHL eventually expanding to European cities such as Moscow, Prague, Helsinki and others.
"Not wild speculation at all. Maybe it's five years from arranging. Why not a world league with an interlocking schedule between this continent and Europe?"
Given the length of time it has taken the NHL to figure out expansion on this continent (and they aren't even completely there yet) it may take a lot longer than five years to arrange something internationally. But Mr. Pollock, who is certainly proving himself to be no fool, could be on to something. Especially if it becomes a source of money that would end up in the pockets of NHL owners.
Leafs Lose Arbour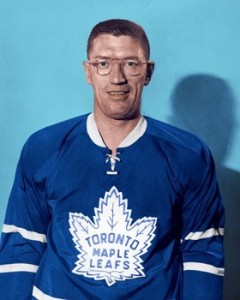 Two games after being called up from the Rochester Americans, Toronto Maple Leaf defenseman Al Arbour now finds himself sidelined with a knee injury. Arbour was elevated from the Amerks last week to replace injured Leaf Bobby Baun, who is out for up to six weeks with ironically, a knee injury.
Arbour was a standout in both games he played. He was injured Sunday evening in the game against the New York Rangers, but no one could remember a play that could have caused his problem. Arbour explained how it happened. He said that he stepped on some debris at centre ice and that no other player on the ice was near him at the time.
"My feet went one way and my body the other. The leg is pretty sore."
Toronto coach and general manager Punch Imlach said that at the moment he doesn't have a replacement at the ready. It's quite likely that he will summon another defenseman from Rochester, although he did not dismiss the possibility of moving centre Red Kelly back to the blue line. Kelly played all-star defense for the Detroit Red Wings for 13 years before coming to Toronto in 1960.
Generals Whip London Again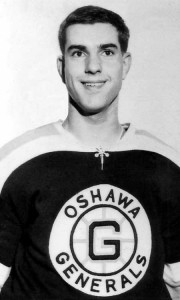 The Oshawa Generals took a second straight lopsided decision over the London Nationals last night. Playing at Treasure Island Gardens in London, the Generals shut out the Nats by a 6-0 score. The win lengthened the Generals first-place lead in the OHA to five points over the Niagara Falls Flyers.
Defenseman Bobby Orr scored the game's first goal and then set up two others in the first period to remove all doubt about the outcome of this one early. Wayne Cashman and Bob Black each scored twice for the Generals, with Billy Heindl adding a single. Ian Young registered the shutout for Oshawa.
London's best player was goaltender Rocky Farr. His acrobatics kept the Generals from reaching double figures against the first-year London team.
Francis: Olmstead Talks Too Much
Emile Francis, general manager and now coach of the New York Rangers, revealed why it was he and not Bert Olmstead, coach of the Rangers farm team at Vancouver, who took the reins of the team when head coach Red Sullivan was fired. Olmstead had hinted last February that he wanted the Rangers coaching job.
Bert talks at the wrong time and at the wrong place. That's a bad attribute to have.
Francis was referring to Olmstead's statement to the Associated Press last week that he had been offered the Rangers coaching post, and that he had turned it down.
Francis laughed and explained:
"Sure he was offered a job to coach Rangers – the Kitchener Rangers, our junior farm team in the Ontario Hockey Association."
Francis made that offer last June at the summer meetings. He also mentioned at that time that there might be an opening at Vancouver of the Western Hockey League. Olmstead took that position instead. Olmstead's statement to AP, which broke last week, angered Francis.
"Bert caused a lot of people a lot of trouble. For him to say he was offered the New York job was senseless. He could embarrass himself by saying such a thing."
To his credit, as soon as the AP story came out last week, Olmstead telephoned Francis and apologized.
Andre Lacroix Leads OHA
Andre Lacroix, the diminutive centre for the Peterborough Pets of the OHA Junior A Series, is the new leader of the league scoring race. Lacroix has 16 goals and 37 assists for 53 points. He has a two point lead over Danny O'Shea of Oshawa, who has amassed 21 goals and 30 assists. Defenseman Bobby Orr of the Generals also has 51 points, based on 19 goals and 32 assists.
Top goal-getter in the league is Lacroix's linemate Danny Grant, who has lit the red light 22 times. He is in fourth place with 45 points.
Lacroix led the league in scoring most of the 1964-65 season, before an injury allowed Ken Hodge of the St. Catharines Black Hawks to pass him in the last week. Hodge is now with the Chicago Black Hawks.
Murray Hall Top AHL Point-Getter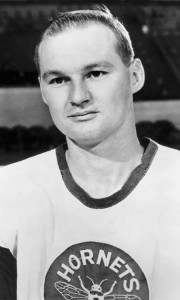 After weeks of seeing the Quebec Aces dominate the American Hockey League scoring race, two Pittsburgh Hornets and a Rochester American have taken over the top spots this week.
Murray Hall of the Hornets leads the league with 34 points. He has scored 14 goals and added 20 assists. Veteran Dick Gamble of Rochester is in second place. He has 12 goals and 21 assists for 33 points. Hall's linemate Norm Beaudin holds down third spot with 30 points on 15 goals and 15 assists.
Alain (Boom Boom) Caron of the Buffalo Bisons has 19 goals to lead the league in that category.
Retired police detective, involved in hockey at all levels for over 50 years. Member of Society for International Hockey Research and presently a video analyst for the leader in advanced hockey analytics (we work exclusively for 2 NHL clubs, and provide advice on an ad hoc basis to many other clients). Currently the Assistant General Manager for the Pelham Pirates of the Greater Ontario Junior Hockey League. Previously owned the Faceoff computer hockey simulation and also provided all player ratings for the EA Sports series of NHL computer games from the late 90's into the mid 2000's.