Facing Off is a weekly column debating five of hockey's hottest topics each and every Monday. From current events like trades and hat tricks, to bigger-picture stuff like scandals and expansion — you name it, we're debating it. Albeit, not always with a serious tone. We're keeping this column light, so keep that in mind when reading, and feel free to join in on the fun by leaving a comment.

This edition really needs no introduction.
We're celebrating our 20th anniversary today — the 20th straight Monday that Facing Off has rolled off the online presses. Some of the names and faces have changed since we debuted back on August 3rd, but the theme has stayed the same. Whenever big news breaks in the hockey world or topics of interest arise, we're debating them here week in and week out. Always giving it 110 per cent in an effort to inform and entertain our readers.
(Check out archived editions of Facing Off)
I won't go getting all sentimental or nostalgic on you now — I'll save those trips down memory lane for the conclusion of this column instead — but I'd like to welcome back one of our regular contributors, Félix Sicard, to first off tackle some current events since there was no shortage of talking points from the last seven days.
The Pittsburgh Penguins pulled the trigger on Mike Johnston over the weekend, making him the second coaching casualty of the season following Todd Richards in Columbus. What was your initial reaction to this firing? Was it the right move? Do you like Mike Sullivan as the replacement?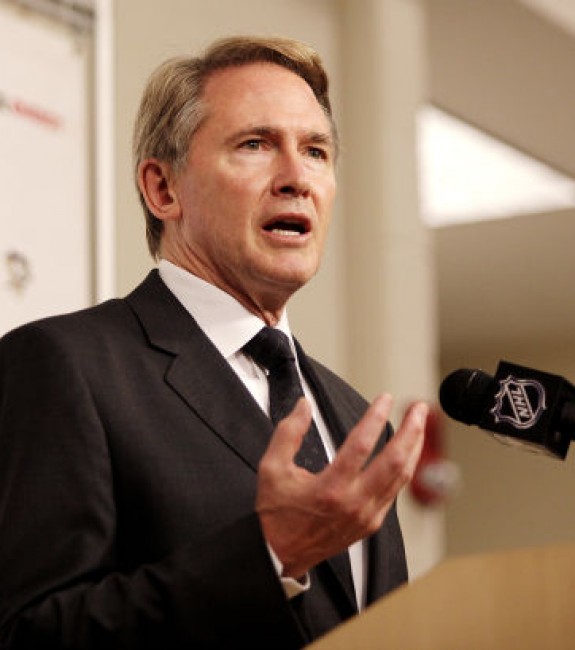 FISHER: Merry Christmas, you're fired! Talk about getting a lump of coal. That might seem harsh, even heartless, but you had to have seen this coming. I certainly did. I'll hereby take an oath, with Félix as my witness, that we were already planning to debate this topic — who's the next coach on the chopping block? And the first name out of my mouth was Mike Johnston. Actually, in all honesty, that was the second name out of my mouth, but I swear he was top of mind for me. You see, we come up with our topics at the outset of the week and evolve them as it progresses. I hadn't received Félix's answer by Saturday morning when that axe fell, so we'll have to get him to raise his right hand in hindsight and trust that he's being truthful if his response is "me too." Truth be told, many believed Johnston was working on borrowed time, with his best player, Sidney Crosby, trending down under his tutelage despite a roster that is built to win-now. That was my brief word-for-word reasoning from the original answer and it rang true, although the Penguins were underachieving as a whole and it came to a head with Friday's shootout loss to the Los Angeles Kings. Johnston will shoulder the blame for suppressing Pittsburgh's offence and not getting the most from his star-laden lineup, but now the pressure will be on Sullivan to get Crosby going again — and, perhaps, more so on Crosby to regain his old form under a new coach.
As a Crosby owner in the fantasy realm, I'm hopeful that Johnston was indeed holding him back and that he hasn't lost a step, though I think it'll take him some time — like a week or two, or three — to get up to speed again. I'm lukewarm on Sullivan, who had been coaching the Baby Pens in Wilkes-Barre, and personally would've turned to someone with a different given name — you know, to change things up. All kidding aside, Mike S. can't do any worse than Mike J. Well, let me rephrase that, Mike S. can't ice a more anemic offence than Mike J., because the latter was still getting decent results and had the Penguins above .500 at 15-10-3, albeit technically below the playoff cut-line — tied with Boston for the final berth at 33 points through Friday's action, but the Bruins had a game in hand and won it on Saturday. At the time of the firing, Pittsburgh ranked 28th out of 30 teams in scoring and 26th on the power play. That's simply unacceptable and the fingers justifiably pointed back to Johnston, who paid the ultimate price.
Check out the comments section below for my original answer in its entirety, but I can't leave you hanging on the identity of the first name out of my mouth — it was Jack Capuano of the Islanders, surprisingly the fourth longest-tenured coach in the league (since 2010-11) but with a suddenly slumping star of his own. Stay tuned for more on that topic — foreshadowing at its finest right there.
SICARD: This one was a long time coming. Earlier in the week, Jim Rutherford let the media know exactly how he felt about Johnston's body of work this season, criticizing him for not utilizing the young Daniel Sprong nearly enough. Johnston's firing was about a range of issues, but they all seemed to be embodied in Crosby's play. Crosby, though seemingly in one of the best positions to succeed that he's ever been in offensively, has yet to fully reach the MVP level that we know he can. Part of that fell on Johnston, he seemed to refuse to place Crosby near the front of the power play, where he is most efficient. However, perhaps the single-biggest reason for the Penguins' struggles is their abysmal blue-line depth. Rutherford did his now former coach no favors in that regard, trading the promising Simon Despres for a bottom-pairing guy in Ben Lovejoy. It was a terrible trade at the time, and it only looks worse now. Something needed to change in Pittsburgh, and Johnston's firing felt that it was at least somewhat warranted, unlike the Richards firing in Columbus. Replacement Mike Sullivan will probably tweak some things offensively and get this team closer to where he needs to be, but until Rutherford pulls the trigger on a deal to bring in defensive depth, this Pittsburgh team might be doomed to fall short of expectations.
When we look at the NHL's top-20 scorers, two names are noticeably absent — besides the obvious, Crosby. Those names are John Tavares and Steven Stamkos. A lot of negative attention has been directed at Crosby, but what's wrong with these two former No. 1 overall picks? We should be expecting more from them too, right? Or are they just overrated?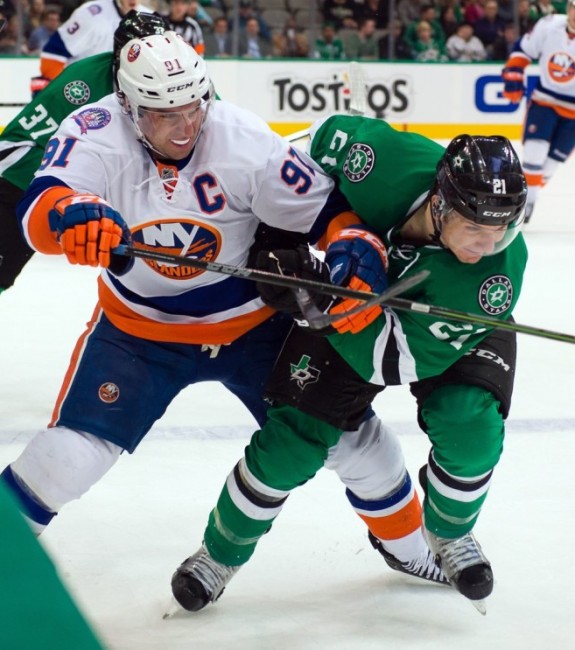 FISHER: I'm not going to call either of them overrated — though more and more people are attaching that tag to Stamkos — but this is baffling to me. Here's two guys in the prime of their careers, both 25 years old and former first overall picks, who should be battling for scoring titles but are instead struggling just to reach the scoresheet game in and game out.
While Patrick Kane, the No. 1 pick in 2007, is breaking all kinds of records with his incredible point streak and comfortably atop the scoring race, you have to scroll way down to find these two on the leaderboard. Stamkos, the No. 1 pick in 2008, and Tavares, the No. 1 pick in 2009, are also well behind Taylor Hall, the No. 1 pick in 2010 who has long been considered a lesser talent. Not this season, or not so far anyway.
There is still two-thirds of the season left — 50-plus games — so we shouldn't jump to conclusions just yet, but Stamkos is on pace for 30 goals and 60 points over 82 games, by far his lowest per-game averages since his rookie season back in 2008-09. Stamkos had a down year by his lofty standards last season, with 43 goals and 72 points, but this would be downright dismal if he doesn't pick up the pace. Not that long ago, Stamkos had three straight 90-plus-point seasons and scored as many as 60 goals in 2011-12. Perhaps his pending free agency and contract negotiations are weighing him down, or maybe quality of linemates can be blamed to some degree, but Stamkos is in a funk similar to Crosby right now.
Likewise, Tavares has gone cold lately for some inexplicable reason. He's on pace for 38 goals and 67 points over 82 games — granted Tavares has missed three games this season, so his actual pace is 37 goals and 65 points. That's a far cry from the career-high 86 points that Tavares put up last season to finish second overall in league scoring, just one point behind Jamie Benn. Many expected this to be Tavares's year to win the Art Ross Trophy, but he literally has half as many points as the current frontrunner, Kane (23 to 46).
Figure that one out Félix because I can't, but I will say that Johnston's firing could be a bad omen for Capuano if Tavares doesn't turn it on soon. I realize the Islanders have won three in a row and earned points in 10 straight (8-0-1-1), but Garth Snow doesn't strike me as the patient type and might act on impulse if he feels Tavares would be more productive under a different bench boss. That's just a hunch.
SICARD: Let's get one thing very clear: neither of those guys are overrated. Tavares is one of the very best puckhandlers in the NHL, while Stamkos's deadly combination of speed and shooting is nearly unmatched. Yes, they have both sputtered. Remember when Alex Ovechkin went through his own struggles though? Even the very best are human, something that us — as media and fans — sometimes lose sight of. How many people have you come across in your life that didn't struggle at something at least once? I'm sure that list is very short.
Stamkos's case might be the most interesting, especially given his team's disappointing start. The former 60-goal scorer has made no secret of the fact that he wants to be the first-line center, something that he might never be long-term with the presence of Tyler Johnson and Valtteri Filppula in the lineup. Tack on the off-ice drama, now famously dubbed "Twittergate", and there's a stench around that situation that is becoming hard to ignore. Stamkos is the last guy you would ever imagine being involved in a player-organization standoff given his soft-spoken nature, yet here we are.
The boring, yet probably most accurate answer to this question is that anything can happen in twenty-something games of hockey, and that both star forwards will be just fine. That's what I'll be putting my money on.
Speaking of Stamkos, remember that time we laughed off any chance of him ending up in Toronto . . . well, Stamkos is now "liking" tweets about himself (potentially) signing with the Leafs. Slip of the thumb or a sign of things to come? Will Stamkos be Toronto bound at the trade deadline? Or on July 1st, the first day of free agency?
FISHER: Fool me once, shame on you. Fool me twice, shame on me. Fool me thrice, you can't get fooled again — ain't that right, Mr. Bush? This isn't the first time Stamkos has been caught liking or what used to be favouriting Toronto propaganda. It is the third known time and others might have gone undetected by the social-media police. Stamkos is claiming the latest incident to be another accident and that could be true (again) — we've all made this mistake, even the biggest Twitter junkies unintentionally "like" something from time to time — but Stamkos isn't innocent here. He's obviously interested in what's being said (or written) about him, and he's guilty of having that information at his fingertips, especially in regards to tweets linking him to Toronto. Is he searching "Stamkos Toronto" and basking in the hype he's generating back home, then "accidentally" fuelling it on occasion? That might be a stretch, but with every passing month and every slip of his thumb, that speculation is gaining momentum and gaining legs in my opinion. Of course, Stamkos can silence this in one fell swoop by signing an extension with the Lightning tomorrow — thus zapping any and all Leafs rumours — but he's been non-committal to Tampa, more so with every passing day. At the outset of the season, I just assumed — like most everybody else — that this extension was a formality, that Stamkos would stay as the face of Tampa's franchise, but I'm on the other side of the fence now. I'm not convinced he's leaving the Lightning or destined to be a Leaf, but I wouldn't bet against it anymore. The more I think about it, the more I think the odds are now closer to 60-40 in favour of Stamkos ending up in Toronto and it might be sooner than later. If Steve Yzerman's spidey-senses are telling him the same thing, he could pull off a blockbuster trade ahead of the Feb. 29 deadline. Yes, there are 29 days in February — it is a leap year, and strange things have been known to happen on that date. It's certainly worth circling on the calendar. Then again, this could be much ado about nothing and a simple life lesson for Stamkos — see, kid, this is why Crosby doesn't have a Twitter account.
SICARD: The "slip of the thumb" theory, though better than the Tyler Seguin "someone hacked me" (paraphrasing) excuse, is just as bad. Look, we can only speculate how "Twittergate" happened. That being said, it just feels so perfect given the current climate around the Tampa Bay Lightning organization. The team is underperforming while the Stamkos contract talks seem to have stalled. The timing of this "slip of the thumb" seems like an all-too calculated move by perhaps an agent to get the ball rolling on contract talks. It's not outlandish to think that the Ontario native could leave the organization that drafted him. If LeBron James could leave Cleveland to Miami, then leave Miami to come back to Cleveland, then basically anything can happen in this world of professional sports free agency that we get to observe from the outside. I'd imagine that Stamkos must be very conflicted in this situation; Tampa probably gives him the best opportunity to win now and in the future, but maybe not the best opportunity to cash in and grow his personal brand. The city of Toronto could certainly offer the latter, and eventually the former a few years from now. At gunpoint, I'd bet that Stamkos makes it work in Tampa Bay.
Third Man In
ANTHONY FUSCO (Leafs writer for THW who is paying close attention to the Stamkos situation): I think you guys hit the nail right on the head with your points. This isn't the first or the second time Stamkos has liked a tweet or article concerning him coming to the Maple Leafs. This is the third time something like this has happened. While it may just be an innocent accident, something tells me that three times isn't as innocent as he would lead us to believe.
When discussing Stamkos coming home to Toronto, many people have told me I'm crazy and that there's absolutely no chance of that happening. Those same people said the same thing about Mike Babcock signing here and, lo and behold, that exact thing happened. My personal take is that Stammer to Toronto is not a guarantee, but with each passing day that he doesn't sign an extension, the dream becomes a little more real.
The Maple Leafs are in a full-scale rebuild right now. Acquiring Stamkos would only bolster the rebuilding efforts of the franchise. But there's something I want to stress. It is imperative that the Leafs do not make a trade to bring the Markham native home. Steve Yzerman is a smart man. If he knows he can't get Stamkos to sign an extension, he will do everything in his power to trade the superstar and get a substantial return. If the Leafs attempted to trade for him, they would be giving up valuable young resources that almost assuredly include William Nylander and/or Mitch Marner — the future faces of the franchise. Losing prospects of the future would be counter-productive to the Leafs' rebuild.
In my opinion, we wait for Stamkos to hit July 1st and become an unrestricted free agent. The Leafs have the resources and personnel to make a solid run at the former first overall pick, assuming he makes it that far. They can make as solid a pitch as anybody and, after that, it's all in the hands of Stamkos and his agent.
It's a very interesting situation that is definitely worth keeping an eye on as the months progress. Stamkos could sign an extension tomorrow and shut this whole business down. I personally think he's interested, but there are so many moving parts that it's hard to determine exactly what direction this story will go next.
Meanwhile, on the expansion front . . . we're still hearing crickets. What, if anything, are you reading into these ongoing "deliberations"? Gary Bettman dismissed the notion that they are stalling for Seattle to get back into the mix, but what's the hold-up? Will we see one or two teams — Las Vegas and/or Quebec City — for the 2017-18 season? Or did they get everybody's hopes up for nothing?
FISHER: I'm not sure Bettman even knows where this is going to go from here, but I'm suspicious that something is happening behind the scenes to hold up or alter the process. It appeared to be on the fast track back in summer — full speed ahead, all systems go — but nowadays there is an air of uncertainty and a bit of backpedalling. It is sounding a lot more like "if" than "when" coming out of this board of governors meeting. But why the sudden change of tune, well, since September? By all indications, the arenas are ready to go, the fan bases are giddy and, most importantly, the ownership groups have their ducks in a row. Vegas is a success waiting to happen as far as I'm concerned, but Quebec City could be sketchier with the Canadian dollar down in the dumps and part of the reason the Nordiques failed the first time around. Bettman snarled at the Seattle rumours — calling them "categorically untrue" — but something seems afoot on that front. There was a sense of disappointment from league officials when the Seattle groups — yes, plural, as in more than one group — failed to submit a bid back in July. That didn't transpire for a myriad of factors, mostly due to the lack of an arena plan, which still isn't in place as of today. Those presumably ongoing negotiations haven't been made public since the bid deadline passed but an announcement still doesn't appear imminent. Obviously, Seattle makes a lot of sense from a geographical standpoint in that it would balance the two conferences with 16 teams in each, whereas Quebec City would require further realignment. But could this delay have more to do with the potential relocation of current franchises? Could we see Carolina move to Quebec City and Arizona to Las Vegas by 2017-18, similar to how the Jets were reborn in Winnipeg through Atlanta's demise? Something isn't adding up in regards to expansion, so perhaps that's a possibility. Either way, be it through expansion or relocation, I do see the NHL arriving in Sin City — becoming the first major professional sports league to gamble on Vegas — but I'm more iffy than most when it comes to Quebec City. For now, we're left in the dark to speculate, but hopefully Bettman will shed some additional light during the All-Star weekend in Nashville at the end of next month.
SICARD: What am I reading into these "deliberations"? Well, let's start that with the fact that establishing a brand-new business in a city that's never had a major professional sports franchise and a city that hasn't had one in decades is a really long and complicated task! Were people expecting this to be an easy process? Imagine that logistical nightmare that it must be to set up shop in a brand new arena, establish all your new departments, look for arena employees, etc. It's a big deal! So no, I'm not at all concerned, especially given the fact that the first real concrete news of expansion only came a mere few months ago. Look, maybe it's because we live in the age of Twitter that we expect things to happen overnight, but simply put, most serious business undertakings take time. The National Hockey League is dead-set on establishing a franchise in Vegas, and it's beyond reasonable doubt that it's a matter of when, and not if, it will happen. The concerns about Quebec are legitimate; the Canadian dollar is effectively in the gutter right now. Yet with all the domestic undertakings that new Prime Minister Justin Trudeau has in mind, maybe we will start to see an upward trend. The smart money is still on Quebec having a franchise down the line, as the ownership group and arena are there and ready to rock. To boot, no other markets have really jumped out and appeared to have any legitimate shot at bringing the NHL to their neck of the woods. Get ready hockey fans, as you will be seeing franchises in Vegas and Quebec City in the very near future.
Prospect junkies have long been heaping praise on John Gibson and Connor Hellebuyck and they are both looking like the real deal right now. Do you have a preference between the two? Do you feel they are presently competing for the starting job for Team North America, or is there somebody else in that conversation? Is the United States producing far superior goalies to Canada lately?
FISHER: Being a former Canadian goalie, and growing up in my developmental years watching and learning from two of the greatest of all-time in Patrick Roy and Martin Brodeur, along with a personal favourite of mine, Curtis Joseph, it pains me to admit this, but yes, the American goaltending factory is churning out the best of the bunch right now. Canada still has power in numbers with 24 active NHL goaltenders hailing from the Great White North to 16 born below the 49th parallel. Jonathan Quick, Ben Bishop and Cory Schneider are the current flag-bearers for American goaltending, but they will soon be passing the torch to Gibson, Hellebuyck and an up-and-comer named Thatcher Demko. Canada counters with Carey Price, Braden Holtby and Marc-Andre Fleury in the present — OK, perhaps "we" still have the edge there, but the pendulum swings the other direction with the next wave. Malcolm Subban, Matt Murray and maybe a guy like Zachary Fucale or Laurent Brossoit are waiting in the wings for Canada, but even if you include Jake Allen as more prospect than pro, you've got to give the advantage to that aforementioned American trio. It'll be telling if the Team North America tandem both possess U.S. passports, but I think it's a sign of things to come. The upside of Gibson, Hellebuyck and Demko is undeniable, with all three having Vezina potential in the next three to five years. Don't get wrong, Canada still has its share of names to watch out for, such as Mackenzie Blackwood, who would have been this year's world-junior starter if not for a strange suspension, and a couple of stud draft-eligibles out of the Dub in Carter Hart (Everett) and Zach Sawchenko (Moose Jaw). But, in all honesty, if I were building a team for the 2020s from the crease out, I'd probably be putting an American between the pipes. It would probably be Gibson and I'm assuming that's Félix's go-to guy as well.
SICARD: Admittedly, I don't have the wealth of prospect knowledge that Larry possesses. As a former goaltender though, I've always paid attention to the world of goaltending. It's true, the United States is churning out talent at an unprecedented rate. Canada has fallen behind a bit in terms of sheer production, but keep in mind that the Great White North has 30 million inhabitants, as opposed to America's 300 million. Even then, Canada's best remain better than the U.S's best, as Larry pointed out. Maybe it's because they face better shooters? Hellebuyck and Gibson are much different goaltenders, but at this point in time it's tough to compare them given their relative lack of NHL experience. Gibson, a composed and athletic goaltender, has looked outstanding as of late for the Ducks, and it looks almost like a certainty now that he will be their goaltender of the future. Hellebuyck has looked excellent as well for the Jets, which isn't surprising to me as he topped InGoal Magazine's list of goalie prospects at the beginning of the season. Hell, if either of them keep it up, we might be seeing them in net for the United States at the World Cup. Jonathan Quick is extremely overrated, as his highlight-reel saves are often a product of being extremely out of position. I give both young keepers a fighting chance at taking the American net, but I think that it's Cory Schneider's job to lose at this point.
BONUS TOPIC
As mentioned, this is the 20th edition of Facing Off and the fifth for Félix. Looking back on all the topics we've covered, what have been your biggest successes and failures?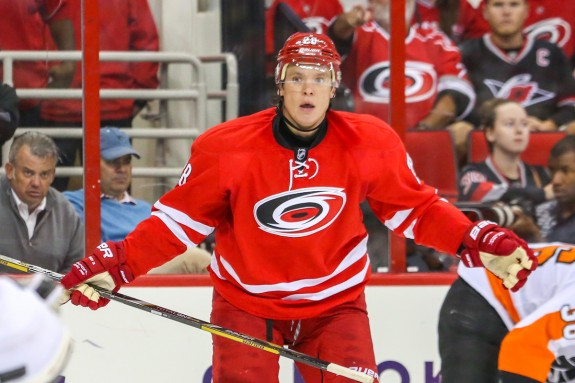 FISHER: Crazy to think it's been 20 editions already, time really does fly when you're having fun. Where to start, whether to begin by pumping my tires or puncturing them? Well, turns out, I can do a bit of both off the top because my biggest failure turned into one of my bigger successes when I bailed on the Alexander Semin bandwagon. You see, in our very first edition back on Aug. 3, we debated whether Semin would boom or bust in Montreal. I went boom, seeing a good fit there with Andrei Markov mentoring him and Semin motivated by being bought out, then signed to a one-year, "now-or-never" contract. Epic fail, I know, but by our Nov. 16th edition, with Semin serving as a healthy scratch, I successfully stated that there wouldn't be a trade market for him and predicted that he'd not only clear waivers but be getting a one-way ticket to the KHL for Christmas. In those exact words. A few weeks later and boom goes the dynamite!
OK, so everybody saw that coming? Well then, going back to August, I singled out Chicago's Artemi Panarin as a dark-horse for the Calder Trophy and took that prediction to the next level by declaring him a finalist just five days into the season. Two months later, Panarin is leading the rookie scoring race and I'm looking like a bit of a genius for being so bullish on the little Russian who barely speaks a lick of English. He's letting his play do all the talking so far.
As is Panarin's partner-in-crime, Patty Kane, who I defended by saying EA Sports jumped the gun in their decision to remove him from the cover of NHL 16. Fair to say he's once again the leading candidate to adorn NHL 17? Kane deserves to be that poster boy, to have his mug front and centre.
I was right about Auston Matthews becoming a point-per-game player in Switzerland a month before he debuted there, and I also called Mike Cammalleri to top 50 points and lead the Devils in scoring a month before NHL training camps opened. The latter will surely come to fruition, barring injury.
Of all the professional tryouts to choose from, I was correct on three of my five predictions to earn contracts with Jonas Gustavsson (Boston), Steve Bernier (N.Y. Islanders) and Scottie Upshall (St. Louis). My misses were Curtis Glencross (Toronto), who retired after also failing to stick with Colorado, and James Sheppard (Columbus), who ended up in Switzerland. Perhaps that batting average shouldn't be a source of pride.
The same day I upgraded Panarin to a Calder finalist, way back on Oct. 12, I also predicted that at least three players would exceed 100 points and that Jamie Benn's league-leading total of 87 points from last season wouldn't crack the top 10 this season. That probably sounded absurd at the time — I was trying to be "bold" — but it's looking pretty accurate in hindsight.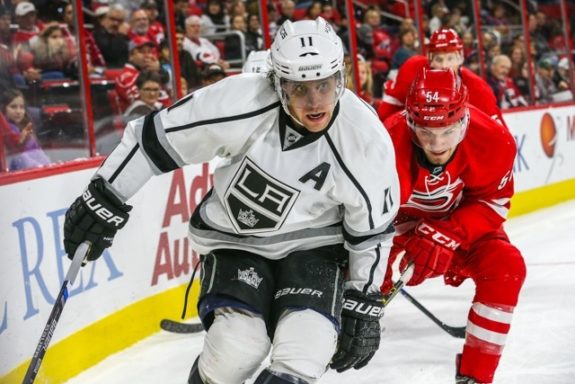 I also predicted on Sept. 14 that the L.A. Kings would bounce back to become one of two California teams to make the playoffs — they are presently pulling away from the Pacific Division pack — but I also picked the Anaheim Ducks to win the Presidents' Trophy in the same breath and they're not even in the post-season picture. I actually had Anaheim and Tampa Bay winning their respective divisions, slugging it out for first-place overall and even clashing for the Stanley Cup, but neither team has lived up to my expectations, nor are they occupying playoff positions.
That makes for a shameful transition to my failures — of which there have been plenty, just as many if not more, to be honest. I also predicted the Calgary Flames to make the playoffs as one of only two Canadian teams (along with Montreal). That stands out as my biggest regret because I'm the furthest thing from a Flames fan, and Dougie Hamilton has looked more like a dud than the stud I expected (at least early on). Swing and a miss there.
On the flip-side, I refused to believe the Coyotes could be "for real" and insisted Arizona would be "nowhere near the playoff race" when the calendar flipped to 2016, but two months later, the Coyotes are still hanging around with a .500 record into mid-December. Good for them, bad for me.
If I'm going to brag about sensing Johnston's firing, then I should also feel shame for suggesting Boston's Claude Julien would be the first coach to hit the unemployment line prior to the season. I had Darryl Sutter on the hot seat early on too and didn't think Bruce Boudreau would survive the Ducks' disastrous start.
From a player perspective, I felt Brent Seabrook was more likely to be traded than Dustin Byfuglien just days before Seabrook signed a long-term extension to stay in Chicago. I also would have lost money for betting on Cam Talbot becoming the best backup-turned-starter over Martin Jones and Robin Lehner. Talbot is still a backup, to Anders Nilsson of all people. Didn't see that coming.
I said Slava Voynov deserved a second chance with the Kings — what was I thinking there? — and I was still calling Crosby the best player in the game as of Nov. 2nd, before finally admitting that title now belongs to Kane in last week's edition. By recording an assist in the first period of Sunday's game against Vancouver, Kane stretched his points streak to 26 games — the longest by an active player — surpassing Crosby's 25-game run back in 2010.
Facing Off has been a blast to this point and I'm thankful for everyone that has been a part of the success so far, including Félix and my original sidekick, Andrew Bensch.
SICARD: Oh man, this is a fun one. Let's just categorize anything I said in a positive light when projecting the Anaheim Ducks' 2015-16 campaign and throw it into the dumpster; they've been really hard to watch at times and the only thing saving their season at the moment is the God-awful Pacific Division. One prediction stands out in particular to me though: I said that the Ducks would be one of the league's very best teams in the new 3-on-3 overtime format. And who can blame me? Rational thought would suggest that having Ryan Getzlaf and Corey Perry would lead to success in that scenario, but that simply hasn't been the case. Getzlaf, in particular, has looked atrocious with the more open ice, highlighted by an absolute gaffe where he turned the puck over after attempting a between-the-legs, no-look pass at center ice, only to spring the opposing forward on a breakaway. In my analyses, I simply didn't account for the fact that Getzlaf and Perry's bread-and-butter is on the cycle, where they can wear down the opposition along the boards and in front of the net. They then use their All-Star offensive skills to put the puck into the net once their opponents' legs have turned into jelly. That adeptness on the cycle doesn't translate nearly as well at 3-on-3, where defenders don't have to worry as much about covering guys along the wall. I did mention that guys like Sami Vatanen would look great at 3-on-3, which has panned out nicely for me, so maybe therein lies my redemption.
Third Man In
ANDREW BENSCH (Sharks beat writer for THW and former Facing Off partner, making his 10th appearance in this column): Home Run — I think it is pretty clear that it was wise to pump the breaks on the Oilers. There was simply too much hype with this team going into the season. Obviously a lot of that hype was because of Connor McDavid who has been injured, but they are still in the bottom five in terms of goals against. A stud two-way center in McDavid obviously would help that team stat, but they still need more defensive talent to be considered a likely playoff team.
Strikeout — On the flip side, it looks like I completely struck out in saying the Kings would miss the playoffs again. Los Angeles leads the Pacific Division and has a healthy lead on everybody else at this point in time. Milan Lucic has fit in much better than I thought he would, and the Kings' top-six has been phenomenal.
Infield Single — So I correctly predicted Franson would land in Buffalo, but it comes with a caveat. I only give myself an infield single because my reasoning was that Buffalo had more optimism going into the season than Boston. A quick glance at the standings and Franson's Sabres are in last place while the Bruins are tied for third.
Groundout — Looks like my prediction that nobody on the Devils would reach 50 points isn't going to come true. Last season nobody on the Devils eclipsed this number, but even with injuries to Adam Henrique and Travis Zajac, forwards like Cammalleri, Lee Stempniak (really? Lee Stempniak?) and Kyle Palmieri are each on track to go over 50 points.
Ground Rule Double — Seems I was right on the money about Martin Jones being the best new starting goalie over Lehner and Talbot. To be fair, Lehner got hurt in his first game and hasn't yet returned, but Talbot has lost his job to Nilsson. Jones has, at times, carried the Sharks. Really, as Jones goes, so goes the Sharks. He was amazing to start the season, setting a franchise-record shutout streak and then he was on fire again during their franchise-record 6-0 road trip in November. Overall, Jones has a decent .916 save percentage.
One pitch pop-up to the catcher — So I had the Sabres making the playoffs this season. They are currently in last place. Oh well, Jack Eichel is at least fun to watch!
---
Who won this round of Facing Off? Feel free to weigh-in with your opinions in the comments below. We will be checking in periodically to both defend and expand on our initial answers. If you want to see us face-off over a topic, we're open to suggestions as well.
Félix Sicard has been covering the Anaheim Ducks for THW since September 2014. Follow him on Twitter: @Felix_Sicard.
Larry Fisher is a sports reporter for The Daily Courier in Kelowna, British Columbia, Canada, and has been an at-large contributor for THW since August 2014. Follow him on Twitter: @LarryFisher_KDC.