Facing Off is a weekly column debating five of hockey's hottest topics each and every Monday. From current events like trades and hat tricks, to bigger-picture stuff like scandals and expansion — you name it, we're debating it. Albeit, not always with a serious tone. We're keeping this column light, so keep that in mind when reading, and feel free to join in on the fun by leaving a comment.

I have a lot of respect for Mike Babcock — and I realize people listen when he talks — but he needs to stop with this making the nets bigger nonsense.
I'm totally with James Reimer — and every other goalie on the planet — when it comes to that topic.
Babcock responds to "purists" who believe making nets bigger would impact NHL record books pic.twitter.com/lRT5fnrYWA

— Mark Masters (@markhmasters) November 11, 2015
Forget about the record books for a second, bigger nets would drastically change the way WE play the position — yes, I used to be a goalie (and kind of still am). It would greatly affect the effectiveness of the butterfly and be an enormous adjustment. Even more so for us vertically-challenged (under six-foot) types.
I get it, the game needs more scoring — more goals or more offence, just more chances in general? — but please leave the nets alone. Pick on Ryan Miller and his pant size all you want, I'm not here to defend the Michelin Man.
Ryan Miller says Ray Ferraro is why people are talking about the size of his pants https://t.co/BrS123XcaF

— Jason Botchford (@botchford) November 11, 2015
Pants, and especially chest protectors, could be reduced — I've got no issue there. They could wrap us in Kevlar and keep us skinny. Sure, we need as much protection as we can get — to guard against injury — but chest protectors shouldn't need to be any thicker than bullet-proof vests. Am I right? Don't get me wrong, staring down an Alex Ovechkin one-timer from point-blank range is terrifying, but it pales in comparison to standing in the line of fire. If it's good enough for the boys in blue, then it's good enough for the boys in the blue paint as far as I'm concerned. Again, am I right?
Going one step further, I'm not against restrictions on the height of pads in relation to the height of goaltenders. They do need to overlap the pants ever so slightly in order to protect that vulnerable area directly above the knee. But they don't need to be shielding the entire femur bone or acting as a second jock. It's overkill. I'm 5-foot-9, on a good day, and I still wear 34-inch-tall Vaughn pads (they might be 12-inches wide, but don't tell the beer-league police). Yet I regularly see guys my height, both in junior and in minor hockey, sporting 36-plus-2 pads that hide their waistline. There's really no reason for that. From the top of the individual's kneecap — with the leg flat and outstretched — pads should extend no more than six inches higher. Leave them at 11-inches wide, that's fair, and the current regulation sizes on blockers and catching gloves are fine too.
You make the nets bigger and you'll get more scoring — no doubt about it — but what if it's too much scoring? What if goaltenders are getting burned left, right and centre, and suddenly it becomes a sport of last shot wins? Then do we go back to straight stick blades and ban curves altogether to give the goalies a chance again? C'mon! Just fix the equipment size to make it fit more proportionately and carry on as is with everything else.
That's my two cents on this horse with nine lives — thanks for the latest beating, Babcock — but I didn't want to get into a full-blown debate here at Facing Off because we've already been there and done that. Andrew Bensch and I weighed in on this very topic during the dog days of summer (back on Aug. 17), and my stance hasn't changed whatsoever since pucks started flying again.
As I welcome in Andrew Forbes — our recently appointed fantasy editor and longtime Maple Leafs writer — for his Facing Off debut, I could drill him with a hard-hitter like that right off the hop, but I'd much rather start him off with a softball, then up the intensity as we go. You'll have to read on (and/or scroll down) to see whether we share the same opinion on bigger nets.
In the meantime . . .
With that hot-shot Edmonton rookie (who shall not be named here this week) out of the picture, can Jack Eichel get back into the Calder conversation? Or who do you see as the frontrunner now?
FISHER: Absolutely, he can. If you've watched a Buffalo game this season, you can see the skill level is there in Eichel to take games over and it's only a matter of time until he starts racking up points on a regular basis. His Cy Young start — with five goals and no assists in 13 games — left him with lots of catching up to do, but he's certainly capable. Eichel has since had a couple multi-point games, so he's picking up the pace and starting to dominate at times. Again, when you watch the Sabres, you get glimpses of what's to come and I keep thinking that their next game will be Eichel's big breakout game — his first career hat trick or something special like that. It's coming and he'll be a lot closer to a point-per-game guy by Christmas. By season's end, I see 30 goals and 60 to 65 points, which would put Eichel right in that range of last season's rookie scoring leaders. It's much more likely for Eichel to win the Calder than his injured Edmonton rival, but it's an impressive rookie class and the likes of Max Domi and Artemi Panarin have a pretty good head-start on Eichel. Those two have to be the frontrunners — they are neck-and-neck right now in both points and performance — but Eichel is becoming an impact player with every passing game. I still like his chances.
FORBES: In any other given year, Eichel would've likely been the first overall pick. And in any other given year, I'd argue that he'd be the frontrunner for the Calder Trophy. But let's face it, this season has been riddled with unbelievable rookie performances from the likes of Panarin and Domi (as Fisher mentioned) to the impressive run by Mike Condon (with the absence of Carey Price in Montreal), plus Colton Parayko, Sam Bennett, Nikolaj Ehlers and Dylan Larkin. Eichel will help the Sabres. He'll likely sit within the top three in team scoring and should finish in the top five of rookie scoring. But when it comes to the Calder, a late start might've cost the young American the rookie of the year honours. The fact is, Panarin has the supporting cast. Domi is the player that Arizona has been waiting for, and Larkin, Bennett and Ehlers are getting good minutes and will remain atop the rookie scoring — thanks to the injury to that Edmonton rookie that shall not be named.
This year's Hall of Fame class was stacked with stars from our generation, but who's not in the Hall that you'd like to see in there? Anybody you'd like to take out? Maybe make a swap?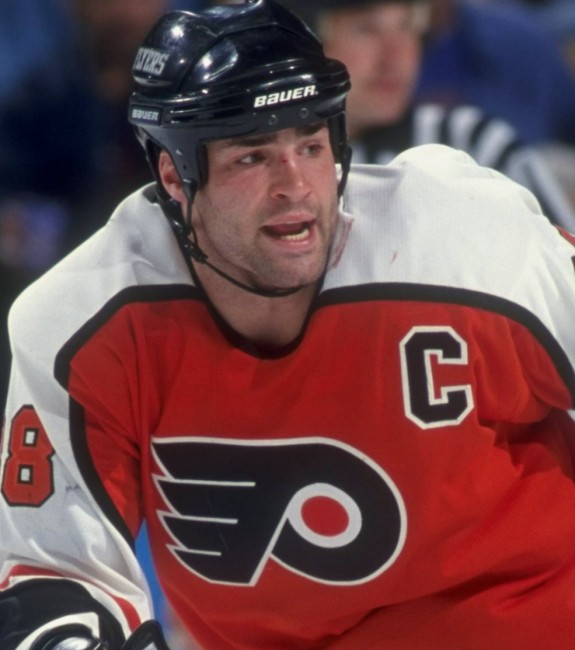 FISHER: Four names immediately come to mind for me — in order, Eric Lindros, Don Cherry, Paul Henderson and Ryan Smyth. I know Lindros never won a Stanley Cup and had his career derailed by concussions, but he was a dominant force in his prime and a seven-time all-star. Lindros was named the NHL's most valuable player in 1995 and won three gold medals for Canada — two at the world juniors (1990, 1991) and one at the Olympics (2002). Lindros's legacy will forever be tainted by his refusal to play for Quebec upon getting picked first overall in 1991 but, to me, he's a Hall-of-Famer. Henderson scored the biggest goal in Canadian hockey history to defeat the U.S.S.R. in that iconic 1972 Summit Series and I know one goal does not make a career, but I think an exception needs to be made in Henderson's case. He didn't have much of an NHL career — twice an all-star in 13 seasons, but finishing with fewer than 500 points — so it's a bit surprising that Henderson was even on Canada's national team. But he was and he scored that famous goal that our grandparents showed us and we'll one day show our grandkids. Sure, he's in the Canadian Sports Hall of Fame, but I think Henderson also belongs in the Hall that means the most to the game of hockey.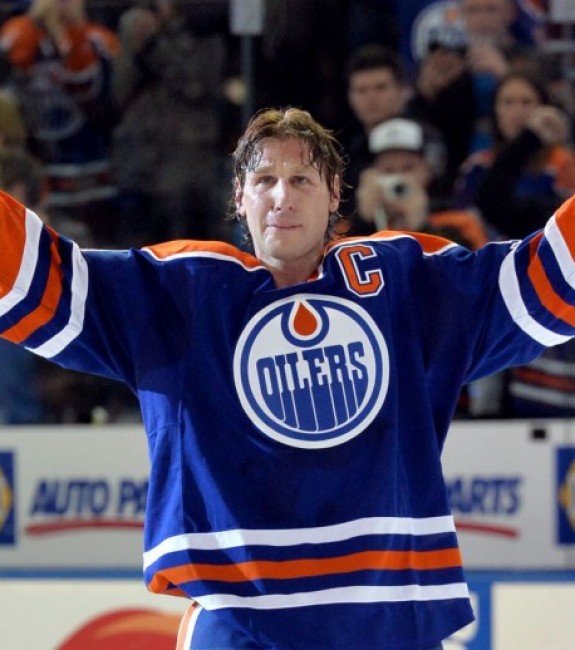 Smyth was Captain Canada — representing his country a dozen times in international competition, with five gold medals — and also the heart-and-soul leader of the Oilers for more than a decade. Not the most talented or the highest scoring, but one of the hardest-working players in history. The Dougie Gilmour of Alberta, if you will. Yes, I know Dougie played in Calgary, but Smytty was to Edmonton what Gilmour was to Toronto during and after the Leafs' run to the 1993 Stanley Cup Final. You don't hear Smyth's name mentioned much in Hall-of-Fame conversations, but I look at his entire body of work and feel he warrants consideration in the future. Smyth actually scored more goals in the NHL than Lindros (386 to 372) and came close in points too (842 to 865), albeit in 510 more games. Regardless, I'd make room for the both of them in the Hall. I left Cherry for last because he's obviously the most controversial of those four — even more so than Lindros. Love him or loathe him, you have to admit Cherry is an influential figure in the sport and has been for as long as I've been alive (turned 31 last weekend). He's not always on point or the most politically correct, but a big portion of the general population still sees him as the voice of reason on all things hockey. Grapes, as he's become affectionately known, would be going into the Hall as a member of the media or perhaps in the builder category, but not as Bobby Orr's old coach, which would obviously be his preference. Nor would he be going in as a runway model, but who doesn't love Cherry's wardrobe? He's got a larger-than-life personality and I definitely think he deserves that honour. I'll admit there are at least a handful of names in the Hall that I don't even recognize — people from well before my time — so not to disrespect the game's history or to take away from their accomplishments, but I'd prefer to see my four suggestions get inducted sooner than later.
FORBES: For starters, I wouldn't mind the Hall becoming a tighter knit place — one like baseball where it isn't a given that a certain number of inductees will make the cut every given year. That being said, there are a couple of players that I think deserve the honour that've been left out for far too long — Reggie Leach, Theoren Fleury, Dave Andreychuk and Lindros. While there will always be the black spot on the careers of three of these players, it's time to forget this idea of a gentleman's club and realize that the Hall of Fame is to honour players for what they did for the game. Lindros did refuse to play in Quebec. He never won a Cup and that's definitely a bit of a deterrent. But along with his three golds for Canada and his MVP in 1995, Lindros finished his career with 865 points (372g-493a) in just 760 regular-season games. He added 57 points (24g-33a) in just 53 playoff appearances and sits in the top 120 players in all-time regular-season points. Is that no longer enough? Andreychuk notched over 600 goals in 1,639 regular-season appearances and had over 1,330 points. He won a Stanley Cup in 2004 and sits sixth in NHL history with 1,639 games played. On top of that, he's among the top 15 in regular-season goals and was an incredible leader on and off the ice. Leach was one of the most lethal shooters of his day. While his career was cut somewhat short, Leach's alcoholism during his playing days left a black mark on his outstanding career. He's the only skater to ever win the Conn Smythe Trophy as MVP of the Stanley Cup playoffs (1976) as part of the losing team. He led the NHL in scoring in 1976 and won a Stanley Cup with the Flyers in 1975. Twice he scored over 50 goals in a season — including 61 with the Flyers in 1975-76. That same year, he also tied Jari Kurri for most goals in a playoff season with 19 (in just 16 games), finishing the playoffs with 24 points. As for Fleury, I strongly believe his substance abuse is the sole reason he isn't already in the Hall. I wrote a piece discussing in detail why Fleury has earned a spot in the HHOF. If you're not convinced by the fact that's he's won at all levels of hockey, then take a step back and recognize what he's done for so many others since retiring. He's opened the door to a conversation that many weren't willing to have prior to him outing his story. Sure, he had his issues during his playing days, but so do many others. He represented his country on a number of occasions and played as a small guy in a league that — at the time — was littered with big-bodied goons. He survived. And he survived so much more. So how long are we going to wait?
Third Man In
RICK COLE (THW's resident historian who has been involved in hockey at all levels for more than 50 years): "Who should be in the Hall, and who shouldn't." That's a question hockey fans have been arguing about since they starting serving beer in sports bars. Andrew Forbes and Larry Fisher have made arguments on behalf of several individuals whom they believe had careers that warrant their inclusion in the Hall. Let me begin by saying that most of their suggested candidates are entirely worthy of consideration. There are many, many very good players about whom similar arguments can be made. Where does one draw the line? To begin any discussion on worthiness for this hallowed institution, one needs only to look at the Hall's own Statement of Purpose:
"The Hockey Hall of Fame was founded in 1943 to establish a memorial to those who have developed Canada's great winter sport — ice hockey.
"Incorporated in 1983, Hockey Hall of Fame and Museum ("HHFM") exists in order to honour and preserve the history of the game of ice hockey and, in particular, those who have made outstanding contributions and achievements in the development of the game."
This is a nebulous statement that is wide open to interpretation, and that's what makes it so difficult to draw that line. Fisher makes great points about Henderson, Cherry and Lindros. I feel that Hall candidates must transcend the standard of "very good" for their era, and must be considered among the very best at what they did for the entire era. He or she must have made an outstanding contribution or had outstanding achievements in the development of the game. I'll put it simply, when you think of an era, does the person's name automatically come to mind? Following this logic would eliminate many players already honoured, but that's my standard, not the selection committee's (and that is an entire other debate in which we'll engage some other time).
Lindros' career was curtailed by injury, he is considered among the very best of his era. He had the misfortune of playing for a management team in Philadelphia that had no idea how to build a winner — that's not his fault. When I think of the early '90s, he's one of the first players that comes to mind.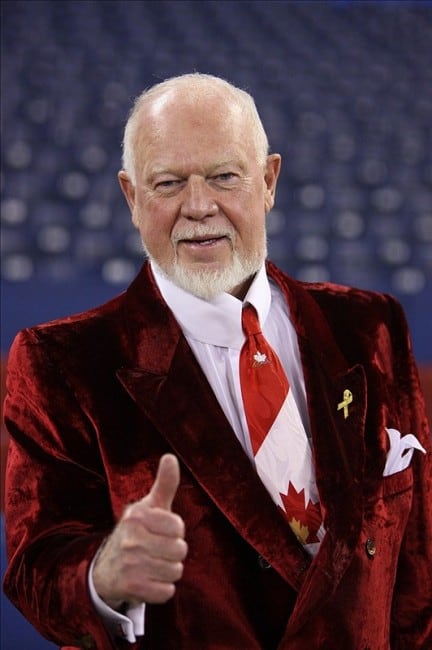 Cherry, for his media accomplishments, has earned the honour. It is the Hockey Hall of FAME, and who other than Don is more famous? His notoriety alone has contributed to the growth of the sport immeasurably. Can anyone honestly say Bill Hay has done more for the sport than Don Cherry?
I would make the same point about Henderson. His performance in 1972's Summit Series left an indelible mark on the history of the sport. In what was the most important international series of all time, whose name comes to mind first? The Summit Series changed hockey, and Paul Henderson was no small part of that.
There are those mentioned by Forbes and Fisher that I'm not as high on, for various reasons. Smyth was a very good player, but when I think of the era in which he played, his is not one of the first names that pops into my addled brain. It's not the Hall of Very Good — if it was, Smyth is in.
Same goes for Andreychuk. At first blush, a look at DA's numbers suggests he is an automatic lock for the Hall. When I think of the period from 1983 to 2005, his isn't a name that jumps out at me. He's one of those guys whose stats you see and you all of a sudden realize that hey, he was Very Good. I take issue with the fact DA was a great leader — he was considered that only at the end of his career (and by that time, his stats were pedestrian).
Reggie Leach falls into the category of Very Good as well. Andrew outlines his statistical accomplishments, but others were doing the same. Reggie wasn't a leader, he wasn't a great all-around player. If we are going to honour a player because he had one of the best shots of his era, then that's what gets him in. Is that enough? To me, when I think of the '70s, Reggie (who was always one of my favourites) isn't a guy who quickly comes to mind.
I won't get into Fleury, for a variety of reasons, mostly personal. What I will say is that I would not honour him for who he was while he played — and I am not referring to his substance abuse. I would include him in the Hall as a builder for what he's done in retirement, specifically the outstanding work in which he has been involved regarding victims of sexual abuse (a subject very near and dear to my heart). Since he began this crusade, he may have saved thousands of young people from the same type of abuse he suffered. He is an example of a true builder of the game.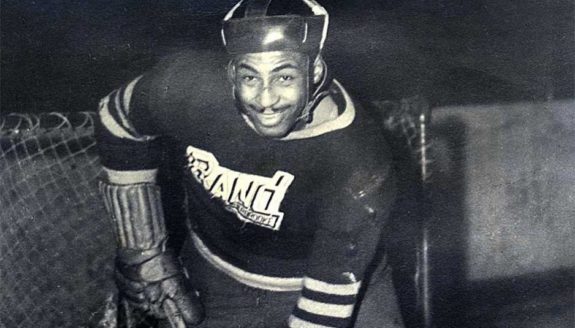 There are several older players I believe have been overlooked for many years — such as eight-time Stanley Cup winner Claude Provost, Buffalo Sabres sniper Richard Martin, the legendary Herb Carnegie and Montreal Canadiens smooth-skating defenseman J.C. Tremblay. And these are just the North Americans. International stars such as Valeri Kharlamov, whose broken ankle courtesy Bobby Clarke is the stuff of legend, is one of many that should be enshrined.
There are many in the Hall that I don't believe belong and I would have no compunction dropping any number of these players: former Bruins captain Cam Neely, Canadiens defensive whiz Bob Gainey and yet another captain, Bob Clarke. Yes, these names might shock the average fan, but my Hall houses about 100 players less than the existing HHOF. Space doesn't permit me to put forth all the arguments for and against those players, perhaps a discussion for another time?
I've heard of owner meddling before, but how outrageous is this Flint Firebirds situation? Where did it all go wrong and, more importantly, where do they go from here?
Flint Firebirds owner Rolf Nilsen says he has reinstated coaches a day after firing them

— Larry Lage (@LarryLage) November 9, 2015
FISHER: In case you missed it, this story was trending worldwide and you can get the gist of it from this link. The long and short of it is that rich daddy (Rolf Nilsen) buys a junior hockey team and relocates it to his headquarters in Flint, Mich., so his mediocre-at-best and presumably spoiled son (Hakon) has a place to play. Son isn't good enough to hack it — pun intended — and has his ice-time slashed as a result, which prompts daddy to throw a temper tantrum and fire the entire coaching staff. That might be a bit harsh and there may have been more to it, but you get the picture. The good news is, within 24 hours, the coaching staff was reinstated, headed up by John Gruden — no, not the former NFL coach (that guy didn't have an 'h' in his first name). This was a simply stunning series of events, highlighted by every player — ironically, including the owner's son — quitting the team by throwing their jerseys on the front-office floor as a show of unity and disapproval in the decision. It sounds like a scene out of Slapshot, and even more absurd was the timing of the firings. The Firebirds, who are near the bottom of the OHL standings, had literally just defeated the defending Memorial Cup champion Oshawa Generals in a shootout for their biggest win of the season — rallying from a 3-1 deficit to prevail 4-3, no less. Congratulations, you're all fired. Fortunately, OHL commissioner David Branch — who rules with an iron fist — quickly rolled into Flint to clean up that mess and the owner has since apologized for his "irresponsible mistake." Umm, yeah. Going forward, I don't see how poor Hakon can stay on Flint's roster. Whether daddy likes it or not, the Firebirds need to trade his son and let him earn his own stripes elsewhere. Give him a fresh start and if he's not good enough, he's not good enough. End of story.
#FlintFirebirds Governor Rolf Nilsen's son, 6.01 RHD Hakon Nilsen (1998) has appeared in 4 of team's 16 GP, 0 pts, -3.

— Kyle (@KyleMedeiros_) November 9, 2015
FORBES: There should be sanctions against this type of involvement. Sure, owners have the right to do whatever they want with their teams when it's hockey related. But to personally crucify an entire coach staff simply because your son — who may never make the NHL — isn't getting the playing time that you think he deserves is absurd. First off, you're hurting others on the team that may be better than mediocre. Two, you're absolutely embarrassing yourself, your son and your family. And three, if you're so sure that your son deserves that kind of playing time, why in the world are you hiring back your coaching staff? Coach them yourself! By hiring back your staff — and I'm surprised the staff agreed to work for someone so emotionally driven — you're admitting that you were wrong in the first place. In fact, some would argue that, with the quickness of this retraction, it's telling of who Rolf Nilsen really is. Possibly — and quite likely — he's made mistakes like this before. But even if that isn't the case, how does his son walk into that dressing room holding his head high. Sure, he was part of the player walk-out, but daddy is still running the show and the players and coaches know that. I wouldn't be surprised if Hakon is the punch line to team jokes away from the dressing room. Way to show your hand Rolf. If we were playing poker, everyone knows your tell, and laying your cards like that simply shows how poisonous you can be to this team.
Third Man In
MARK SCHEIG (covering the OHL and the Erie Otters for THW since August 2014): The events that happened were pretty outrageous, but not completely unheard of. You sometimes see this in junior and minor hockey, when you have an owner, or sometimes a general manager, who has family ties to the team. As a father, you want to see the best for your son — whether it's more playing time, more special-teams time, whatever it means to have a more prominent role. Given the responsibilities that an owner/general manager has, there is a limit to what they can do. They can always make a suggestion, but it's the coach that is supposed to have the final say in these kinds of matters.
Think for a moment about Windsor Spitfires general manager Warren Rychel. His son Kerby was playing for Windsor. Warren traded his son to Guelph. He did what he felt was best for the team. This is how it should be. This wasn't the case in Flint.
Reports indicate that owner Rolf Nilsen wanted more playing time for his son Hakon. Rolf was willing to go to more drastic heights to make it happen. After the Firebirds completed a comeback against the Oshawa Generals, Nilsen fired the coaching staff. Upon hearing the news, the players stormed up to the office, threw their jerseys on the ground, and essentially quit the team.
A team "going on strike" is rare, but it has happened. Some reports surfaced that it happened in the 1970s for similar reasons. It should never get to this point. When it does, one should immediately look at the top. It starts with management.
Where did this all go wrong? It went wrong when Nilsen put his son ahead of the best interests of the Flint Firebirds. When you have money, there is a sense of entitlement that someone feels. At least they feel they have the right to buy whatever they want, especially if it involves their family. There was a belief amongst the team that Hakon wasn't even good enough to play in the OHL. So getting him more playing time would hurt the team in the long run. The fact that Rolf was so determined to get what he wanted started a chain reaction that blew up in his face. The players, including his son Hakon, quit the team. The story went viral. It left him no choice but to reinstate the coaches. Rolf then issued a statement apologizing for the events. However, the damage was already done.
Where does it go from here? We're about to find out. Flint is back to playing games under the same coaches they had before this whole mess started. But you have to wonder how strained the relationship is between players and management. The players play for the coaches. The fact that they stormed up to the office and threw their jersey to the ground was a sign that they were fighting for the coaching staff. John Gruden is a great coach, and was put in a very bad spot. The players responded. Now we'll see what carryover this has. I can't imagine the players have gotten over what has happened. Their anger is still directed at the owner and general manager. This dynamic is worth monitoring throughout the season. Will there be trades? Could more dissention come from this? How about draft-eligible player Will Bitten? How affected is his draft season now? It will be interesting to see how it all unfolds. At least the team is playing again. At least the coaches are back where they belong. But this story is far from over. Stay tuned.
Can we agree that the Arizona Coyotes in the West and New Jersey Devils in the East are overachieving, or do either of them have a realistic shot at the playoffs?
FISHER: Overachieving is an understatement, in my opinion, with both these teams somehow occupying playoff spots on Remembrance/ Veterans Day. I don't think we'll remember them ever being in post-season position by the time the playoff races get serious after Valentine's Day. Youthful enthusiasm, Mike Smith's resurgence and Dave Tippett's coaching expertise are responsible for Arizona's above-.500 record. Good on Domi and Anthony Duclair for making an immediate impact, but they can't carry this team over an 82-game schedule and I can't see Smith standing on his head throughout either. Rookies always seem to go through peaks and valleys — the valleys are coming, sorry Coyotes fans — and Smith has been a streaky goaltender in recent years. The veterans there are few and far between on a gutted, rebuilding roster and longtime captain Shane Doan has clearly lost a step, so I expect the Coyotes to be out of the running — the also-rans we all expected them to be — by the time the calendar turns to 2016. Sadly for them, their hot start might jeopardize the franchise's chances of picking first overall and selecting local product Auston Matthews next June. That said, I wouldn't rule the Coyotes out of that race just yet.
As for the Devils, I could see them hanging around and perhaps even making the playoffs if they played in the weak Pacific Division — like Arizona — rather than the stacked Metropolitan Division that they reside in. New Jersey is going to get humbled by its geographical rivals as the season progresses and almost certainly finish behind the Rangers, Capitals, Islanders and Penguins — perhaps even the Flyers or, dare I say, the Blue Jackets. I still think Columbus will make a charge towards a playoff berth and I do believe five teams from the Metro will get in. So, to me, it comes down to whether the Devils can hold off the Blue Jackets — they have a nine-point lead with a game in hand as of today. That will be the challenge for rookie head coach John Hynes, workhorse all-world goaltender Cory Schneider and an offence that went from anemic to effective seemingly overnight. Well, over the course of the off-season, but I keep looking at that roster and I just don't see a playoff team there. Mike Cammalleri, Adam Henrique and Travis Zajac aren't elite talents and the supporting cast of Lee Stempniak, Kyle Palmieri and Jiri Tlusty seems to be producing at an unsustainable rate. Heaven forbid Schneider get hurt, then we could really stick a fork in the Devils.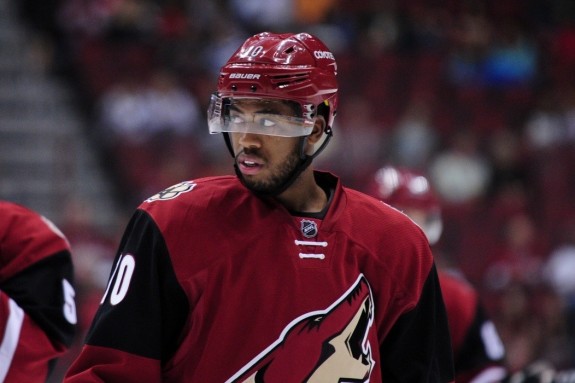 FORBES: Playoffs? Are we talking about playoffs? Of course we are. Look, overachieving is one way to put it. Or maybe we can say they are well-coached or the right players are finally filling in the gaps (in the case of Arizona). Maybe Schneider is finally comfortable in New Jersey, and the mix of veteran leadership (Doan) and young guns (Domi, Duclair and Reider) is finally starting to pay off in Arizona. Isn't that why they brought the salary cap into play in the NHL — to give teams a fighting chance at the playoffs? The Devils are sitting in the middle of the pack in the Metropolitan and Arizona's fighting for top spot in the Pacific, and I don't think that it's a simple case of overachieving. While other clubs are certainly not playing up to par, these two groups of misfits are fighting for their careers and contracts as they impress the teams around them. It's no coincidence that both are relatively good on the back end — New Jersey in net and the Coyotes on the blue-line. They've taken steps towards building from the net out and all the pieces are starting to come together (especially in the case of Arizona). Are they contenders? By no means whatsoever are these two clubs going to fight for a Cup this year or even next. But are they playoff teams? Well folks, we're almost 20 games into the season and they're both sitting in good spots. It's time to start believing that this could be very realistic.
Alex Semin and Ryan Strome are both in the doghouse, but do you see either of them getting traded this season?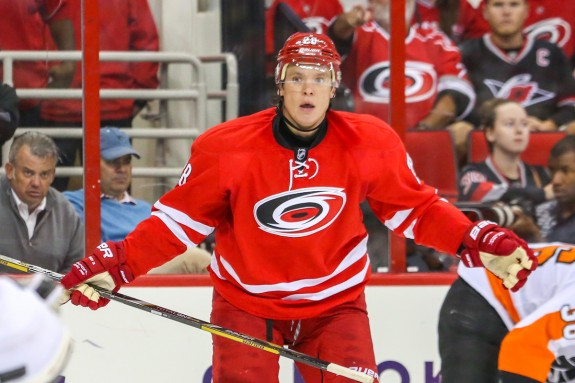 FISHER: Semin was a healthy scratch for the seventh straight time on Remembrance/Veterans Day and finally got out of the press box for Saturday's forgettable 6-1 blowout loss to Colorado — he was minus-2 with no points and not even a shot in just under 15 minutes of ice-time — while Strome was surprisingly sent to the AHL amid his struggles. Semin is on his last legs in the NHL after getting bought out by Carolina in the summer and signed to a one-year "show-me" contract by the Canadiens. So far, he hasn't shown much — with only one goal and four points in 11 games, to go along with shoddy defensive play and no sign of physicality. Semin just isn't the player he used to be as a 40-goal, 80-point guy. You get the sense he could be getting a one-way ticket to the KHL for Christmas, barring a rash of injuries to Montreal's forwards. I can't see any other team taking a chance on Semin even if the Habs waived him. Strome, on the other hand, would be a hot commodity, but there is no evidence that Garth Snow is shopping him. This demotion is meant to be a wake-up call to Strome, to remind him not to take being an NHLer for granted. But if he keeps coasting and not producing once he's recalled, then I could totally see Snow taking that message-sending to the next level and parting ways with the exceptionally talented forward. Where could he end up? Two places come to mind, the first being Arizona, with the Coyotes just drafting his younger brother, Dylan Strome, third overall this year. Snow already has Kyle Okposo as a pending unrestricted free agent, but would he say no to Mikkel Boedker and a second-round pick for Ryan Strome? The other team that I could see expressing significant interest would be Toronto, with the Leafs coveting offensive catalysts like Strome. He would fit right in with Mitch Marner and William Nylander going forward. Perhaps Nazem Kadri goes to the Islanders in a straight-up swap, or maybe it's a bigger deal to land James van Riemsdyk in Brooklyn. Maybe the Leafs could pull off a 2-for-1, getting Strome and either Josh Bailey or Brock Nelson for JVR. Is that fair? Realistic? I don't know, but I just put it out there. Let's see what Andrew thinks.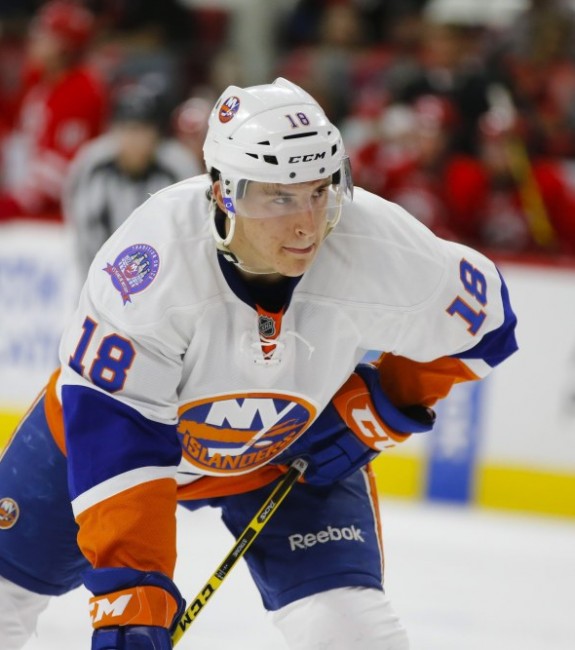 FORBES: Look, Strome is still a young, talented commodity. Simply put, he's not going anywhere. He's still figuring out that it's not so easy to come into the NHL and become an automatic star. He'll learn how to get out of his own head and play the game the way he showed early on in his career. Semin could be a different story. The Habs grabbed him on a short-term, low-risk contract. While it won't hurt to keep him — thanks to the low cap hit — they might look to move him in some kind of mid-season package deal. Can you say Semin and Jarred Tinordi? Could be an enticing package for teams looking for that young defenceman that still has a relatively high ceiling. Otherwise, Semin could be a deadline pick-up for another team for a low-end pick — maybe a fifth- or sixth-round pick — which wouldn't be bad in a time when picks are valued more than ever.
BONUS TOPICS
Speaking of trades, I tossed out some random Leafs proposals in last week's edition of Facing Off. Could you get behind those, or do you have your own blockbusters in mind? Who or what should be on Lou Lamoriello's shopping list this Christmas? Who are your untouchables in Leaf Land?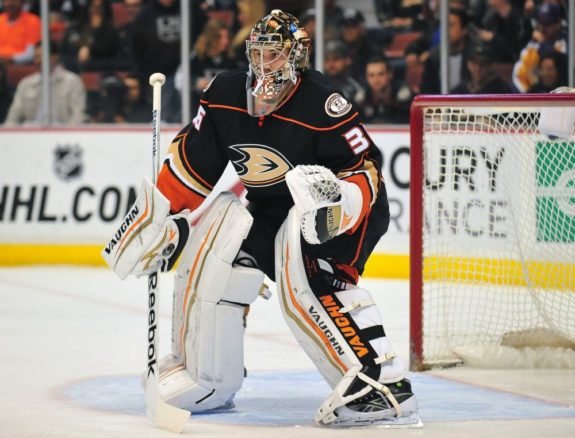 FORBES: In a perfect world — or one where you've promised Leafs Nation a proper rebuild — your untouchables are anyone that is believed to help your future. Dermott, Nylander, Rielly, Kapanen, Brown, Marner are some of the few that should be left in blue and white. Where the Leafs are questionable in this rebuilding stage of theirs is in net. We've seen what Bibeau and Sparks can do at lower levels, but can that translate to the NHL? Or should the Leafs be looking for a John Gibson or Matt O'Connor type of goaltending prospect. Which brings us to the trade talk from last week's Facing Off. The Leafs probably won't be interested in the Dougie Hamilton contract — there's the one major deterrent in that situation. But if Calgary would be willing to move a goaltending prospect — one of Joni Ortio, Jon Gillies or Mason McDonald — you have to take a long, hard look if you're the Leafs. Obviously, their first choice would be something involving Anaheim's Gibson or Tampa's Andrei Vasilevskiy, but are those teams willing to part with these coveted prospects? Right now, Kadri has one of the lowest shooting percentages in the NHL among players that have at least one goal. He's on a one-year deal and could be shopped leading up to the trade deadline. JVR and Bozak haven't been the same without Phil Kessel standing next to them — they might be good trade options for a team, in Toronto, that will be looking to move the veterans and add more to that bag of prospects.
Last but not least, Andrew . . . bigger nets — yes/no/maybe?
Bigger nets? Pekka Rinne: "An idea that sounds crazy to me. Totally crazy. The records, everything in the past, would lose its meaning."

— Mark Masters (@markhmasters) November 11, 2015
FORBES: Really? Are we really considering this? Goals are down. Power plays are down. Offsides are up. And our first reaction is going to be to expand the nets and make less skating room on the already jammed up ice surface? I like goals just like any other fan, but I don't think this is the answer. We want to protect our goalies, but maybe the pads have become too big. Maybe we need to consider shrinking the blue paint — forcing goaltenders to remain in their nets more. Isn't there anything else we can do besides changing more of the game that we've watched for so long. It seems every year this league changes its rules. Every time they think it will increase scoring and every time it fails the test. So what makes this option any different? How long will it be until goalies are asking for bigger pads because their goals against are through the roof. Let's not jump to conclusions on which way is the best to increasing scoring. Instead, sit down and study all aspects of the game. Find what's really affecting the scoring in hockey and alter the game where is should be altered. Trial and error is not the best possible option in this case, and making the nets bigger will only lead to other changes. Or, I can give you a simpler answer to this question. Bigger nets? No way.
EDITOR'S NOTE: I like the way this Andrew guy thinks. He came up with that answer all on his own, without seeing my intro to this week's Facing Off. So I think we'll keep him around . . . just kidding, Andrew was already scheduled to be a regular contributor for Facing Off going forward — regardless of his answers this week. Andrew is part of a five-week rotation, so you can look forward to more from him in our Dec. 21, pre-Christmas edition. Up next week is another debutant in Sebastian Hedley-Noble, who covers both the Panthers and Avalanche for THW.
---
Who won this round of Facing Off? Feel free to weigh-in with your opinions in the comments below. We will be checking in periodically to both defend and expand on our initial answers. If you want to see us face-off over a topic, we're open to suggestions as well.
Andrew Forbes is in his third year of covering the Toronto Maple Leafs for THW, while also serving as fantasy hockey editor and Tape2Tape columnist. Follow him on Twitter: @AndrewGForbes.
Larry Fisher is a sports reporter for The Daily Courier in Kelowna, British Columbia, Canada, and has been an at-large contributor for THW since August 2014. Follow him on Twitter: @LarryFisher_KDC.