It was a wild weekend in the NHL. Check out all the latest news and notes.
A few teams had touching tributes to the tragedy in France. [Pro Hockey Talk]
Antoine Roussel, 1 of 2 #NHL guys from France whose parents were in Paris (they're fine) is wearing a French flag on his helmet #dallasstars

— Michael Russo (@RussoHockey) November 15, 2015
Mats Zuccarello had a three-point night in the Rangers' 4-3 win against Toronto. [Blueshirt Banter] Derek Stepan scored a goal from the red line. [Sports Illustrated]
Just before that, the Leafs defeated the Canucks, 4-2. [Pension Plan Puppets]
Patrick Kane took over the NHL scoring race after posting two points against the Flames on Sunday. [Sportsnet]
Jonathan Toews fought David Backes Saturday night in a battle of the captains. [CBS Sports]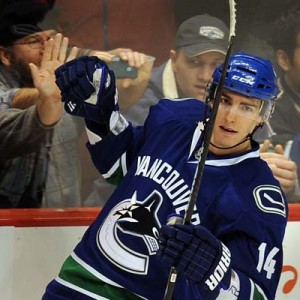 Alex Burrows has left the Canucks for personal reasons. [Hockey Feed]
Andrew Hammond was injured in Senators' practice. [The Score]
A massive brawl between the Predators and Jets put 12 players in the penalty box at once. [For The Win]
Nathan MacKinnon scored two goals in 13 seconds. [Deadspin]
Avalanche goalie Reto Berra now leads the NHL in goals-against average. [Denver Post]
The Sharks defeated Buffalo in a feel-good way. [Fear The Fin]
The Penguins need a top-four defenseman. Here's some options. [Hockey Buzz]
Evgeni Malkin says the Penguins are mad at each other. [Puck Daddy]
The Flames need to figure out their goaltending conundrum. [Today's Slapshot]
Some notes on players around the league. [Sports Chat Place]
I am a former NHL media member and reporter for the St. Louis Blues, working for various media outlets. Currently, I am an NHL News Writer and Editor for The Hockey Writers. I live in St. Louis and work as a freelance copywriter in numerous industries.