He's just 21 years old and he's already seen more of North America than most young men his age. No, he's not a traveling salesman, nor is he a wandering ne'er-do-well, subject of so many country songs, traveling the highways of America with his dog in his pickup truck, looking for a lost love. He's Gary (Suitcase) Smith, goaltending prospect for the Toronto Maple Leafs of the National Hockey League.
Great Bloodlines
Smith, who is seeing some action with the Maple Leafs in this fall's training camp, is best known to Toronto hockey fans as the netminder who backstopped the Toronto Marlboros to the 1964 Memorial Cup, winning 11 playoff games while losing only once. He's a very interesting young man with strong hockey blood lines and a flair for flamboyance. He's also bigger than most young goalies, standing six feet, four inches tall and weighing in at just under 200 pounds.
Gary was born February 4, 1944 in Ottawa, Ontario. He is the son of Des Smith, a five-year National Leaguer who dates back to the days before the six-team era began. Des was a smooth-skating defenseman who played with the Montreal Maroons, Montreal Canadiens, Chicago Black Hawks and Boston Bruins. Prior to his NHL days, he played with the Wembley Lions of the English National League from 1935 to 1937.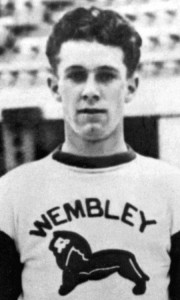 Gary's uncle, Rodger Smith, was also an NHL player. Rodger played five years with the Pittsburgh Pirates and one more season with the Philadelphia Quakers when the Pirates franchise moved to the City of Brotherly Love.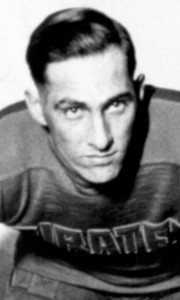 Gary has a brother, Brian, 25, who is currently with the Springfield Indians of the AHL. Brian came up through the ranks with the Montreal Canadiens organization before being traded to Springfield in June of 1963 in the deal that sent Ted Harris to Montreal. Brian scored 22 goals for the Indians last season and shows some NHL potential, especially with expansion on the horizon.
Started With St. Mike's
Gary began his playing career at age 15 with the Junior B St. Michael's Buzzers. In the 1961-62 season he was with the St. Mike's Junior A Majors in the Metro Toronto Junior Hockey League, where he led the league in wins, shutouts and goals-against average. He also managed to score a goal against the Whitby Mohawks during the league playoffs. It was at this time that he developed a penchant for leaving the goal crease and skating up the ice with the puck.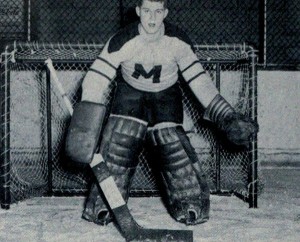 After another season in the MTJHL, this time with the Neil McNeil Maroons, he spent his final junior season with the Marlboros, leading them to the Memorial Cup.
Las season, Smith showed well at the Toronto training camp, but the Leafs had no particular spot for him within the organization. So, he was dispatched, almost randomly, to wherever there was a need for a goaltender in the Toronto chain. He got into eight games with Victoria of the WHL, and one each with Tulsa of the CPHL and Rochester of the AHL.
Smith also spent a month or so on loan to the Boston Bruins. He was carried with the big team as a backup to regular netminder Ed Johnston and then Jack Norris when Johnston was injured. He didn't get into a game with the Bruins.
All that traveling became something of a novelty to Smith's team mates, who hung the colourful moniker "Suitcase" on him.
Smith told Dick Beddoes of the Globe and Mail that the travel can wear on you.
"This isn't quite what I had in mind when I turned pro. You don't get sharp for this game riding planes."
He's hoping a regular minor league posting will keep the plane rides to a minimum.
Shore Thought He Had Gary
Last week, when Toronto picked up Bruce Gamble from Springfield to shore up their goaltending depth, Smith couldn't be faulted if he thought he was going the other way in the deal. At least, that's what Indians owner Eddie Shore thought.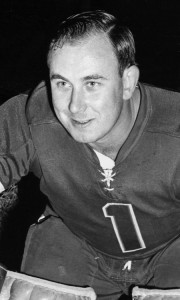 When Shore found that winger Bill Smith had arrived in Springfield with defenseman Larry Johnston, he called Leafs general manager Punch Imlach and demanded to know why the goaltender Gary Smith had not reported to the Indians. Shore was under the impression he had dealt the goalie Gamble for Johnston and the goalie Gary Smith. It was at that time the Imlach informed Shore that the Smith he had traded to Eddie was winger Bill.
Shore was livid, but since he had signed the transaction sheet, there wasn't much he could do about it. Imlach told Shore he could send the players back to Toronto, but Shore decided to live with the deal as it stood.
This fall, Gary Smith has made a couple of appearances for the Leafs, spelling off Johnny Bower in the third period of a pair of exhibition games this past weekend. The youngster has not looked out of place, and Imlach has noticed. What Gary is really hoping for is to earn a regular spot at one of the Leafs' three pro farm clubs. Early indications are that he will likely spend the season at Tulsa.
Weekend Exhibition Action
There was lots of exhibition action on the weekend as all NHL training camps are now in full swing.
The Leafs earned the ire of Imlach as they skated to a 3-3 tie with the Buffalo Bisons of the AHL at Memorial Auditorium in Buffalo last night. The tie came on the heels of a lacklustre performance at home on Saturday in a 4-2 win over the New York Rangers. Only spectacular goalkeeping by Johnny Bower and Gary Smith saved the day against New York.
Sunday night, former Leaf goalie Ed Chadwick was tremendous for Buffalo. He stopped at least five sure Toronto goals, giving up only one to Frank Mahovlich, a shot on which he had no chance. Roy Edwards gave up the other two Toronto goals, by Mike Walton and Larry Jeffrey.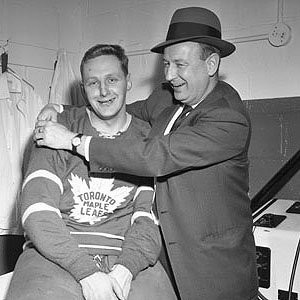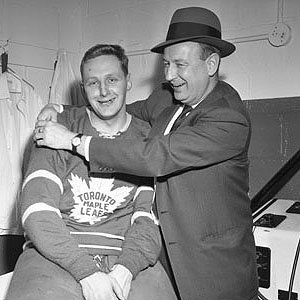 Imlach warned his troops that they had better improve their performance tonight when they travel to Rochester to play the Americans. He said that if the effort isn't there in this one, a few players may just be left behind in Rochester.
Montreal Canadiens had a great weekend, taking two games from farm clubs. Saturday they doubled the count on the Cleveland Barons by a 4-2 margin, while the following evening they blasted the Quebec Aces 7-1 before a crowd of over 12,000 in Quebec City.
The Boston Bruins received a rude awakening when they were shocked by their CPHL farm team. The Oklahoma City Blazers downed the Bruins 4-2. Bill Goldsworthy, who played for the Junior A Niagara Falls Flyers last year, scored two goals for Oklahoma City.
Notes
Boston signed LW Reggie Fleming, LW Johnny Bucyk, G Bernie Parent, D Bob Woytowich and RW Ron Stewart.
Rangers signed G Ed Giacomin and D Wayne Hillman. They also assigned RW Marc Dufour to Baltimore (AHL).
Montreal sent D Adam Keller and C Gord Wilkie to Seattle of the WHL.