Christopher Ralph is a hockey writer with a focus on prospects and the entry draft, as well as the Leafs' correspondent here at THW.
"Full Potential" Prospect Profile: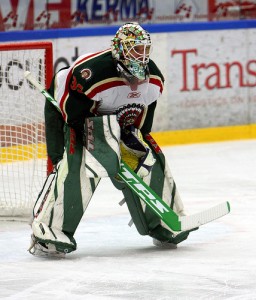 Please "Click Here" for "Notes Up Front" and the "Legend" for various topics covered below, as well as a running live updated NHL 2009 Draft rankings.
54. Robin Lehner
DOB: Jul 24, 1991
Age: 17
Place of Birth: Gothenburg, Sweden
HT: 6-3 WT: 220
Shoots: L
One-Timer: As TSN notes, European Scouting states: "Robin looks pretty similar to Henrik Lundqvist. He makes himself look very big in the net and there is not much room to shoot at. He challenges shooters pretty well and his lower net butterfly coverage is good." Robin's father, Michael, actually coached NY Rangers goalie Henrik Lundqvist. Lehner is a big goalie already, but is very agile. He will have to work on rebound and puck control and mental toughness to take his game to the next level.
NHL Player(s) Comparison: Henrik Lundquist
Bio/Interview Links:
http://www.hockeysfuture.com/articles/11141/2009_prospects_robin_lehner/
http://www.islanderspointblank.com/2009/06/a-candidate-in-goal-at-57-or-62the-pb-q-a-with-robin-lehner-coming-to-the-chl/
Scouting Combine Performance:

TSN staff interestingly reported: "While a lot of players put in a great deal of effort, perhaps none was more conspicuous than goaltender Robin Lehner (top-ranked European goaltender), on the Wingate cycle test, grunting like an animal as he maxed out his effort, before nearly collapsing off the bike altogether when he finished."
International Tournaments: Lehner didn't have the flashiest WJC-U18 by any stretch, but did manage a .916 save percentage.
ETA = 4 years
Risk-Reward Analysis: Risk = 4/5   Reward = 4/5
NHL Potential: Starting Goalie
Fantasy Hockey Potential: n/a
Other Rankings:
ISS:  6-G
CSB: 1E-G
TSN: 47
THN: 52
Video Links:
Top 10 Swedish Prospects (Lehner #9)
httpv://www.youtube.com/watch?v=SbANwskII-E
This document is the intellectual property of Christopher Ralph and cannot be used or duplicated in anyway without expressed written consent. Any use of this document without the expressed written consent of Christopher Ralph will result in public exposure and legal prosecution.
Chris is THW's senior draft/prospect analyst and a Managing Editor. Watch for "The Next Ones" Prospect Profile series, exclusive rankings, mock drafts, as well as the annual THW NHL Entry Draft Guide. Follow @ChrisRalphYQ on Twitter as he infiltrates, dissects and analyzes all happenings of hockey prospects and the NHL entry draft. Email: cralph[at]thehockeywriters[dot]com