According to multiple sources, including the Star Tribune and TSN's Bob McKenzie, University of Minnesota junior defenseman Mike Reilly has officially told the Columbus Blue Jackets that he will not be signing with them. The 2011 4th Round draft pick will test free agency.
McKenzie also noted that Reilly "officially de-registered" from the University of Minnesota, which starts a 30-day countdown until he becomes a free agent. The two-time First Team All American and bronze-medal winning defenseman for Team USA at the IIHF World Championships (and a member of the THW list of the most under-rated NHL prospects last summer) will become a free agent at some point in mid-June.
U of Minn D Mike Reilly, playing for USA at #WHC, informed CBJ this week he is going to explore UFA market but CBJ still a consideration.

— Bob McKenzie (@TSNBobMcKenzie) May 16, 2015
Here's a look at six teams that might be a good fit for Reilly as he considers his options.
1. Columbus Blue Jackets
As McKenzie says, the Blue Jackets are "still a consideration." There's some level of familiarity growing there, with Mike Reilly playing for Columbus head coach Todd Richards during the World Championships. That may play to Columbus' advantage.
If there's no unknown conflict between the team and Reilly, then why not Columbus? It's possible, as he says, that Reilly is really just interested in testing free agency to see what's out there.
Often when a college player goes free agent you see a clear conflict with the team or the player feels they're NHL-ready and that the opportunity to make the squad isn't there. (See: Schultz, Justin) The opportunity is there in Columbus. There are other teams that will be interested, but many aren't able to offer ice time as a guarantee.
While nothing is ever truly 100% guaranteed in terms of ice time, the team was playing guys like Justin Falk and Kevin Connauton at the end of the season. There's a chance for him to get into the roster out of camp or even later in the season if he spends a little time getting accustomed to the pace in the AHL.
2. Colorado Avalanche
While Colorado took a major step backward in the 2014-15 season after winning the difficult Central Division in the 2013-14 season, they could be a potential match for Reilly. The main reason they could be a match? Colorado is dire need of defense.
They need to bring in young defensemen who are NHL ready and Reilly could get NHL ice time right away, most likely. Colorado isn't in a bad cap situation, so if things went well, it's a home where Reilly could get paid following his first contract.
He'd also be joining a team with a high ceiling and not too far to go to get there. The forward group is great, Semyon Varlamov has been very solid the last two years, and some of the defensive group is showing positive signs. (Erik Johnson and Tyson Barrie in particular.)
3. Chicago Blackhawks
Reilly was rumored to have interest in Chicago. Whether or not those rumors are of substance, you can see the appeal. He'd be stepping into a team that's the heavyweight of the last decade of NHL hockey. He'd basically be guaranteed playoff experience, a chance to play under a Hall of Fame captain, and have a future Hall of Fame defenseman to learn from.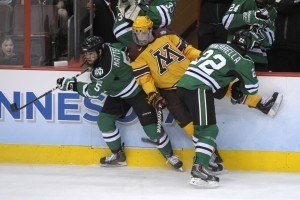 For their part, the team is very strapped for cash, but Reilly might be a cheap solution with four of seven top defenders' contracts expiring and only one of those four being a RFA.
He may also help them to replace Nick Leddy, who the team traded away last off-season due to cap problems. There's certainly help coming on the blue line internally with guys like Trevor van Riemsdyk looking ready to spend some good time in the NHL. But signing Mike Reilly couldn't hurt at all.
4. Edmonton Oilers
It's no secret that Edmonton's blue line smells like burning tires. With all the talent they have up front this team needs to do anything they can to bring in young talent on the back end to balance out the roster. If they can find talent without trading away one of their top forward prospects, all the better.
For his part, it may appeal to Reilly to be a part of the foundation of a squad that will feature Connor McDavid, not to mention talents like Taylor Hall, Jordan Eberle, and Ryan Nugent-Hopkins. They also have great prospects like Nail Yakupov, Darnell Nurse, and Leon Draisaitl.
While Edmonton is a bit of a disaster, it's possible that the team really starts to round the corner under the leadership of new general manager Peter Chiarelli and probable head coach Todd McLellan.
5. Buffalo Sabres
The same goes for Buffalo as for Edmonton. They're in need of talent. Reilly could earn NHL ice time and while Buffalo is further behind in development than Edmonton, there probably isn't a more exciting group of prospects in the NHL. It's a group that includes current Gopher Hudson Fasching.
Excitement over this prospect group is growing with the team just weeks away from drafting Jack Eichel, who Reilly just played with at the World Championships on Team USA.
6. Minnesota Wild
Reilly is from Chanhassen, Minnesota and played college hockey for the University of Minnesota Gophers. The Wild are a team stacked with players and prospects from Minnesota. (This year's roster featured Minnesotans Zach Parise, Jordan Schroeder, Ryan Carter, Keith Ballard, Jordan Lepold, Nate Prosser, Stu Bickel, John Curry, and Zach Palmquist, all of whom are from Minnesota. In the system there are more with Nick Seeler, Mario Lucia, Louis Nanne, Hunter Warner, and Avery Peterson all hailing from the land of 10,000 lakes. The team also had five U of M alums on the squad this year.)
There's a pride element to playing in-state for many native Minnesotans. That could play a factor and be aided by his father, Michael Reilly, being a minority owner in the Minnesota Wild.
For their part, the Wild have a crowded blue line with Ryan Suter, Jared Spurgeon, Jonas Brodin, Marco Scandella, and Matt Dumba all locks for spots on opening night. What the team needs is a left-hand shot on the third pairing, which they had to bring in Jordan Leopold for at the trade deadline. Reilly is a left-shot and could fill that role.
Acquiring Reilly may also help the team feel a little more comfortable about the talent in the system as they are forced to contemplate trading Spurgeon for cap reasons. The addition of Reilly joining Gustav Olofsson, Christian Folin, and Dylan Labbe would give them a talented group of cusp players who are developing and securing the health of the Wild blue line for quite a while.
Timing is Everything
With teams able to sign Reilly in mid-June, there may be a lot of interest. Signing a 22-year old defenseman (at the start of the season) with his experience could be very attractive to teams who get a shot at signing him prior to the 2015 NHL Entry Draft on June 26 and prior to the July 1 free agency opening. Bringing in Reilly could change a team's assessment of their needs inside the system and make moving other assets or draft picks a little easier.
#Gophers Mike Reilly (@mreilly93) is your Player of the Game w/ a goal in @usahockey's 4-1 pre-tourney win over AUT. pic.twitter.com/RHhHs3rqdE

— Minnesota M Hockey (@GopherHockey) April 28, 2015
In Reilly a team would be getting a defenseman who still needs to undergo a little development, but played up to the challenge at the World Championships and despite a late-season slump, is an offensively capable blueliner (6-36–42 in 39 games in his junior year) with a lot of upside.
RELATED:
Dustin Nelson writes about news and the Minnesota Wild for The Hockey Writers.