Christopher Ralph is a hockey writer with a focus on prospects and the entry draft, as well as the Leafs' correspondent here at THW.
"Full Potential" Prospect Profile: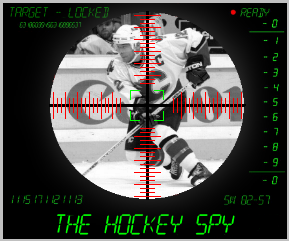 Please "Click Here" for "Notes Up Front" and the "Legend" for various topics covered below, as well as a running live updated NHL 2009 Draft rankings.
8. Ryan Ellis – Freelton, ONT – 5'9″ – 183 lbs – OHL – Windsor – D
One-Timer: The PP QB magician, Ellis is an offensive dynamo from the blueline! Size will also be the biggest issue with Ryan, but having watched him closely at this year's WJC it is hard to fathom he won't excel at the next level. His hockey sense and smarts are off the chart, and not surprisingly he was the OHL's scholastic player of the year last year. He was also OHL defenseman of the year and was a member of the Memorial Cup winning Windsor Spitfires this year. Ellis registered an astonishing 89 points in just 57 regular season games to go with 31 points in 20 playoff games. My feeling is at worst, if he is in fact too small to play on the blueline in the big leagues, convert him to forward! It likely won't be necessary, but in all honesty I'd foresee an extremely smooth transition. He's one of my favorites in the draft and if he does fall outside the top 10, as most other rankings suggest, the team that selects him will be getting an absolute gift. Even with the likes of Jared Cowen, Dmitri Kulikov and David Rundblad on the board, I'd swing for the fences and grab Ellis.

NHL Player(s) Comparison: Brian Rafalski, Dan Boyle, Brian Campbell
Bio/Interview Links:
http://www.andrewsstarspage.com/index.php/site/comments/nhl_draft_ryan_ellis_profile/1645-2008-09
http://www.hockeysfuture.com/articles/11203/2009_prospects_ryan_ellis/
Scouting Combine Performance:
Gare Joyce had an interesting take on Ellis registering the highest body fat percentage. "It reminds me of an anecdote about Ray Bourque. At the training camp of the Canadian team prior to one of the Canada Cup tournaments, the guys in the white lab jackets got out the calipers to check Bourque's body fat. It was a remarkable 20 percent, about double the next highest reading on the team. Not that he was out of shape — he was down close to his regular-season playing weight. And not like it ever affected his game." Ryan also scored "BA" (below average) for upper and lower body physical development. Joyce also noted "… Ryan Ellis did not do any heavy lifting or grunting at the combine due to injuries carrying over from the Memorial Cup."
International Tournaments: 17 years old at the time, Ellis was brought along as a PP specialist for Team Canada at the WJC-U20 and performed admirably in the role, registering 7 points and 6 games.
ETA = 2 to 4 years
Risk-Reward Analysis: Risk = 2/5   Reward = 5/5
NHL Potential: Top 2 blueliner, PP specialist
Fantasy Hockey Potential: Offensive = 9.5/10   Defensive = 7/10
Other Rankings:
ISS: 13
CSB: 16-NA
TSN: 13
THN: 17
This document is the intellectual property of Christopher Ralph and cannot be used or duplicated in anyway without expressed written consent. Any use of this document without the expressed written consent of Christopher Ralph will result in public exposure and legal prosecution.
Chris is THW's senior draft/prospect analyst and a Managing Editor. Watch for "The Next Ones" Prospect Profile series, exclusive rankings, mock drafts, as well as the annual THW NHL Entry Draft Guide. Follow @ChrisRalphYQ on Twitter as he infiltrates, dissects and analyzes all happenings of hockey prospects and the NHL entry draft. Email: cralph[at]thehockeywriters[dot]com