Kid yourself if it helps.
"They'll come to an agreement. They can't be that greedy, right? (Nervous laughter followed by a panic attack)."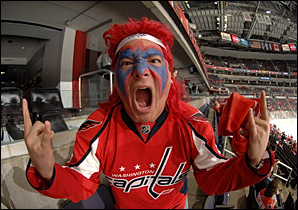 But we know a lockout is coming. In less than two weeks the current CBA expires and the owners will make good on their promise to duck underneath the locked door of their arenas and whisper-yell "Get down!" to their staff.
And as the two sides argue over who gets to keep a few extra million dollars while arenas remain dark, fans will be used as pawns like children in a bad divorce. When it's all said and done they will promise us a better game (again), lower ticket prices (again), greater accessibility (again), and a real chance for your small market team to compete (again). Mmmm, Kool-aid.
They'll behave like the lockout never happened to us. Like we were never abandoned – their promises meant to cover the scars of being deprived of our pastime.
And so how are we to get by with this black hole sized vacancy of winter? Where's the consideration for the fan? Who do we spend our weekends and holidays with? Does this mean you don't love us, because it feels that way?
It would be nice, although a wasted wish, if the NHL feigned empathy or attempted to provide lockout options for the pent up fan. They can't expect us to throw the remote at Walker, Texas Ranger on Saturday nights, right? I mean we're distraught not suicidal.
But alas, they are distracted by the parsing of millions.
Their neglect offers two paths. Path one, Lindsay Lohan. Path two, find strength in our own collective. Sure, Lohaning is fun for a night, but this about long-term survival. We must choose the latter path and the following is the start of that effort: A Fan's guide to surviving "Lockout Part 2: Fehr Game." 
It is a compilation of coping mechanisms to fill the idle time and awkward silences that are about to occupy our living rooms. It encourages fans to maintain their health and emotional well-being when we would be prone to putting on our bad idea jeans and making some regrettable decisions.
It is a living document to be appended by the collective, which we will need to become and upon which we will need to rely.
These initial suggestions were inspired by quotes from legendary hockey movies Slap Shot and Youngblood. Both will be excessively viewed until an agreement is achieved, but take your inspiration from wherever it can be found.
"You guys could carry a carton of eggs out there and not break any." – Coach Murray Chadwick, Youngblood
Now there's a game the whole family can enjoy – an ole fashioned egg race. No, wait. We can make this fun. For an added degree of difficulty the game should be played on ice with full contact and the loser gets sent down to the Tallahassee Warthogs. Plus, if you're playing like this quote suggests then the game should last a long time.
"I got a good deal on these boys. Scouts said they showed a lot of promise" – Joe McGrath, Slap Shot
"Local talent, 12 o'clock." – Dwayne Hewitt, Youngblood
Both quotes inspire fans to support their minor leagues. Often these teams are the heart and identity of their community. Minor hockey is also the last vestige of purity where it remains more of a game and less of a business (for now). Plus, you'll have money left over for these remaining suggestions.
"Why's the old man making the trip?" – Ned Braden, Slap Shot
Use the lockout as an opportunity to spend more time with your father or grandfather. Take him for a day trip and be regaled with stories from the old days when players took summer jobs to make ends meet, helmets were only used in war, and owners actually looked like the guy on the Monopoly board. Or maybe set up a chair where "Invisible Bettman" is supposedly sitting and let your dad yell at him for 12 minutes then watch Dirty Harry.
"Dave was there."
"Dave's a killer!"
"Dave's a mess."
– Reggie Dunlap, Steve Hanson, and Johnny Upton, Slap Shot
Who doesn't have a friend named Dave? No one. No one is Dave-less. At one time Dave's been there for you and at other times he's been a mess. Either way Dave needs you. Go see Dave.
"They picked up Racki… another animal for the zoo." – Murray Chadwick, Youngblood
Go to the zoo. Heckle Racki for getting knocked out by Rob Lowe (Youngblood link). Go to an animal farm. Adopt a pet. Animals can be very therapeutic and studies have found that dog owners are happier than non-dog owners.
"Well, icing happen when the puck come down, bang, you know, before the other guys, nobody there, you know.  My arm go comes out, then the game stop then start up."  – Dennis Lemieux
Recruit some news fans and educate them on the rules so that when the "game stop then start up" they won't be confused.

"I thought I'd get Jerry one of those 'Great ldeas of the World' sets. You can look up the ideas alphabetically, like arts, mechanics, philosophy." – Jerry's wife, Slap Shot
"If I had to do it again, I would've gotten an education. You know what I mean? …look at Ned here. He doesn't have to depend on hockey." – Johnny Upton, Slap Shot
Remember that time you wanted to be that thing. Well get an education and go be it.
"No, I have a cold. You know, the runny nose and the sore throat.  I went out in that storm there last week to start my car.  I didn't have my jacket on. I think it's settled in my kidneys." – Dave Carlson
"Now honey, with hockey less available on TV you might be inclined to go outside during the winter. If you do make sure you have your jacket and hat on. Just because there's no hockey doesn't mean you shouldn't take care of yourself." – Your Mom.
"Somebody own the Chiefs.  We go to Florida and I get the money." – Dennis Lemieux
It's winter. Go to Florida… a lot if you can. If you already live in Florida then please don't respond. I'm not sure we're ready to hear that right now.
"Where did you get these guys from Ray, Mexico?" – Murray Chadwick, Youngblood
See Florida.
"You think you can win on talent alone? Gentlemen, you don't have enough talent to win on talent alone." – Herb Brooks, Miracle
It takes a team effort. Fans need to be there for each other. So please add your thoughts and suggestions in the comment section or tweet using #SurviveTheLockout and include a quote for inspiration if you like. We'll share them in the next article.
Hang in there. We'll get through this.
Born in Vermont, I started skating at age 4 on the lake and was lacing it up for the mite team the next year. At age 6, and much to my father's dismay – a Bruins fan from Worcestor, MA – I received a pair of hand me down Canadien PJs that sealed my fate as life long Habs fan. I'm OK with it.
My work in politics and public affairs brought me to Raleigh, NC where I currently live with my wife, herself a hockey player from Lake Placid, and our son.
My essays have been featured in Carolina Hockey Magazine and publish my own web magazine, www.Spopitics.com.
After years of writing for other people, I am excited to be writing for myself on The Hockey Writers about a game I love and that has so much to do with who I am.
Follow me @JasonSulham