The first official shoveling of dirt for the construction of the new arena in Quebec City occurred Monday afternoon near the Old Colisee Pepsi, where 20,000 people gathered to participate symbolically to the "J'ai ma pelle" (I Have My Shovel) day. Overall, more than 20,000 shovels were sold by the organiser of that special day, the "J'ai Ma Place" (I Have My Seat) group led by Mario Bédard, qho has been advocating for a new arena and the return of a professional hockey team in Quebec City.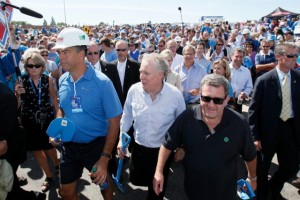 Quebec City Mayor Regis Labeaume, Quebec Prime Minister Jean Charest, Quebecor Media owner Pierre-Karl Peladeau, as well as former Quebec Nordiques players such as Peter Stastny, Marian Stastny, Michel Goulet, Alain Cote and Marc Tardif also attended the event.
Peter Stastny, who is now a member of the European parliament, made the trip to Quebec City despite his busy schedule. His brother Marian still lives in Saint-Nicolas, a suburb of Quebec City, where he owns a golf course. Hockey fans clamoured for autographs from the beloved Stasny brothers, who along with a third brother Anton defected from the former Czechoslovakia in the early 1980s to play for the Nordiques.
Charest, whose government committed $200M to the project, got a rousing round of applause from the crowd. Ironically, current Health minister Yves Bolduc, who was on-site and is a doctor, came to the rescue of a woman who fainted during the ceremony. The woman was the wife of Huron chief Max Gros-Louis.
The hockey fans who gathered yesterday for the groundbreaking ceremony to mark the start of construction of a $400M arena hope that one day it will become home to an NHL team. Mayor Labeaume, who brought on board media giant Quebecor to manage the future multi-use amphitheatre, said the project never would have reached this stage without the support and enthusiasm of so many residents. The new arena is due to open in 2015 and will have a capacity of 18,000 spectators.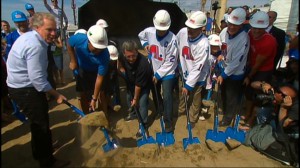 The arena will be similar in style to the Consol Energy Center, the home arena of the Pittsburgh Penguins, and will occupy approximately 64,000 square metres of space. A television studio for Quebecor, valued at approximately $40 million, will be constructed within the arena. On March 1, 2011 Quebecor purchased the naming rights and management of the arena.
This special event cost more than $350,000, $200,000 of which were paid by the sale of 20,000 shovels at $10 for a total of $200,000. The remainder of the event was paid by sponsors.
The arena project, whose construction is slated to begin in mid-September 2012, represents Quebec City's desire to get back the Nordiques' hockey team, who left for Colorado to become the Avalanche in 1995.
The progress made in Quebec City seems to please top NHL officials, namely Gary Bettman and Bill Daly. "It is apparent that the overall reaction in Quebec City to Mayor Labeaume's plan for a new arena is very positive," said Commissioner Gary Bettman in an e-mail to the Journal de Quebec, a local newspaper. "We will watch the process with interest."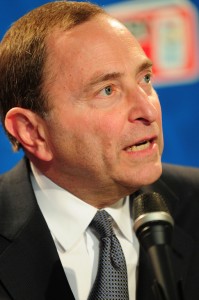 Daly added that a new arena would go a long way in helping Quebec City securing an NHL team. "We are encouraged by the Mayor's announcement on the new arena and we believe it will be a very good thing for the City of Quebec," he confirmed. "While there are no guarantees that an NHL franchise can return, certainly a new arena will enhance those prospects significantly."
Quebec City is currently one of the few options for relocation, along with Hamilton, Seattle and Kansas City. The Phoenix Coyotes are currently on life support, with the city of Glendale still trying to conclude a deal with potential investor Greg Jamison.
Follow me on Twitter for more updates on the NHL and hockey in general.
A long-time Joe Sakic fan, Fred, 35, is a freelance sports writer and translator. Fred earned a Bachelor of Translation in 2002 at Laval University in Quebec City. He also writes on the Montreal Canadiens for HabsAddict.com and he is an associate editor and a baseball columnist on Dobberbaseball.com. He is also fluent in English, French and Spanish.