Over their history, the Calgary Flames have cultivated a reputation as a hard-working, blue-collar hockey club. This reputation is a bit disconnected from the team's reality because, although the team has employed a great deal of burly, meat-and-potatoes hockey players, the team has been defined almost as much by its finesse players.
And by sheer coincidence, the majority of these high-skill finesse players have been from Sweden.
HISTORICAL SWEDES
Under the guidance of their original general manager, Hall of Famer Cliff Fletcher, the Flames were one of the first teams to delve beyond the traditional Canadian development model. Fletcher's Flames looked everywhere for talent, including the American collegiate system, and were one of the first clubs to really pursue European talent and consistently integrate them into their lineup.
The first Swedish player drafted by the Flames was Kent Nilsson, selected in the 1976 NHL Draft in the fourth round. After Nilsson's first season with the Flames, they selected another highly talented Swede in the 1980 NHL Draft: Hakan Loob. Driven to a large degree by Loob and Nilsson, the Flames improved rapidly and a trade involving Nilsson resulted in the Flames drafting Joe Nieuwendyk, who played a large part in Calgary's 1989 Stanley Cup victory.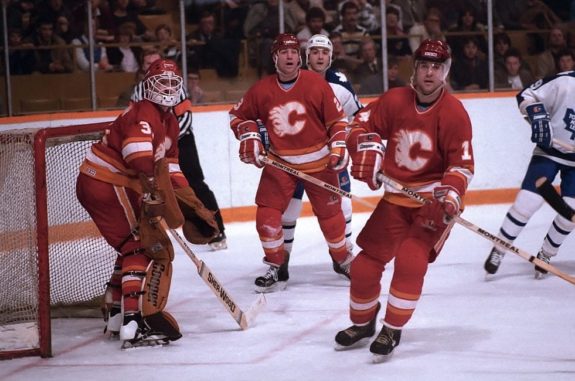 While subsequent Swedes didn't all pan out, Sweden established itself as the third-most-common country for the Flames to draft from — behind Canada and the United States — and such players as Tommy Albelin, Marcus Nilson, Kristian Huselius, Jonas Hoglund and Michael Nylander became fixtures on the Flames' roster over the years.
CONTEMPORARY SWEDES
The quality and frequency of Calgary drafting Swedes dwindled for awhile in the 1990s and early 2000s. One main reason could be the lack of NHL success seen by those picks. Cases in point:
1991 first round pick Niklas Sundblad, who came over to North America for three seasons (including two NHL games) before returning to Sweden to finish out his career.
1993 first round pick Jesper Mattsson, who came over to North America for two and a half underwhelming AHL seasons before returning to Sweden to finish out his career.
In both cases, the players really struggled at the North American style of game, were tremendously forgettable AHL players, and went back to Europe without the Flames even being able to leverage them as tradeable assets.
The Flames have had two Swedish first round picks that have made an impact on their NHL rosters: 2007 pick Mikael Backlund and 2008 pick Tim Erixon.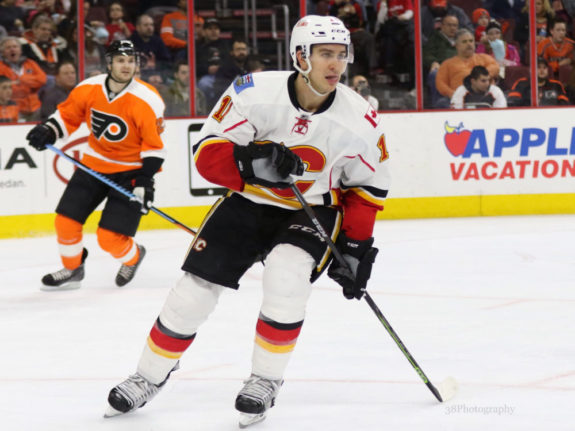 Backlund is a fixture on the Flames' roster and celebrated his 300th NHL game earlier this season. Erixon's impact is less direct: he refused to sign with the Flames after the draft and ended up being traded to the New York Rangers for Roman Horak and two draft picks (used to select Markus Granlund and Tyler Wotherspoon).
FUTURE SWEDES
In the past few drafts, the Flames have continued to add to their crop of Swedish players.
In 2014, they selected towering blueliner Adam Ollas-Mattsson from Djurgardens IF in the sixth round. Blessed with good size, long reach and a surprisingly effective positional game, Ollas-Mattsson has spent the past two seasons with the Swedish Hockey League professional Djurgardens club and worked himself into a regular spot in the lineup as a teenager. A fixture on Sweden's U18 teams as a youngster, he represented his country at the recent World Junior Championship in Finland, where he emerged as a shut-down specialist for his club before missing the team's final game due to an injury. His contract with Djurgardens reportedly expires following the 2015-16 season, so he may be a candidate for a North American job in the near future.
In 2015, the Flames selected a pair of Swedes in the second round. First, they nabbed Barrie Colts import blueliner Rasmus Andersson at 53rd overall. A product of Malmo, Andersson played two seasons of professional hockey as a teenager before heading over to the OHL as an import with an eye towards getting drafted. He's produced at just under a point-per-game pace through a season and a half in the OHL and his defensive game is rapidly improving. Andersson has already signed an entry-level contract with the Flames, and due to his late birthday, is eligible to play in the American Hockey League as early as next season.
Speaking of the AHL, because of some unique circumstances, the 60th overall pick from 2015 has already made the jump to that league. Originally a product of the Farjestad organization — and loaned to AIK of the secondary Swedish pro league HockeyAllsvenskan during his draft year — Oliver Kylington eventually got out of his Swedish contract and headed to North America this season. He's quietly impressed with his excellent puck-handling skills and skating with the Stockton Heat, playing a regular shift in a league that's just a notch below the NHL as an 18-year old. If he can spruce up his play away from the puck, the hope is that he can develop into a game-breaking blueliner in short order.
A CRUCIAL PART OF THE TEAM'S SUCCESS
The Flames have a reputation as a team that's been built by "good ol' Canadian boys." That reputation isn't entirely unearned given that Canadian players such as Lanny McDonald, Jarome Iginla, Theoren Fleury, Al MacInnis and Joe Nieuwendyk are among their most prominent alumni. But the club's Swedish players have played a tremendously large part of their success and, based upon the team's drafting and development over recent years, they may well be a part of Calgary's triumphs in the future as well.