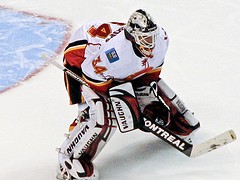 This week, former Calgary Flames first round draft choice Leland Irving is poised to become the 38th goaltender to man the crease for the franchise as the team hits the road on a four-game road trip. Given Irving's impending debut in the Calgary net, it seemed prudent to review what the Flames have stocked in their organizational cupboard, to to speak, in regards to goaltenders. Thus, we went right to the source for goalie knowledge, Justin Goldman of The Goalie Guild.
Outside of former Vezina Trophy winner Miikka Kiprusoff, the Flames have quite a few interesting goalies in their system. The most visible is 28-year-old Flames back-up Henrik Karlsson, who recently went down with an MCL injury in a game against the Vancouver Canucks. Goldman believes there's still room for the NHL sophomore to grow despite his age.
"He has made a lot of strides, I'd say, since I saw him at the end of last season," said Goldman. "I think he makes a great back-up for the next couple of years because he works extremely hard. You can tell how bad he wants to stop the puck and how bad he wants to win hockey games when he's in the crease and he's a battler. For his size, I think he's still a fairly dynamic goalie in the sense that he still tries to read and react. He's not a 100 per cent blocking style goalie, even though that's kind of the way he needs to play to be successful. The injury is devastating. You strain or you pull your MCL or have that type of injury where you miss two months, it's a significant chunk of time."
Joining the Flames via a draft-day trade in 2010, Karlsson appeared in only 23 NHL contests prior to going down with a knee injury. While his goals-against average (2.82) and save percentage (.904) are not considerably poor, he's only converted 4 of his appearances into wins.
"He hasn't won a lot of games, but in defense he's definitely played better than his record will show," said Goldman. "But at the same time, at the end of the day, NHL goaltenders are paid to win hockey games and I think you see a lot of frustration with Karlsson because he knows that. He's at the age where he knows the window of opportunity is really, really slim and it's one of the tough battles that goalies have to go through mentally."
Both Karlsson, a Swede, and 20-year-old Joni Ortio, a Finn and Calgary's sixth round choice in 2009, jumped into the North American pros after spending their formidable years on the wide "international" ice surfaces in Europe. While losing a few square feet of ice may not seem like a big deal to some, it can take a great deal of getting used to for goaltenders.
"It's huge," noted Goldman. "There's a lot of different reasons why going from a larger ice surface to a smaller ice surface is a major adjustment and a lot of it has to do with angles, has to do with your positioning in the crease, it has to do with literally the playing style and talent that you face. I mean, you can take the same talent that you face in Europe and put those players on a smaller rink and it's an adjustment in and of itself. You're taking players that are much more talented that have been playing on a smaller ice surface all their lives, and you're throwing a goalie used to the wider surface into that fire. It's a huge adjustment. Some goalies adjust faster than others. It depends on how they process the game, how they think the game, and literally how talented they are. Every goalie's different in that regard."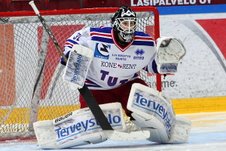 The transition from European to North American ice can be made more difficult by a lack of playing time. Since arriving in Abbotsford, Ortio hasn't played a lot, particularly compared to other goaltenders in Calgary's system. The rookie has only suited up for 260 minutes since arriving from Finland at the end of last season.
"You've seen Ortio sit on the bench all season long," said Goldman. "When you don't get consistent minutes and you only play once or twice a month or maybe even once a week, it makes it that much more difficult to really make that transition and get comfortable playing at a high level or reading plays or getting used to the speed of the game."
While Ortio's numbers haven't been anything to write home about – a goals against north of 3.00 and a save percentage below .900 – Karlsson has seemingly adjusted better to the North American game. The fact that Karlsson is more than seven years older than Ortio and has several seasons in the Swedish Elite League under his belt may factor in.
"Henrik Karlsson had been playing pro in Sweden for a number of years and at his age, I think being a little more mature makes it easier for him to make that transition," said Goldman. "Whereas Joni Ortio, he was playing in the World Junior Championships last season, doesn't have a ton of experience, still a very young goaltender. Even in the Penticton YoungStars Tournament…he really struggled, but in each game he seemed to get a little bit more comfortable in terms of technique and reading plays."
Leland Irving's call-up to Calgary could have been a chance for Ortio to get some playing time. But the Heat were actually carrying three goaltenders at the time, having signed AHL veteran Danny Taylor four days before Irving joined the Flames. Taylor has dressed in every game for Abbotsford since joining the club, starting three of the four contests. While Ortio may get a shot to start more, for now it seems that Taylor will carry the bulk of the workload.
"Getting the playing time is absolutely huge for someone like Joni, and unfortunately he hasn't gotten that, even with Leland Irving being brought up," said Goldman. "It's just a tough situation. Joni's just going to have to battle and work extremely hard in practice to earn some minutes."
While Joni Ortio rides the bench, his goaltending teammate finally gets a chance at the NHL spotlight. Drafted 26th overall by the Flames in the 2006 Entry Draft, Leland Irving has been the top goalie in Calgary's farm system for the past four seasons and has ranked among the league's best in wins, shutouts and goals against average over the last two seasons.
"At the end of the day, you can be the most skilled prospect in the world, but if you don't get any exposure nobody's going to know what you're capable of doing," explained Goldman. "That really seems to be the biggest hitch for a lot of these top-flight AHL goalies that are considered future NHL goaltenders. Leland Irving, honestly, he's one of the better ones out there. He was dominant in the AHL last year. He was winning games for his hockey team. He wasn't just standing in his net and getting tons of goal support. He was keeping the puck out of the net and earning wins for his club. When you have that type of an impact on your AHL team, usually it's just a matter of time before you get an opportunity."
Irving has suited up for 174 games in the AHL and ECHL since turning pro at the beginning of the 2008-09 season. After that long, it was only a matter of time before he got a chance at the next level.
"It's really just been about Leland Irving being patient," said Goldman. "I know over the summer there were some rumours, like there always are, about Irving totally losing his patience because they re-signed Karlsson for two years.' What's going to happen with Leland Irving because he's been biding his time for so long?' His patience has finally paid off. I wouldn't say all the time, but I'd say more often than not when a kid has worked this hard and has the kind of talent and upside that he has, they usually make good with that first opportunity."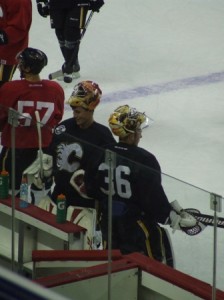 A lot can happen in two months, and it's possible that a couple strong starts with the Calgary Flames will open the door for Leland Irving at the NHL level. That could be through opening the eyes of 29 other NHL general managers and prompting them to call Jay Feaster and ask about Irving's availability, or by triggering the Flames themselves to make a permanent space in Calgary available for him.
While long-term goalie prospect now gets a shot at the NHL, one of the franchise's newest netminders is showing a great deal of improvement in the Western Hockey League. Drafted in the sixth round of June's Entry Draft, Laurent Brossoit is currently among the WHL's leaders in wins and goals against average while he serves as the #1 netminder of the resurgent Edmonton Oil Kings.
"He was one of the two hidden gems in terms of draft availability," said Goldman. "The Flames literally got a steal with him. Coming out of juniors before the Oil Kings, he was pretty highly touted because of his combination of size and skill. While that was really raw potential, again, when you get drafted it's such a huge confidence booster. You're basically put on a certain path where you're going to work ten times harder than you ever have before to turn into a pro goaltender."
Goldman singled out Brossoit and Carolina's Matt Mahalak (drafted immediately after each other) as the two best steals in the 2011 draft in terms of teams finding hidden gems. He noted that Brossoit getting more time in net for the Oil Kings may have allowed him to adjust to the WHL's speed and playing style, which enabled him to perform at a higher level thus far this season.
"He seems to be a really focused kid," said Goldman. "He has a lot of potential, totally under the radar prospect. I thought it was a really good job by the Flames to draft him where they did."
Justin Goldman can be found on Twitter at @TheGoalieGuild and all things goaltending can be found at his site, TheGoalieGuild.com.