Within the men's college hockey programs in the United States, very rarely do you celebrate a season in which you barely missed making the 16-team field for the upcoming NCAA tournament. Penn State's season is a little bit different.
If anything, the Nittany Lions celebrated a season where they are officially leaving an imprint in the college hockey universe. In only their fourth year in existence as a Division I program, Penn State achieved their most wins in a season at 21 and were ranked in the USCHO.com poll for the most weeks in program history.
It was almost like it was yesterday that Buffalo Sabres owner and Penn State alumni Terry Pegula donated $100 million to build the state-of-the-art Pegula Ice Arena back in 2010. After playing at club level for most of the existence of the University, Penn State Hockey moved from their much smaller confines of the Greenberg Ice Pavilion into the 6,000-seat capacity arena in 2013. Not only did the move propel Penn State to Division I status, but it also gave them the facilities needed to compete with the best in the country.
Since the new arena opened its doors, students and fans have been selling out every game and creating an intimidating atmosphere for opponents known as "Hockey Valley". With the noise and banter that translates from the football crowds usually heard at Beaver Stadium and the passion and knowledge of the game you would expect from such a rich hockey state like Pennsylvania, Penn State has had one of the best home records in the country in the last two years at 25-7-4.
If it wasn't for a handful of rough losses to Wisconsin and Ohio State before the Big Ten Tournament this year, the Nittany Lions would have been in the top fourteen of the PairWise rankings, a historical marker as to how well a team has to be rated to be almost guaranteed a spot in the NCAA Tournament. And then there was Michigan.
All year, Red Berenson's team has boasted one of the best top forward lines in recent memory. Combined, Buffalo Sabres prospect pick J.T. Compher, Winnipeg Jets first round pick Kyle Conner and Chicago Blackhawks prospect Tyler Motte have racked up 80 goals and 103 assists in Michigan's 36 games. Add in Zack Werenski, last summer's eighth overall pick in the NHL draft, and you have a star-studded lineup that is really hard to compare with throughout the rest of college hockey. If Penn State were able to even compete, let alone win, any of their games against the eventual Big Ten Tournament champions, it would have been a massive boost to the program's resume. Sadly, it was not to be.
In the five games Penn State played against Michigan, the Nittany Lions lost all of their games with a combined score of 33-11. If these encounters were excluded, Guy Gadowski's team won 10 of their 15 games in the Big Ten, outscoring their opponents 53-39.
While Penn State can count on having so much history as a club program and the fact that their campus in State College, Pennsylvania is in between two thriving NHL markets in Philadelphia and Pittsburgh. Michigan can count on having a legendary coach in Berenson, boat loads of future NHL talent that walk into the door every year and a campus that just so happens to only be point blank range from the facility for USA Hockey's National Team Development Program. Along with that, the rest of the Big Ten can count on more years of tradition as a Division I program and developing more NHL talent in recent years than Penn State ever has. Add the fact that Notre Dame will join the conference in 2017 and you can sense the challenges the Nittany Lions will have to face every year.
Net Returns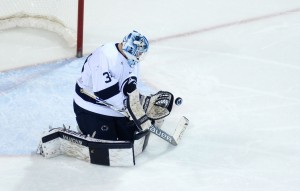 That being said, that margin is slowly beginning to close. Just today, Penn State's only player on the current roster that was drafted before setting foot onto campus, starting goaltender Eamon McAdam, signed his entry level contract with the New York Islanders. Along with that, senior forward Eric Scheid and senior backup goaltender Matthew Skoff signed amateur tryout contracts with the AHL's Portland Pirates and ECHL's Reading Royals, respectively.
This comes a year after Casey Bailey became the Nittany Lions' first ever NHL player by making his debut with the Toronto Maple Leafs. Since then, he has played six career NHL games and has recorded eight goals and 31 points in 56 career AHL games. Bailey is now a member of the Ottawa Senators after being among the nine players involved in the Dion Phaneuf trade. Along with Bailey, former Washington Capitals draft pick and last year's team captain Patrick Koudys is currently playing with the ECHL's Indy Fuel.
On the recruiting side of things, Penn State will be hoping that Peyton Jones can replace the talent drain in goal now that Skoff and McAdam are hoping to make their marks at the professional level. The Lincoln Star was Penn State's only representative at this year's USHL Top Prospects game and was recently ranked the 22nd best North American goaltender by Central Scouting for this Summer's NHL Draft. Meanwhile, center Nikita Pavlychev will bring his massive 6'7″ frame, belligerence (237 penalty minutes in 97 career USHL games) and credentials to the program after being drafted in the seventh round by the Pittsburgh Penguins in last summer's draft.
The beat doesn't stop with this year's recruiting class. 2017 recruit Evan Barratt is seventh in scoring on the United States National Development team competing at the USHL. 2018 recruit Jacob Goldowski was recently invited to compete for a place for the United States Under-17 team at the National Team Development Program.
The pieces are being put into place for a hockey program that will eventually become among the best in the country, but it won't be without plenty of hiccups on the road. But after the season that they have, it will be safe to say that Penn State hockey won't be going away anytime soon.
Ben covers the Washington Capitals at the hockey writers. He has been blogging about the NHL since March 2013. Follow him @DCSportsDork