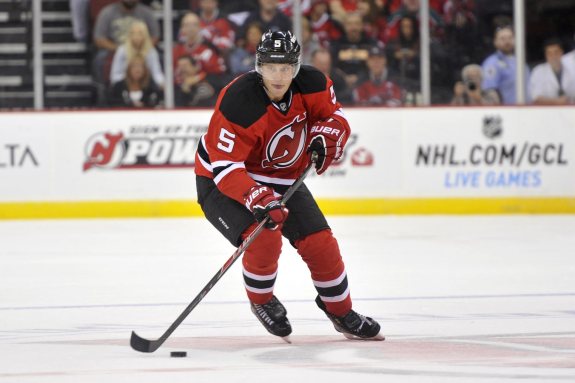 It pays to be patient.
This is a lesson that New Jersey Devils general manager (and interim coach) Lou Lamoriello knows all too well after 28 years on the job. With three Stanley Cup victories on his resume he knows that things don't always come easily or quickly, but having patience can make a world of difference in the end.
Just ask Adam Larsson.
Larsson, a New Jersey defenseman that was selected by Lamoriello and the Devils 4th overall in the 2011 NHL Entry Draft, did not have an ideal start to his NHL career. He played in 65 games during his rookie season in 2011-2012 and spent the entire year up with the Devils, but struggled to be effective when he was in the lineup. He started the 2012-2013 season in the AHL due to the NHL lockout, but found himself facing the same troubles in New Jersey once the NHL schedule resumed.
Realizing that they might have rushed the big Swede, who was drafted straight out of his come country, the Devils elected to send Larsson down to the AHL once again in 2013-2014. He would only play 26 games that season in New Jersey, registering a mere three points.
By this point Devils fans were already getting restless. A highly-touted prospect long before he was even drafted, Larsson came to New Jersey with lofty expectations on his back, with his high draft placement adding extra weight. After three years in North America, fans wondered, shouldn't such a high draft pick be better than this?
Things reached a fevered pitch early in the 2014 season. Larsson, still not playing at a high enough level, was healthy scratched for the Devils' first five games of the seasons. Trade rumors began to swirl. It seemed like the situation was only going to get worse before it got better.
Not in Lamoriello's eyes, though.
The 72 year-old GM probably received more than a few calls from other teams about Larsson's availability, but he held his ground and, more importantly, held onto Larsson.
It turned out to be the right move.
Larsson dug in, turned his game around and was rewarded for it, vaulting all the way up to the Devils' top defensive pair, where he's played for most of the last month and a half. He logged 25:26 of ice time on Tuesday against the Buffalo Sabres, second on the team behind only defensive partner Andy Greene.
The 22 year-old Larsson still has a long way to go before he is the elite defenseman that the Devils thought he could become when they drafted him, but he's back on the right path again and working his way forward. All Lamoriello has to do now is keep staying patient.