The American Hockey League playoffs get underway Wednesday night as 16 clubs begin battle for the Calder Cup. The Grand Rapids Griffins hoisted last season's championship trophy and are in the playoffs again this year. Below is a preview of the Eastern Conference matchups as a playoff journey in the top developmental hockey league gets underway.
Manchester Monarchs (1) vs. Norfolk Admirals (8)
The Los Angeles Kings have developed one of the best farm systems in the hockey world, with young talent highlighted their prospect pool, especially in the AHL. The Monarchs finished with the top record in the Eastern Conference and there's no reason for a letdown in the opening round. The Admirals made the playoffs on their second to last game of the season, edging out the Hershey Bears for the final playoff seed in the Eastern Conference.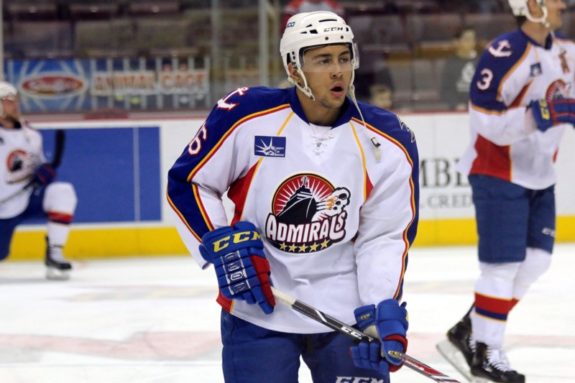 Norfolk does a lot of things well defensively and on the penalty kill, but they'll have a hard time slowing down the Monarchs 5th ranked offense. Top scorers Jordan Weal and Linden Vey will be the biggest challenge for the Admirals defense, which is very good in its own right. There won't be enough offensive punch for Norfolk to string the series far enough.
Prediction: Manchester in four
Springfield Falcons (2) vs. Providence Bruins (7)
The Bruins are arguably the most underrated team in the Eastern Conference, with a well-built overall squad. The feature elite goaltending in Niklas Svedberg (25-15-4, 2.63 GAA, .910 SV %) and Malcolm Subban (15-10-5, 2.31 GAA, .920 SV %) along with a defense that plays from the net out. They're a physical team with solid scoring depth, with five active players finishing the season with forty points or more.
The Falcons have lost some key pieces to the NHL playoff race by the Columbus Blue Jackets who are looking for the first ever postseason win at home in their first round matchup against the Pittsburgh Penguins. Former Providence forward Carter Camper has accumulated 20 points with his new club after his trade to the Falcons earlier this season.
| Team | PP% | PK% | G/G | GA/A |
| --- | --- | --- | --- | --- |
| Manchester | 16.3% (19th) | 81.5% (19th) | 3.21 (5th) | 2.47 (3rd) |
| Springfield | 18.8% (12th) | 86.9% (2nd) | 3.25 (4th) | 2.79 (12th) |
| Binghamton | 20.7% (5th) | 80.6% (23rd) | 3.63 (1st) | 3.05 (23rd) |
| St. John's | 18.1% (13th) | 83.5% (9th) | 3.39 (3rd) | 2.72 (10th) |
| Albany | 16.2% (21st) | 82.7% (14th) | 2.89 (16th) | 2.54 (6th) |
| Wilkes-Barre/Scranton | 13.7% (28th) | 83.1% (13th) | 2.71 (19th) | 2.43 (1st) |
| Providence | 20.5% (6th) | 80.9% (21st) | 3.07 (11th) | 2.76 (11th) |
| Norfolk | 16.0% (22nd) | 88.1% (1st) | 2.64 (22nd) | 2.53 (5th) |
Prediction: Providence in five
Binghamton Senators (3) vs. Wilkes-Barre/Scranton Penguins (6)
This matchup highlights the talents of a strong East Division in the AHL, with three clubs making the playoffs from that division. The Senators will go up against a strong defensive club in the Penguins who have dealt with injuries and recalls to the NHL level all season long. Wilkes-Barre/Scranton won't provide much offensively and usually have a very low shots on goal total per contest.
The power play for Ottawa's AHL affiliate will be a bit too much to handle for Pittsburgh's AHL affiliate, but this should be one of the best series in the first round games to begin the Calder Cup playoffs. The Penguins scoring depth will finally haunt them in their opening round matchup.
Prediction: Binghamton in five
St. John's IceCaps (4) vs. Albany Devils (5)
The IceCaps are a prime Calder Cup contender due to their depth up front, including the always dangerous playoff scorer Andrew Gordon. Eddie Pasquale continues to tend St. John's net with budding young goaltender Keith Kinkaid between the pipes for Albany, AHL affiliate of the New Jersey Devils.
Albany has a few key NHL prospects, including Reid Boucher (38 points) and Stefan Matteau (26). Albany has just three players who recorded forty points or more this season, but they play an equitable defensive and systematic style that can cause teams trouble if they don't have speed coming through the neutral zone.
Prediction: St. John's in four
Related Content
Leo Scaglione Jr. previews Albany's opening round matchup [THW]
Mark Diver gives the Bruins' perspective on their opening round matchup against Springfield [Providence Journal]
You can follow Matthew on twitter @m_speck and email him at mspeck21@yahoo.com with any questions or comments.
Matthew Speck covers the Washington Capitals organization for The Hockey Writers. He provides coverage of both Washington at the NHL level and prospect related content. Matthew also covers local sports for the Lebanon Daily News in Central Pennsylvania. You can email him at mspeck21@yahoo.com with any questions or comments.