There was excitement abound as the Albany Devils began their 2012-13 AHL campaign.  Like most other AHL clubs, the Devils were recipients of some lockout laden NHL talent.  Players such as Adam Henrique, Adam Larsson, Jacob Josefson, Mattias Tedenby and Bobby Butler graced the ice for Albany.  Despite those additions, the Devils are still encountering a feeling out process of sorts, one month into the season.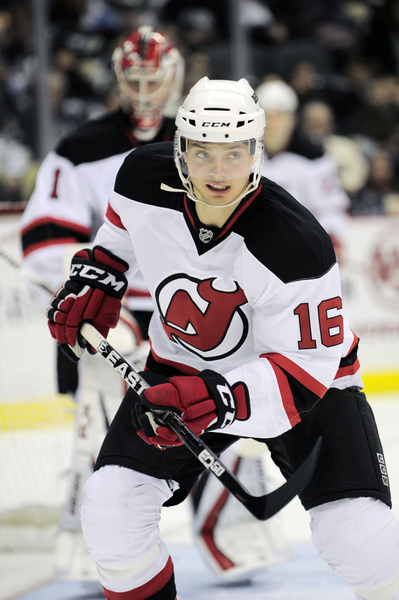 Through the season's first month, Albany stands at 2-4-0-0 (4 points).  Their two wins came against teams that did not qualify for the postseason last year (Worcester Sharks and Adirondack Phantoms).  Conversely all four of their losses came at the hands of playoff teams from a year ago (Manchester Monarchs, Syracuse Crunch, Connecticut Whale and Hershey Bears).
The good: Starting strong has been a theme for the Devils.  Before getting halted by Braden Holtby and the Bears, Albany took the lead first in the first period of their first four contests.  Overall, the Devils have outscored opponents 8-to-5 in the first frame.  Another plus of sorts for Albany, as the lockout lingers on, there has been an uptick in attendance numbers.  Through four home contests, Albany has an average attendance of 3,456, or higher than Oklahoma City, Binghamton and Springfield.  That with only having one Saturday game in a weekend driven league for attendance.
The bad: The latter two periods and finishing strong.  Lack of adjustments, coupled with problems on special teams, amount to being outscored 11-6 in the final two frames.  Three is the key, in the Devils two wins they have netted at least three goals or more, in their four losses they have not.
The ugly: Call it a lack of chemistry or blame it on injuries to defencemen Eric Gelinas and Alexander Urbom but special teams have been a veritable bugaboo for the Devils.  Albany currently ranks 28th in the AHL in power play proficiency, converting on just 2 of 21 opportunities for a 9.5 per cent success rate.  Those 21 attempts across six games, are a league low as well.  On the penalty kill, Albany has made some strides and sits in the middle of the pack, ranking 16th in the AHL.  The Devils penalty killing percentage stands at 80.0 per cent and opposing teams are 6-for-30 against the Devils penalty kill, while Albany has one shorthanded goal on the season.
Plus: Pacing the club thus far is Josefson.  Josefson leads Albany in virtually all major offensive categories.  On the year, Josefson has four goals, putting him in the top-12 in markers for the AHL.  Josefson's six points and plus six rating lead the club, as do his one power play goal and shorthanded tally, along with 14 shots on goal.
Matt Anderson, who was an AHL All-Star for Albany two years ago, is having a nice bounce back season in the early going.  Anderson has five points in six games and is tied with Josefson for the team lead in plus/minus and shots on goal.
As for other Devils making an impact on the positive side of things, Larsson is third on the team with four points (all assists).  Mike Hoeffel has been a pleasant surprise with two goals and an assist in the early going.  Tim Sestito has three helpers.  While he hasn't quite lit it up (which could be attributed to the line(s) he plays on), Henrique has two goals thus far.
Minus: Chalk it up to getting used to new teammates with Butler and early injuries with Steve Zalewski but the two who are being counted on for boosting scoring on this squad, have combined for two assists and a minus seven rating.  Additionally, on the blue line, veterans Matthew Corrente and Jay Leach, along with second year pro Brandon Burlon, have zero points combined.  The Devils goaltending duo of Jeff Frazee and Keith Kinkaid has warded off a potential call-up of Scott Wedgewood thus far.  It can be tough to gauge the netminders at times, they haven't been lights out but they also haven't been given a lot of support from the scoring department.
Looking ahead: The Albany Devils have eleven games on the docket for November.  They'll play five at home, five away and one "home" game at Atlantic City (assuming Boardwalk Hall is put back together following Hurricane Sandy by then).  If one were to try to predict how the Devils will fare in November, eight of their eleven contests are against teams that qualified for the Calder Cup playoffs in 2011-12.  Seeing as how the NHL has canceled all games through November, this should provide the Devils an ample amount of time to find that chemistry and begin to click.
Albany begins its November campaign at home on Friday November 2, as they host the Connecticut Whale (New York Rangers) at the Times Union Center.
Michael Gwizdala covers the New York Islanders for The Hockey Writers. Michael is also an Associate Producer at WNYT NewsChannel 13. Additionally, Michael was once a Media Relations intern for the AHL Albany River Rats. Michael is a graduate of The College of Saint Rose in Albany, NY.