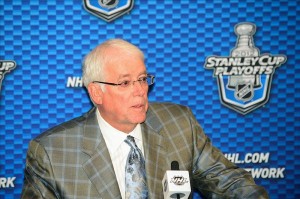 Glendale council member Joyce Clark chatted with local Arizona sports talk radio station, The Fan 1060 late last week. Speaking about the progress of the Phoenix Coyotes sale and the on-going negotiations between the city and prospective ownership group led by Greg Jamison, Councilwoman Clark says a deal that would push the sale along is in it's final stages of completion and could be placed on the Council's itinerary for a vote as soon as mid November.
An ideal for departure
This comes as good news to Coyotes fans as they have not heard much about the sale since early October. Most recently, Glendale Mayor Elaine Scruggs stepped forward to voice her case on seeing the struggling team leave Glendale for good. Scruggs, who was in favor of Matthew Hulsizer's bid to purchase the Coyotes, has flipped flopped on her stance pertaining to the hockey team. The previous deal between Hulsizer and Glendale called for 75 million dollars in bonds from the city for the sale to be completed (Jamison's deal does not include any sort of bonds). After having the sale disrupted by watchdog group, the Goldwater Institution, Hulsizer would go on to pull his bid from the Phoenix franchise and turn his attention to the St. Louis blues.
Reworked terms
Having reworked the Arena Lease Agreement, Greg Jamison and Interim City Manager Horatio Skeete came to terms that would see the first year payment drop from $17 million to $11 million, with each year following would see the dollar amounts dropped from their original payments. The newest term in the reworked lease agreement is the one time additional 5-year lease renewal option. More detailed information about the lease agreement here.
Contact the Author
Twitter: @edmchvz – Email: edm.chvz@gmail.com 
Based out of Arizona, Ed Chavez joined The Hockey Writers to cover the Phoenix Coyotes before moving onto THW's sister site, Sunbelt Hockey Journal where he covers hockey happenings in the desert. Follow Ed on twitter, @edmchvz