Aleksander Barkov has enjoyed a great start to his NHL career in the recent months and knocked out Sean Monahan for 10th place in the rookie scoring race. In 45 games this season, Barkov has scored seven goals and added 15 assists. His 22 points is currently seven behind rookie scoring leader Nathan MacKinnon, but his recent production suggests he could push even closer to the top.
Barkov is currently tied with Valeri Nichushkin and Ondrej Palat and all three have shown immense improvement over the course of the season. For Barkov, the biggest change was learning to play on the North American ice surface, after coming in from Tappara Tampere of the Liiga in Finland.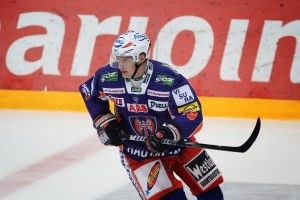 In his final year of European hockey, Barkov scored 21 goals and 21 assists in 53 games. This was the major reason for his high draft stock, and the Florida Panthers took a chance on the Finnish native with the second overall pick last year. 
Calder Competition for Barkov
The biggest name before going down with a leg injury was Tomas Hertl. Hertl had scored 25 points in 35 games before hitting the long-term injured reserve. The heavy favorite and rookie scoring leader, Nathan MacKinnon, has been consistently good and has demonstrated world-class skill throughout the 2013-14 campaign. While he remains the most likely candidate to win, especially with Hertl going down, there is still a chance for other rookies to press forward with about half the season remaining.
The most interesting case is Chris Kreider. The New York Rangers prospect is slightly older than his fellow top-scoring rookies but has proven his worth since being called up to the NHL. He has been playing with high profile players like Rick Nash and seems to be a mainstay in New York. Kreider currently has 27 points in 40 games and seems poised to continue this pace.
Another interesting case is Torey Krug. The offensive defenseman has been a constant performer from the blueline and the Boston Bruins have been benefiting from his production since the very start of the season. He is a powerplay specialist and has been nothing short of spectacular given his age and NHL experience. His 23 points ranks fifth in rookie scoring and first among rookie defenseman.
Judging by the players listed above, and the other five players in the top 10, Barkov has his work cut out for him if he hopes to win the Calder. His numbers so far have been solid, and it will be interesting to see if he can keep up his current scoring pace, or more importantly, improve on it.
Can Barkov Stay in the Calder Race?
Why not? He has shown a solid amount of skill over the course of the season and has only gotten better. Given his surroundings, Barkov will have to play extremely well to keep his production up, or watch his name slide further down the rookie scoring list. The Florida Panthers are far from a stacked squad, but the chemistry Barkov has shown with Sean Bergenheim and Brad Boyes is very encouraging, and they should continue to be the top scoring unit for the Cats.
The lack of top-level scorers will give Barkov ample time to be the go-to-guy in Florida. Jonathan Huberdeau has simply not been the same player as last year. Whether it be nagging injuries or the infamous sophomore slump, the Panthers have had to look elsewhere for their scoring needs. Barkov currently leads the Cats in scoring and will likely continue to do so. His teammates have been a major part of his success, and continuing to help the young prospect will contribute to his production.
A great experience for the Finnish-native with be the 2014 Winter Olympics in Sochi. Barkov was selected to the Finnish national team at the young age of just 18 and will have the rare honor of representing his nation on the international stage. Not many players are given this opportunity, and it is in Barkov's hands to seize the moment. He is at an advantage due to his European and international hockey experience, but will need to be an effective part of the Finnish squad to maintain a prominent role with the team. If he can produce at the Olympics, it will be interesting to see what kind of player Barkov becomes upon his return. Playing for your country should only motivate you to be better, and Barkov has the opportunity to utilize that chance.
In terms of experience, Barkov will have one of the most interesting rookie campaigns to date. He is leading his team in scoring, was selected to the Finnish national team and has a legit chance at winning the Calder trophy. Nevertheless, to keep a scoring pace in Florida is harder than driving with your eyes closed, and it will be up to Barkov and his teammates to keep him in the race, or watch him get overthrown by teams with more talent and the ability to score.
The Panthers might not win much, but two Calder trophies in a row is something to work with, and Barkov has a real chance at making that happen.