Remember when Alex Ovechkin was irrelevant in the postseason?
Well, to the NHL pundits at least. Two playoff years ago, he scored just one goal and one assist in the Washington Capitals' seven-game loss to the New York Rangers, both coming in the first two games of the first-round series. He was a minus-3 with four penalty minutes the rest of the way.
Last season, Ovechkin's Capitals didn't attend the postseason dance, finishing three points out of the Eastern Conference's final wild-card spot.
He was an easy target for Capitals critics (even the Washington Post's Barry Svrluga said Ovechkin evaporated). The Russian winger is doing everything in his power to silence those critics this time around.
Since Game 1 against the New York Islanders, Ovechkin has been a recognizable figure every time he steps on the rink. He's still pounding shots to the goaltenders (a League-leading 38 times over the course of nine games), yet the results are much different than two years ago. He has scored eight points (4-4–8), which ties him for fifth in the NHL postseason. His goal at 10:29 of the third period Saturday afternoon rivals the best goals scored in the 2015 postseason.
More importantly, Ovechkin's Capitals are facing a 1-1 second-round series tie with the Rangers, with the match-up shifting to Washington for Games 3 and 4. Two more wins would place the Capitals in the Eastern Conference Final for the first time since 1998.
If Ovechkin can score more goals like the one on Saturday, the heavily favored Rangers may not be able to stop the Capitals' offensive onslaught.
Here is the rest of your news for Sunday:
Ovechkin's goal was too good for words. [New York Post]
Ovechkin's success could be contributed to the arrival of Barry Trotz. [Puck Daddy]
Preview all three games on Sunday here. [The Score]
If you're looking for how to watch the IIHF World Championship, look no further. [Winging It In Motown]
The Wild's Justin Fontaine will not play in Game 2. [CBC.ca]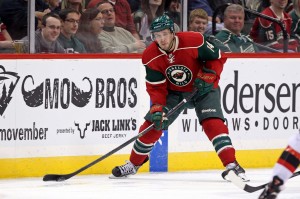 A win in the second round would exercise some demons for the Lightning. [Today's Slapshot]
There was a missed offside call just before the Lightning's 2OT goal. [Deadspin]
The Flames are optimistic, despite a drubbing in Game 1 to the Ducks. [Globe & Mail]
Would the Sharks consider trading their first-round pick this season? [HockeyBuzz]
I am a former NHL media member and reporter for the St. Louis Blues, working for various media outlets. Currently, I am an NHL News Writer and Editor for The Hockey Writers. I live in St. Louis and work as a freelance copywriter in numerous industries.