Alex Pharand
2022-23 Team: Sudbury Wolves (OHL)
Date of Birth: January 5, 2005
Place of Birth: Sudbury, ON, CAN
Ht: 6-foot 3, Wt: 202 pounds
Shoots: Right
Position: Forward
NHL Draft Eligibility: 2023 first-year eligible
Rankings
The first thing scouts mentioned about Alex Pharand is his good attitude and strong work ethic, which he showed throughout the 2023 U18 World Junior Championship and his time in the OHL. Coaches and teammates have said he's willing to take on any role that will lead to team success and he has strong leadership skills on and off the ice.
Related: The Hockey Writers 2023 NHL Draft Guide
Scouts love his game but wish he could show more consistent flashes of elite talent. He is generally considered a hard-working forward who is strong on the forecheck and positionally sound in the offensive and defensive zones. He is not just a defensive forward, as he can handle the puck in all areas of the ice and can finish plays with a strong shot.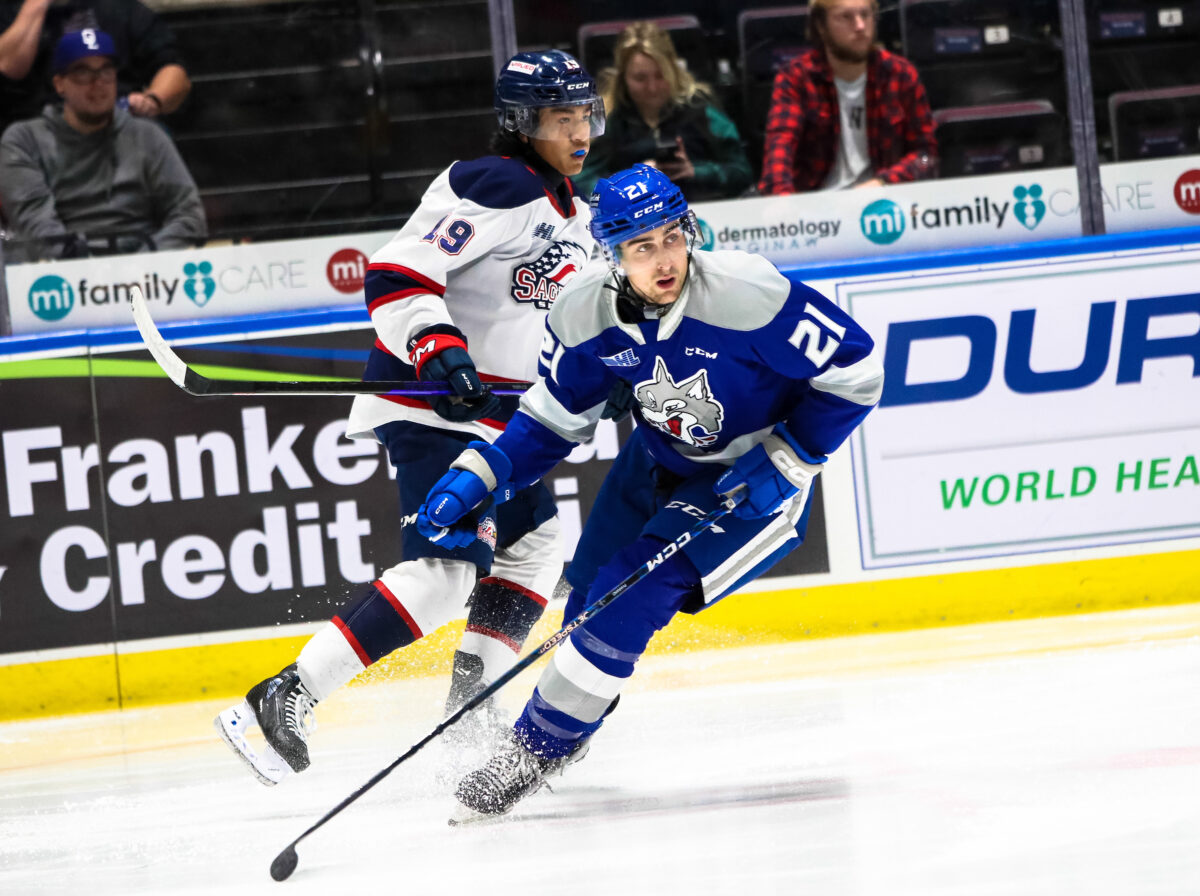 Pharand has improved in each of the two seasons he played in Sudbury. After starting his OHL career with the Hamilton Bulldogs, he was traded to the Wolves, where he saw more ice time, especially on special teams. During the 2021-2022 season, his first in the OHL, he scored six goals and eight assists. Those numbers jumped dramatically in his second season when he scored 18 goals and 39 points.
The issue that scouts have with Pharand is that he can sometimes be passive, lacking the confidence to play his game up to his standards. This was evident at the U18 Worlds when he manned the fourth line for Team Canada, and although he played well, he often got rid of the puck way too quickly, missing opportunities to set up his teammates.
However, that was not the case in the CHL/NHL Top Prospects Game in January when he worked effectively along the boards and around the net while skating on a line with Connor Bedard and Zach Benson. In that game, he also showed he is not afraid of sticking up for his teammates, as he dropped gloves with Kalan Lind.

Pharand is an incredible leader that has the potential to demonstrate elite skills. If he can consistently demonstrate such skills as being a physical backchecker and forechecker, proactive defensive while being effective at moving the puck, he has the potential to be a reliable contributor in the NHL.
Other THW Profiles
Alex Pharand – NHL Draft Projection
Pharand projects to be a later-round pick at the 2023 NHL Entry Draft, likely somewhere between the fourth and sixth rounds, as his combination of size, skating, and physicality should lead him to an NHL roster. Finding a player like him at this point in the draft would be a great pickup.
Quotables
"Impressive combination of size, skating, physicality and puck skill – Plays a hardworking and effective two-way game – Handles and controls the puck well in all areas of the ice – Strong shooter with finishing ability – Gets himself into scoring areas for quality looks with consistency – Smart player that's used in all situations – Confident and patient with the puck in offensive zone and very effective from the dots down – Can hold and shield until options open up – Protects the puck and can power thru defenders while maintaining control – A load to handle when driving to the net – Makes plays in heavy traffic and sets-up chances in tight – Has the physical tools and smarts to develop into an NHL power forward." – Matt Tidcombe, CHL.ca
"Alex provides a tremendous example of dedication and passion that demonstrate his capacity as a leader. He possesses many genuine qualities, such as leadership, commitment, and dependability. Perhaps the one quality he shares most with Dayna Brons would be his unwavering selflessness." – Statement from the Hockey Gives Blood Player Ambassador Program (Pharand nominated for Hockey Gives Blood's Dayna Brons Honorary Award, The Sudbury Star, June 6, 2023).
"Pharand is a player who hasn't really added a lot of flash to his game, but his value comes from making the correct read and play far more often than not. There's a sense of calmness in his game, and he is able to quickly process and problem-solve on the spot. He seems to understand his role well and plays within the confines of his game." – Aaron Vickers, FC Hockey
Strengths
Skating ability
High compete level
Hockey IQ
Under Construction – Improvements to Make
Offensive skills
Decision-making with the puck
Instill confidence in abilities
NHL Potential
Pharand's size and skating ability will help him find his way onto an NHL roster. Teams will be drawn to him as he plays smart and hard, which should give him an opportunity to find a bottom-six role in the NHL.
Risk-Reward Analysis
Risk 3.5/5, Reward 3/5
Fantasy Hockey Potential
Offense 6/10, Defense 6/10
Awards/Achievements
Bronze medalist – 2023 U18 World Junior Championships for Team Canada
Nominee for the Hockey Gives Blood/Dayna Brons award
Interviews/Links
Alex Pharand Stats
Videos