The free agency market has gotten much deeper in the last week.
Joining the fray will be Carolina Hurricanes forward Alexander Semin. The 'Canes placed Semin on unconditional waivers with the intention of buying him out when he clears on Wednesday.
#Canes place Alexander Semin on waivers with intent of buying out his contract. READ MORE: http://t.co/DPL0hCt4r3 pic.twitter.com/T9HD3fVd3o

— Carolina Hurricanes (@NHLCanes) June 30, 2015
Semin has three years remaining on a five-year contract that paid him $7 million per year. A buyout will see him paid $2,333,333 over the next six years with a cap hit in the same amount.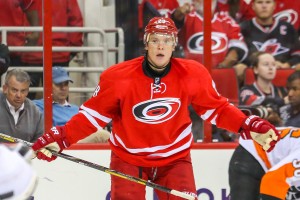 Semin had a rough 2014-15, scoring just six goals and 15 assists through 57 games. That's just a scoring rate of 1.1 P/60 at even strength. That's the lowest the 31-year-old forward has ever posted. It was an all-around ugly scenario for Semin last season who had a SF60 of 28.4, the lowest he's had since his rookie season.
He also averaged well under two shots per game in all situations. That's aided in part by the lowest average ice time he's had since his rookie season, in large part due to a reduced power play role. (He averaged just 1:30 per game on the power play, the lowest mark of his career.)
Despite those struggles, he managed to be an asset at even strength in terms of possession, on a team who posted fairly strong possession numbers. He had a score-adjusted relative Corsi For of 2.9% and posted a 6.5% the season before.
It's possible an analytics-minded front office might see Semin as an asset if he comes in on a cheap deal — third line money — following the buyout. Semin's offensive production can no longer be relied on, but he's not without utility.
The $2.333 mill cap hit annually that a Semin buyout comes with will be the largest annual cap hit in NHL buyout history.

— David Alter (@dalter) June 30, 2015
RELATED: Hurricanes Have Been Busy
[catlist categorypage="yes" numberposts=3 excludeposts=this]
Dustin Nelson writes about news and the Minnesota Wild for The Hockey Writers.