Jim Neveau, NHL Correspondent
GLENDALE, Arizona – Over the course of nearly two years, the Phoenix Coyotes have been the subject of more talk about their ownership situation than about their play on the ice. This is unfortunate, especially when you consider they went from being doormats to the fourth seed in the Western Conference last season and this year are in serious contention for the top spot in what has been hockey's toughest division.
Friday night was the crescendo on what was a wildly successful trip. The Coyotes defeated the Vancouver Canucks 3-1 to become the only team to beat the Canucks more than one at Rogers Place this season, and they sent a message to the rest of the hockey world that they can take a team's best punch and come back with a vengeance. They may not have scored a goal until 55 minutes into the contest, but that didn't matter as a stellar effort by back-up goaltender Jason LaBarbera (who moved his career record to 4-1 against the Canucks) helped them seal a big win.
With their last long road trip of the season complete, the Coyotes will now focus on defending home ice in Glendale, where they will play their next six games. Critical games loom there as the team will play Pacific rivals San Jose and Dallas, and also the defending champion Chicago Blackhawks. Sitting only one point out of the Pacific lead (albeit with one more game played than the Sharks), the Coyotes still need to rack up all the points they can get if they want to secure a top-three seed in the Western Conference playoffs. The seven game point streak they are on right now has certainly helped solidify their playoff chances, but they still will need a strong finish in order to cross the line.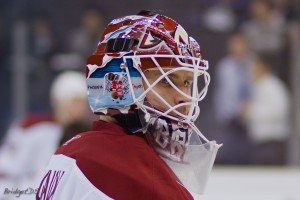 A year after being beaten by Detroit in the first round of the post-season, the Coyotes are looking to do even more damage this year. The question is whether or not they have what it takes to make their way through what will be a very strong playoff field. Do they have what it takes to unseat teams like Vancouver, Detroit, and any other team that stands in their way when April rolls around?
The first and perhaps greatest asset that this team has is their unwillingness to give up. A lot of teams will pack it in at the first sign of trouble during the regular season, and those are the squads that generally get bounced early from the postseason. Throughout this campaign, the Coyotes have shown that they are not one of those teams, and they never say die even when the deck is stacked against them.
A perfect example of this attitude was their game earlier this month against the Red Wings. Down 4-1 with less than 10 minutes left, a lot of teams would have thrown in the towel and looked ahead to their next game. Instead, Phoenix stiffened their upper lip and made a great comeback to beat Detroit 5-4 in the shootout. It was a complete team effort down the stretch, and by the end of the game Phoenix had the visitors reeling.
Another key component to their success as of late has been the impressive goaltending that they've gotten from both Ilya Bryzgalov and Jason LaBarbera. Obviously with his Vezina-caliber year last year, Bryzgalov was going to be the guy in the crease for the Coyotes this season, but when he went down with some injury problems, LaBarbera stepped up in a big way.
The team's last two games are perfect illustrations of the power of this tandem. Thursday night against Edmonton saw Bryzgalov make 35 saves as his team only managed 17 shots against the Oilers, but it was enough to get them a 3-1 win. In their next game against Vancouver, LaBarbera stepped into the crease for his first start since February 23rd and played even better, stopping 46 shots in a game that was scoreless until the 15 minute mark of the third period.
These performances under pressure by both Phoenix goaltenders show that their netminders are still a formidable strength, and have the potential to aid them greatly moving forward.
Finally, one of the team's more surprising strengths has been their offense, which is currently ranked 9th in the NHL with a 2.8 goals per game average. When you look up and down their lineup, no offensive stalwarts particularly stand out, but when you factor in the consistency of the team's offense from top to bottom, you can see why that number is so high.
Obviously, Keith Yandle is the main catalyst behind the team's scoring, netting 11 goals and dishing out 46 assists in what is arguably a Norris-contending performance for this club. Shane Doan has also had a nice bounceback year after a down season a year ago, scoring a team leading 18 goals and handing out 37 assists in the process. Radim Vrbata, Taylor Pyatt, Lee Stempniak, and Lauri Korpikoski are all near 20 goals as well for this club.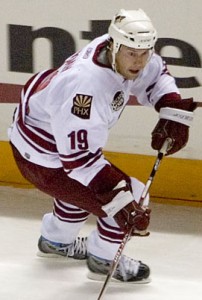 With the offense looking more potent than a season ago, and with the goaltending that this team has, you would think that the case to anoint the Coyotes as a Cup contender would be an easy one to make. There are a few factors working against this group, however, and paramount among those is their complete lack of consistency.
Looking over the team's results from this season, it is easy to see how pundits have had a difficult time characterizing them as a contender. They have three winning streaks this season of at least five games, and they also have another of four games as well. On the flip side, they also have had stretches where they've played putrid hockey, including a run where they lost seven of nine after winning their first game of the season against Boston, and also other runs where they lost six of eight and six of seven games.
This penchant for either running at top performance or in the depths of mediocrity isn't a good sign for fans, because it means that this team has a tough time righting the ship when they are going bad. Even with the improved offense and the goaltending that they've been getting, that lack of consistency is worrisome to those who follow the team.
The team's performance in both special teams areas is also a cause for concern. The Coyotes are currently ranked 21st in the league on the power play, and an even more disturbing 26th on the penalty kill. Both of these obviously display problems, and the last few games have been littered with examples of how this could hurt them later.
On Thursday against the Oilers, the Coyotes gave Edmonton NINE power play opportunities, and if they hadn't been facing one of the West's cellar-dwellers, that very well could have ended their chances to win the game. They then followed up that performance by allowing Vancouver five power play chances, and if they hadn't gotten LaBarbera's stellar goaltending in that one (as well as a game-changing major penalty to Alex Burrows in the closing minutes), they may very well have lost that game.
The power play concerns aren't as dire for this club, especially with how well they play at even strength. The fact of the matter is that teams that are able to score on the man-advantage have a decided edge in postseason play, and if the Coyotes aren't able to make teams pay for their mistakes, then they are taking a huge weapon out of their arsenal.
So can Phoenix make it out of this rough and tumble conference? The easy answer to the question would be a "duh…..I don't know", but it can be said with confidence that the Coyotes have as good a chance as anyone. With their blend of goaltending and solid even strength play, as well as that intangible element of a never-quit attitude, Phoenix is a matchup nightmare for any club in the West, and they have the game to beat anyone, as they have displayed frequently this season.
Even with all of their on ice successes, what's most impressive about this squad is how they've stuck together through all of the on-ice nonsense. Their dressing room has been a source of strength for a team constantly under attack by pundits who would just as soon see them shipped off to Winnipeg as find success in the desert, and if they were to achieve their goal of hoisting hockey's biggest prize, they could very well find themselves the subject of one of the greatest narratives in the history of professional sports.