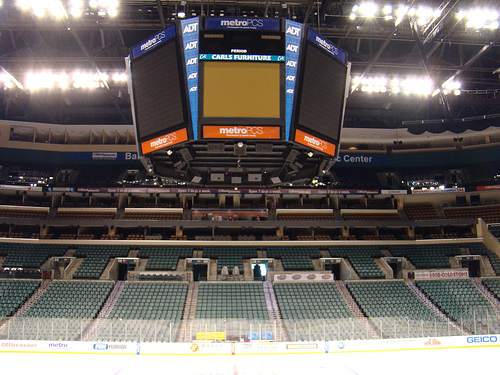 Things are changing in South Florida.In early May, hall of fame player and Panthers' color commentator since day 1, Denis Potvin was let go by the team.No clear reason was given by team president Michael Yormark, although he did say that he wanted his staff to live in south Florida year-round (Potvin spends his summers in Canada). Then on Monday, we learn that Panthers' GM Jacques Martin had been hired away by the Montreal Canadiens to be their head coach.Now today, news has surfaced that team ownership is changing hands.There are two separate stories here, and they fall on opposite sides of the franchise fence.
On the business side, the most recent story has been building for a few weeks now.The ownership team that included Alan Cohen, Cliff Viner, Mike Maroone, and Bernie Kosar, among others, have been talking about giving up their share of the team.Enter the New York based Sports Properties Acquisitions.Now the deal is yet to be finalized, as both sides still need to agree to the language of the sale.Stocks are being swapped, Broward County land is involved, and certainly countless other non-hockey related items must be sorted out.How much of this will affect the product on the ice remains to be seen, but to see full details of the proposed deal.
As far as hockey operations go, Jacques Martin stepping down as general manager might be the most impactful move, especially considering the timing.The move came as a surprise to most of us in south Florida, including head coach Pete DeBoer."I'm not sure I saw it coming. I felt he really threw himself into the GM role. My thought in coming here was I would get a chance to work with a GM who had recently been a head coach," DeBoer told George Richards of the Miami Herald. "He knew what coaches went through. I could rely on him. That's what I got."With the draft coming up and a handful of free agents to deal with, this is not exactly the optimum time to begin searching for a GM.But that is what the Panthers' are stuck with.On the bright side, hall of famer Bill Torrey is on staff, holding the "alternate governer" title.Torrey, famously of the New York Islanders, will head the search for the Panthers' new GM along with assistant GM Randy Sexton.
A dozen or so names have already been suggested for the position, some more interesting than others, some are pure speculation while others might hold merit.A couple of the more intriguing names that have surfaced include Jay Feaster, who was the GM in Tampa when they won their Stanley Cup and might enjoy sticking it to the Panthers' biggest "rival", Doug McLean, who coached the Panthers during their run to the finals in 1996 and was a GM in Columbus' early years, and Pierre McGuire, current TV analyst and a candidate for the Minnesota Wild GM spot.The Panthers actually had someone in house not too long ago who looked like he was being primed for Florida's GM spot.Joe Nieuwendyk was an assistant GM to Martin as recent as 2007.Of course, Nieuwendyk was just named Dallas Stars GM.Needless to say, whoever does inherit the position will be thrown into the fire on day 1.Jay Bouwmeester is still a Florida Panther, for now.
For a team that has seemed to turn the corner on the ice, coming painfully close to ending their 9 year playoff drought this season, a turnover in the upper offices might just be the push this team needs to get over the edge.Then again, it could also just be a reset button on what Martin has built over his last 3 seasons.