'Ducks Drill Down' is a regular, ~weekly column that recaps the latest goings-on with the Anaheim Ducks.
For more detailed takeaways from each of the first two games of the Ducks' first-round series against the San Jose Sharks, click here for Game 1 and here for Game 2.
---
Less than a week ago, Cam Fowler's injury notwithstanding, things were trending up for the Anaheim Ducks. The team had moved up to second in the Pacific Division at the end of the regular season, clinching home-ice advantage against the San Jose Sharks thanks to playing some of their best hockey of the season.
Fast-forward to the present, and the Ducks find themselves in a troubling 2-0 hole in the series, having dropped the first two games at the friendly confines of Honda Center.
Sharks Stifle Ducks With Aggression, Poise
Game 1 devolved into a disaster for the Ducks, as they took too many penalties that ultimately opened the floodgates for a three-goal barrage by the Sharks in the middle frame that effectively sealed the game. San Jose, meanwhile, played with poise and protected its lead in expert fashion, never really yielding sustained pressure or many high-danger opportunities to Anaheim.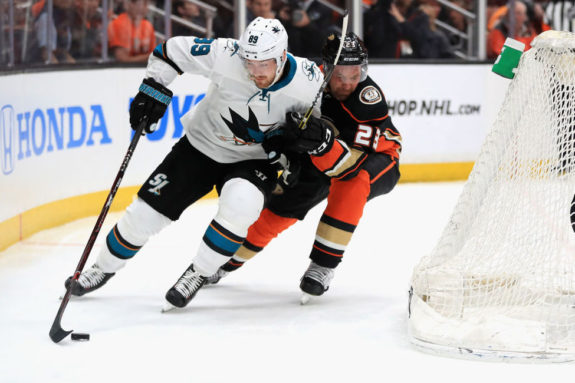 In both games, Anaheim had trouble taking control for extended stretches against the Sharks' aggressive play. The Sharks' depth allowed them to consistently attack the Ducks and spend more time dictating the play.
Game 1
Anaheim struggled with penalties, particularly in Game 1, when they committed six minor infractions. Some of that penalty trouble was the result of a lack of discipline, some was attributable to the Sharks' attacking style, and then there was some that was borne out of poor fundamentals and coverage. The latter was the case in Ryan Getzlaf's second-period penalty—while Anaheim was already down a man—that gave the Sharks a two-man advantage and ultimately the opening score.
"Well, it was avoidable to start," Getzlaf said of the play where he ended up slashing Kevin Labanc to impede a prime scoring chance from point-blank range. "Obviously at the time, I needed to get a stick on that guy. I did what I had to do. Me and Kes (Ryan Kesler) got crossed up to begin with and got too far out, the two of us on that (penalty kill). And then we had to scramble back."
Game 2
Game 2 represented a slight improvement for the Ducks, and they at least got on the scoreboard, but it still wasn't good enough. Their lack of composure also shined through in the game's final minutes, as Corey Perry committed a brainless, dirty hit that put his team down a man when they needed a goal to tie. It seemed suspension-worthy, but to this point, no news has come from the league on that front.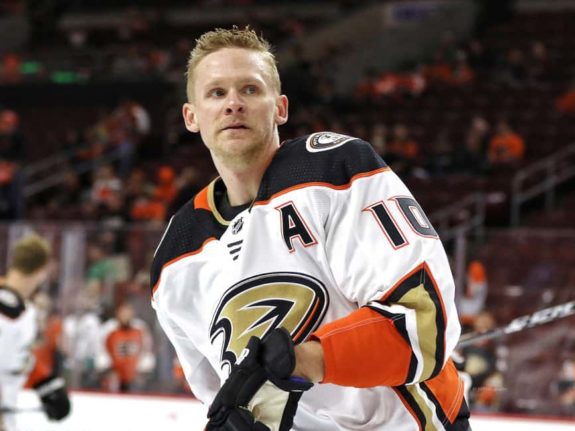 While the Ducks did feel better about their Game 2 performance, they know they still have to be better if they intend to get back in the series up in San Jose.
"If you look at the game, it was a much more evenly played game than [Game 1]," said head coach Randy Carlyle. "We still could be a lot cleaner in the neutral ice. … Right now, it seems like it takes us more tries to get through the neutral ice than is necessary."
Of course, the Sharks' effective play is making it difficult for the Ducks to get through the neutral zone cleanly. Still, the Ducks feel that they ultimately control their own fate.
"At the end of the day, home or away, it's about what we do on the ice," said defenseman Hampus Lindholm as his team prepares to play two on the road. "We need to come into their building and keep doing the good things we've been doing and try to clean up the stuff we haven't been doing so good."
Lineup and Deployment Decisions to Mull
Veteran blueliner Kevin Bieksa returned to the lineup for the first time since March 12, following minor hand surgery to remove scar tissue that had been bothering him for most of the year. While his effectiveness has been questionable, he gives the Ducks another option while Fowler remains sidelined.
Regarding Fowler, he will not make the trip to San Jose, indicating that any possible return is still a ways off. While he is out of commission, Anaheim needs to sort out its defense for better results against the Sharks.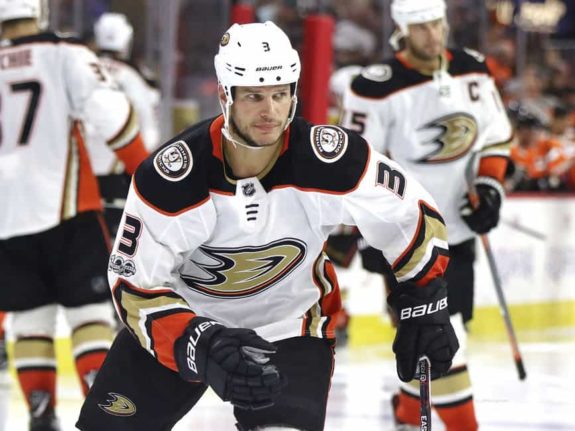 Carlyle's deployment has been curious, as the pairing of Francois Beauchemin and Brandon Montour leads all Ducks pairings in total ice time this series. The club's clear top pair in Lindholm and Josh Manson has seen about five minutes less time as a tandem. Given their regular-season success and continued effectiveness in the first two games (56-percent expected goals-for percentage, compared to 47 percent for Beauchemin and Montour), they should be getting the lion's share of the minutes on the blue line.
Anaheim's bench boss might also want to consider some changes up front to try to give his team a more balanced attack. Antoine Vermette, who was often a healthy scratch late in the regular season, has drawn into both games so far while Chris Kelly and Jason Chimera—each of whom was acquired around the trade deadline to add more depth, speed, and experience—have been relegated to the press box.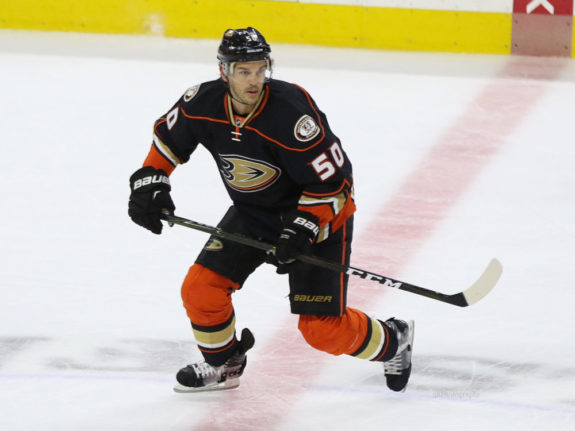 At this point in his career, the 35-year-old Vermette's faceoff prowess is likely his most valuable asset, but he has seen very little ice time. He played a mere 7:08 in Game 1 and then even less (5:14) in Game 2. Perhaps Kelly or Chimera will get a shot and more ice time.
Down 2-0 in the series, the Ducks need to pull out all the stops to try to climb back into it.
Tom has been with The Hockey Writers for almost four years. After previously covering the LA Kings and the New York Rangers, Tom now covers the Anaheim Ducks.
While in college at Clemson University, the 2016 college football national champions, Tom wrote game summaries and feature articles for the official team website of the Greenville Drive, a Class-A minor-league baseball team and affiliate of the Boston Red Sox. Tom is happy to be able to continue to fulfill his passions for sports and writing with THW.