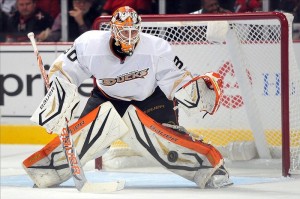 Viktor Fasth (Rob Grabowski-USA TODAY Sports)
The Anaheim Ducks' unofficial start to the season started yesterday as players showed up at the Honda Center for some medical and fitness examinations before they hit the ice today for their first day of training camp. Several players showcased t-shirts that read "Unfinished Business" on the back. As the players congregated at the arena, some had spent their partially extended offseason setting individual goals for their upcoming season. Here are some of the players with some unfinished business after last season concluded:
Teemu Selanne: I know the majority would agree that Selanne shouldn't have anything to prove to himself, fans or players. The guy is a finesse "Finnish Flash" machine. At the age of 43-years-young, he is still a perennial player who instantly impacts the game and makes a difference on his team. Every player plays to win the Cup, but his eyes may be set on an even a bigger achievement; the Winter Olympics in Sochi, Russia. One thing you can pick up right away from hockey players is their passion for their homeland. In 2010, Finland won bronze at the games in Vancouver, B.C. The team has never won gold and only captured silver twice. He has continuously had productive regular seasons, remains – and most likely will always hold – the record for the most amount of goals in a rookie season with 76, and he has a Cup. There's nothing else he can really accomplish during the regular and post season. What he undoubtedly wants to take accomplish now is something his country has never done before and finish this year's Olympics with a gold medal.
Dustin Penner: Penner may have had a rocky road with the Edmonton Oilers and Los Angeles Kings, but it was nearly paved in gold while he was in Anaheim. A lot has changed in the six years since he has played for the Ducks. It's time for Penner to recreate the chemistry he had with the once then "rookie line" alongside Ryan Getzlaf and Corey Perry. A lot of people are scrutinizing Penner to watch whether he will sink or swim. To be reunited with the line that put up dangerous numbers back in the day, and have only progressed since, it's easy for one to assume he will have a possible breakthrough year. But if he doesn't … it's back to the drawing board for a man who injured himself while eating pancakes.
Viktor Fasth: Fasth was 30-years-old when he made his debut in the league. No one had the Swedish sensation on their radar, until now. With a 15-6-2 record and four shutouts, Fasth split the shortened season with number one net minder Jonas Hiller. No one saw it coming, not even Hiller whose job may be threatened  if  Fasth carries out his success. Not that Fasth wants to take out Hiller, but Fasth has to make sure he doesn't fall in to a sophomore slump and prove that what happened last season wasn't just luck.
The Team: Their second year under coach Bruce Boudreau was bitter-sweet. If it weren't for the surging Chicago Blackhawks and their near unblemished season, the Ducks would've made more headlines, but maybe that worked for their benefit. The Ducks finished 1st in the Pacific, 2nd in the West and were the favorites that fell to the Detroit Red Wings in the quarterfinals. To have such a strong season only to have it cut short, would be disheartening for anyone. You expect the team to have another good regular season and hopefully a playoff push that they've been longing for since last year.
For more information throughout the season follow me on twitter @m_drinnenberg and on Facebook here.
The NHL regular season schedule was released on Friday. Check out our partners at TiqIQ for the best deals on Anaheim Ducks tickets for all 2013-14 games.