While John Gibson has been the unquestioned hero for the Anaheim Ducks through their first six games—helping them to a 4-1-1 record despite the club's injuries and troubling underlying play—there have been some other positive player storylines as well. We've seen Max Comtois's first two NHL goals, including one 49 seconds into his debut. There's 31-year-old Ben Street, who has finally gotten on the board with his first two NHL tallies. 
Meanwhile, leading the club in scoring is none other than Jakob Silfverberg. The 28-year-old Swede has totaled seven points (three goals and four assists) in the club's six games. Coming off a somewhat disappointing year that marked a bump in the road in a career that had only seen an upward trajectory to that point, Silfverberg seems to have rediscovered his scoring touch.
Silfverberg an Offensive Catalyst
A Step Back in 2017-18
Silfverberg, who came over to the Ducks from the Ottawa Senators as part of the Bobby Ryan trade in the summer of 2013, has been a solid all-around player ever since he put on an Anaheim sweater. He's a three-zone player whose offensive output steadily increased each season, culminating in a 23-goal, 26-assist campaign in 2016-17.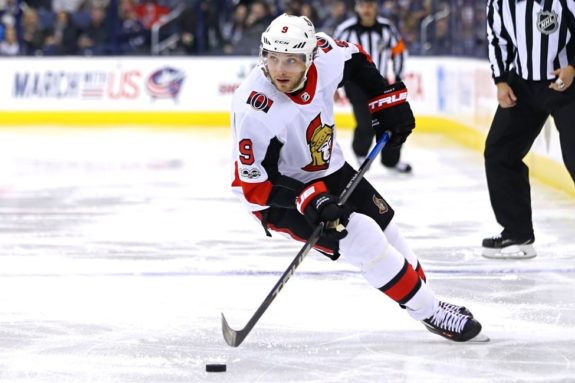 Last season, conventional wisdom suggested that Silfverberg would continue to improve, especially since his role would be expanded in the face of injuries to other key players on the team. But whether it was because of more difficult matchups, not playing alongside upper-echelon talent as consistently, or something else, Silfverberg took a step back, totaling only 17 goals while adding 23 assists.
A Return to Form in 2018-19
In a contract year, Silfverberg's early 2018-19 returns see him poised to reverse last year's scoring decline and prove that it was just a blip on the radar. In a patchwork Ducks lineup, Silfverberg has been a nice constant and has spent most of his time on a line with Adam Henrique and the aforementioned Comtois. While the trio's 5-on-5 Corsi-for percentage of 40.2 leaves a lot to be desired, it's actually a decent mark relative to the rest of the team, which has been collectively awful in that regard, to the tune of 39.49 percent. This line with Silfverberg has also scored five goals at 5-on-5 while only yielding one.
Individually, besides his hot scoring touch to start the year, Silfverberg is one of the few Ducks players who has found himself on the right side of the high-danger scoring chance differential at 5-on-5, being on the ice for 12 such opportunities for his club compared to 10 against. When he's gotten those prime opportunities, his lightning-quick shot release and finishing ability have been evident once again this season, helping buoy the Ducks offensively as they stave off injuries and continue to adjust their style of play.
Injury Concern
Silfverberg has stepped up to be a top offensive contributor in an all-too-familiar period of survival for Anaheim. Unfortunately, he could be the latest victim of the injury bug that always seems to run rampant within the Ducks. He left in the third period of Anaheim's game in St. Louis on Oct. 14 after taking a shot off his left hand. His outlook is not yet clear, but in a less-than-encouraging sign, he did not skate during practice with the Ducks on Tuesday, Oct. 16. Hopefully for Silfverberg him and the team, he'll be back soon so he can continue his strong season so far.
Silfverberg's Future With the Ducks
Between last year's sudden halt in the upward trend of Silfverberg's offensive output, and his contract situation in relation to the Ducks' salary cap picture, the right winger seemed to be the odd man out. As alluded to, Silfverberg is a pending unrestricted free agent (UFA) at the end of the season, and the Ducks will likely need to make some sacrifices to retain their core players while also leaving themselves room to eventually lock up their promising youngsters in the coming years.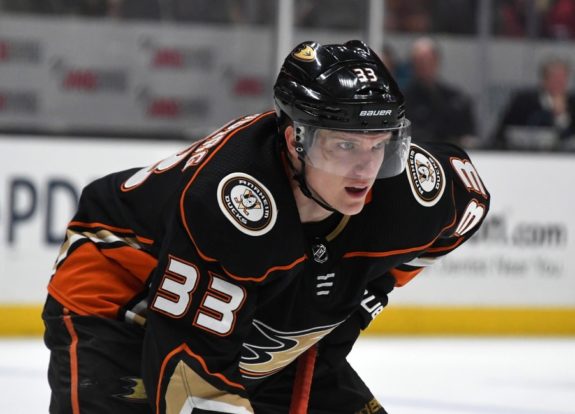 With 19 players set to be under contract for next year (including current entry-level players Kiefer Sherwood, Isac Lundestrom, Troy Terry, Sam Steel, and Comtois), the Ducks would be left with just over $6 million in cap space to fill the remaining four roster spots (assuming no change to the upper limit of $79.5 million). Given this, Silfverberg—whose current annual cap hit is $3.75 million—might not have a future with the team, unless the Ducks are able to unload one of their steep long-term contracts (e.g., Corey Perry or Ryan Kesler), which might not be something they are even able or willing to do (yet) anyway.
Silfverberg, of course, could make Anaheim's decision that much more difficult if he rides his strong start to a big 2018-19 season. In the meantime, the Ducks can at least enjoy what he's able to deliver to them this year before re-assessing, whether that's at the trade deadline or after the season.
Tom has been with The Hockey Writers for almost four years. After previously covering the LA Kings and the New York Rangers, Tom now covers the Anaheim Ducks.
While in college at Clemson University, the 2016 college football national champions, Tom wrote game summaries and feature articles for the official team website of the Greenville Drive, a Class-A minor-league baseball team and affiliate of the Boston Red Sox. Tom is happy to be able to continue to fulfill his passions for sports and writing with THW.