The Anaheim Ducks dealt from a position of strength to fill a position of weakness—especially when they had several key players out of the lineup due to innjury—earlier this season when they traded blueliner Sami Vatanen to the New Jersey Devils for Adam Henrique, with other minor pieces going both ways as well.
While Henrique has been a revelation for Anaheim, the club's depth on the back end took a hit with the loss of Vatanen. The dropoff from Hampus Lindholm, Cam Fowler, Josh Manson, and Brandon Montour to Francois Beauchemin and Kevin Bieksa is pretty severe.
Enter 21-year-old Marcus Pettersson.
Pettersson Gets His Opportunity
With extra defenseman Korbinian Holzer being waived and ultimately heading to the AHL after clearing, the Ducks had an extra roster spot, so they called up Pettersson on Feb. 13. The moment had quite the impact for the Swedish defender.
"Kind of a small blackout," Pettersson said last week after he joined the Ducks in Chicago. "You go silent for a second and try to grasp what's going on. As far as up here, just being here is excited. You see all these great players up close. I've got chills every minute."
Pettersson's Debut
Pettersson has gotten the chance to not only see those great players up close, but take the ice with them in high-stakes situations. Thus far, his time with the Ducks has not been just as an extra, as he has suited up for each game since his arrival. Pettersson debuted in the Ducks' 3-2 win in Chicago on Feb. 15 and also played in road victories over the Minnesota Wild and the Vegas Golden Knights.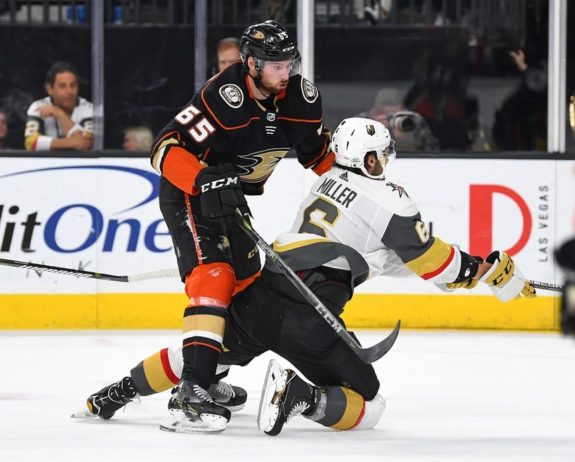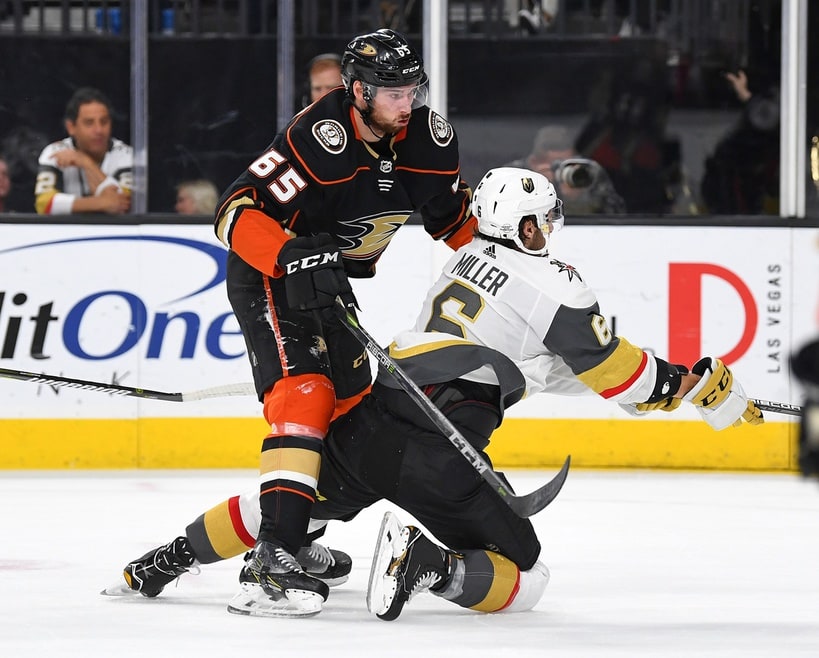 In his first game, after a few early jitters that featured a minor spill in warmups as his teammates made him take the ice first, and then getting caught out of position to help create a breakaway for the Blackhawks' Patrick Kane, Pettersson settled in and had a quietly effective game—exactly what you want out of a defense-first defenseman. In 13:28 of ice time, including 1:23 shorthanded, Pettersson sported a stellar 5-on-5 Corsi-for percentage of 65.38—easily leading the team and showing his ability to help dictate possession.
Seeing the ice mostly with the steady Josh Manson, and replacing the past-his-prime Kevin Bieksa in the lineup, Pettersson gave the Ducks everything they could have realistically hoped for in his first game. He won't set the world on fire offensively, as he had not picked up any goals in 44 games with the San Diego Gulls in the AHL. Nevertheless, his 14 assists with the Gulls speak to a notable passing ability, which he cites as one of the strengths of his game.
"I think the strength of my game is I think the game very well," Pettersson said after his call-up. "Maybe not the strongest or biggest guy but I'm good with positioning and the first pass. I hope I can bring some energy and some good first passes."
Carlyle's Take
"A young player who had a real strong camp in the rookie camp," head coach Randy Carlyle said of Pettersson at the time of his call-up. "Didn't transfer it to the main camp the way we thought he was going to. Went back to the American Hockey League and played very well.
"Has had a good, strong season. Good, puck-moving defenseman. Can play the power play. Not intimidated by anything that goes on out on the ice. So he's here for us to take a look at. Now when he plays or who he plays with, that's something we determine on a day-to-day basis."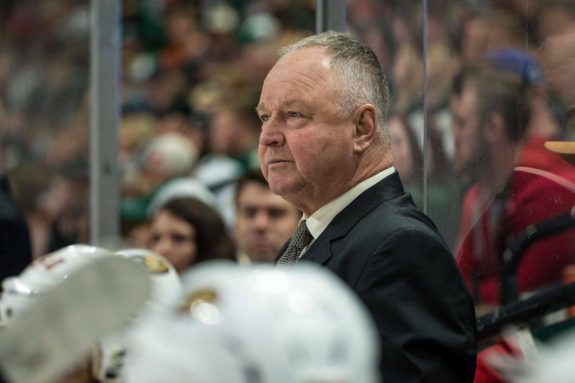 Pettersson isn't likely to see power-play time with the Ducks anytime soon, but thus far, Carlyle has chosen to dress him in each game since his promotion. He's not getting a ton of ice time quite yet (11:46 against the Minnesota Wild and 10:53 against the Vegas Golden Knights), but he's drawing into the lineup over Bieksa (once) and Beauchemin (twice) during a critical juncture of the season that sees the Ducks battling for their playoff lives.
More Youth and Mobility
The Ducks selected Pettersson in the second round—38th overall—of the 2014 NHL Entry Draft, showing their belief in him as an 18-year-old out of Skellefteå of the Swedish J20 SuperElit league. Pettersson was also only the seventh defenseman taken in the draft despite being the 38th pick, as mostly forwards were selected before him. He played in Sweden until this season, when he played in the AHL before his call-up.
At 6-foot-4 and 180 pounds, Pettersson has a sizable frame upon which he will likely continue to build as he adapts to the NHL game. Even with his size, Pettersson is a fairly mobile defender who uses that ability along with his smarts, positioning, and strong first pass to shut down opposing attacks and get the puck moving the other way quickly.
In these respects, he likely offers more than the 36-year-old Bieksa and the 37-year-old Beauchemin can at this stage of their careers. Both veteran defensemen had effective years in the NHL (remember when Bieksa was a 40-point guy in Vancouver?), but their quickness and overall mobility have all but vanished, as is expected in the evolution of most players as they play descend into their twilight.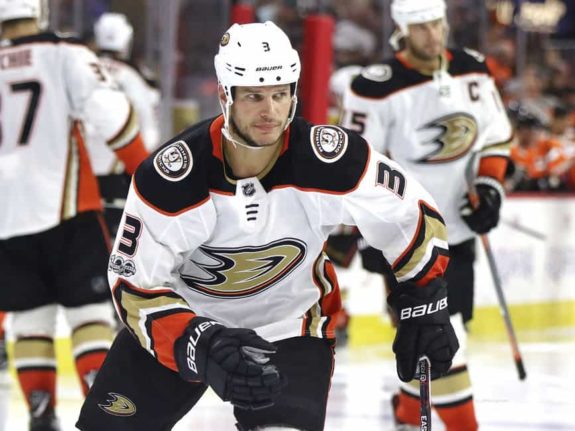 Bieksa and Beauchemin find themselves on the wrong side of possession and scoring chances at 5-on-5, as the Ducks are prone to getting hemmed in their own zone while either one is on the ice. The Ducks have not been a great possession team overall this season, but the below graphic illustrates how Bieksa and Beauchemin have been worse than the team's other core defensemen in multiple areas, most notably relative Corsi-for percentage. Bieksa's heat map looks particularly ugly, as Beauchemin at least has a decent goals-for percentage.
If Pettersson's superior mobility and solid passing ability can create an improvement over what Anaheim has been getting from each of its two aging veterans on the back end, then that could go a long way for the club as it tries to find solid footing in the playoff picture.
Furthermore, if general manager Bob Murray opts not to buy at the trade deadline, Pettersson might prove to be just as good as a trade acquisition. Of course, he has only played in three games (three wins for the Ducks…coincidence or not?) and will undoubtedly hit some bumps in the road as he continues to become acclimated to the NHL game, but the team is giving him a serious look as someone who could play a big role down the stretch.