One of the biggest buzz words of the post-lockout NHL is "parity", and a quick look at the playoff races in either conference reveals why. With mere weeks to play in the 2011-12 NHL regular season, only a handful of teams in both conferences can truly consider themselves out of it. Regardless of what you think of the shootout or the so-called "loser point", it is impossible to argue when the NHL front office claims that it's resulted in more markets being emotionally invested deeper into the hockey season than ever before. Only in Columbus, Edmonton, and Montreal can the fans truly say they have zero chance of making the playoffs at this stage.
In previous years, it always seemed to be the Eastern Conference with the huge logjams at the bottom of the standings. But while things remain tight more due to the continued mediocrity of teams like Florida, Washington, and Winnipeg, among others, the Western Conference is where the playoff race has truly begun to heat up. A staggering amount of teams are separated by as few as 2 points, presenting an almost impossible question- who amongst these teams, some under-achieving and others over-achieving, are actually going to make the playoffs?
To try to answer this question, we're going to consult a number of factors. First of all, there's the excellent Sports Club Stats website, which provides graphs and charts of the ongoing percentage chances a team in any sports league has of making the playoffs (or winning a regular season title, in the case of soccer and other leagues with no playoff system). It's updated anytime a new final score comes in using a system that takes the teams' current records and then simulates out the rest of their respective schedules, taking into account home ice advantage and other factors (such as strength of the competition). This is clearly a great starting point, so we'll list each team's percentage chance of making the playoffs according to their NHL page.
But we don't want to stop there, since obviously you could just go to their website for that. We're going to analyze it a little deeper. We'll list their overall record, their home record, their away record, then break down their remaining schedule with the amount of home vs. away wins as well as their level of competition. Since the playoff picture is so muddled in the West, it would be silly to do it based on a simple "playoff vs. non-playoff teams" system that is normally standard in analysis like this; after all, the whole reason we're doing this in the first place is because the teams that are IN the top 8 are changing, literally on a daily basis! So instead we'll do a three-tiered system: games vs. the playoff-bound (defined as St. Louis, Vancouver, Detroit, and Nashville), games vs. eliminated teams (Columbus, Edmonton) and games vs. other bubble teams (everyone else).
Although we're defining Dallas & Chicago as "bubble teams", there is a bit of a gap and it looks highly unlikely at this point that either team will miss the playoffs (barring of course a humongous collapse). For that reason, we're going to go a bit less in-depth on those two teams than their other fellow bubble boys. The focus of this article is squarely on the teams who could go either way, after all.
Once all that has been broken down, we'll see if it becomes anymore clear just who has the best shot at making it into the final 8 in the West. We're analyzing 9 teams with 4 playoff spots up for grabs, so this will work on a simple Yes/No system- four teams get in (including Dallas & Chicago), five teams do not. With all that said, let's get going!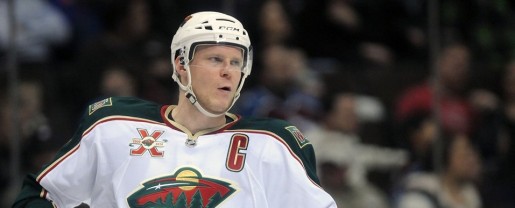 13. Minnesota Wild
Current Record: 29-30-10, 68 points, 22 ROWs, 13 GR, 15-13-4 at home, 14-17-6 on the road
Points Out of 8th as of 3/13/12: 10 (w/ two games in hand on 8th place Colorado)
SCS % Chance: 0.0
Remaining Schedule
9 Home, 4 Away
vs. Playoff-Bound: 2 games
vs. Other Bubble Teams: 6 games
vs. Eliminated: 0 games
vs. Eastern Conference: 5 games
It's almost impossible to believe how far and how fast the Wild have fallen, as they are dangerously close to becoming the first team in NHL history to lead the entire league as late as November and yet miss the playoffs at the end of the season. In fact, given the current 0% chance they have of making it according to the SCS website, you may wonder why I'm including them in this article at all. There's good news and bad news, Wild fans: the good news is that a 0% chance doesn't mean it's impossible for a team to make it. They're not mathematically eliminated yet, because that's represented on their chart by a simple "No" (as listed for the Oilers & Jackets; similarly, teams that have officially clinched mathematically are given a "Yes", which so far has gone only to the Blues, though a few other teams are extremely close to clinching as well). The bad news is, what that 0% means is that in running thousands of simulations of the remaining NHL schedule, the SCS system was unable to come up with a single instance in which the Wild made the playoffs. That means that somewhere in there, there was a simulation where the Wild went on an insane run, finishing the rest of the season very well, and yet that still wasn't enough to get them in.
In a word: Ouch.
But they're not mathematically eliminated just yet, so it's still at least theoretically possible that they make the playoffs. If they have one thing going for them, it's a very favorable schedule that will see them play 9 of their last 13 games at home. Their home record is nothing to write home about at just two games above .500, but that's at least something. And the fact that they have two games in hand on the current 8th place team makes that 10 point gap look perhaps a little worse than it actually is. The bigger problem is of course all the teams they have to jump over to make it into 8th, so if they're going to even make this interesting, they're going to have to start now. And with a roster heavily depleted by injuries, that doesn't seem very likely at this point.
As far as their quality of competition, the Wild have an interesting schedule down the stretch. They have only 2 games against top-quality Western competition- a home date against the Canucks on 3/19 and a road game against the Predators on 4/3. They have 6 games against other bubble teams, including two games with the Blackhawks that has that Preds game sandwiched in-between. So even if the Wild are eliminated fairly quickly, they may still end up with a lot to say about who eventually gets in; a home date with Calgary on 3/22 and then a road game at Los Angeles on 3/31 will probably both end up being far more vital to their opponents than to the Wild, so it'll be interesting to see how much they embrace the role of being a potential spoiler coming down the stretch. They also have a ton of games against the East, which is somewhat unusual for this time of year. The actual quality of their Eastern opponents is a pretty mixed bag, ranging from the 1st place New York Rangers all the way down to 13th place Carolina. The remaining 3 East games are all against bubble teams, and interestingly enough they'll play both Florida & Washington, the two teams who are now separated by only 1 point for the Southeast division lead, fairly close together. So they could end up having a say in who wins that division, as well.
The bottom line for the Wild is they need to go on a run almost immediately to even have the proverbial "chance in Hell". They opened up a 5-game homestand by losing to the Calgary Flames, a team they were chasing, 4-3 in regulation, already putting their fragile playoff hopes in even further doubt. And given the current state of their roster, it's difficult to imagine them making the kind of run they'll need just to pull within a handful of points again. The other thing that hurts them a great deal is having just 22 wins In regulation or overtime; even though they trail twelfth place Anaheim by just a single point, they have 4 less ROWs, and it's going to be almost impossible for them to win any kind of tiebreaker situation. But once they're officially out, watch out for the "dead cat bounce"- this team has a lot of young guys who will be playing for jobs next season, and they may be able to play a far more effective spoiler than others may expect.
Will they make the playoffs?- No.
12. Anaheim Ducks
Current Record: 29-30-11, 69 points, 26 ROWs, 12 GR, 18-14-2 at home, 11-16-9 on the road
Points Out of 8th as of 3/13/12: 9 (w/ a game in hand on 8th place Colorado)
SCS % Chance: 0.1
Remaining Schedule
7 Home, 5 Away
vs. Playoff-Bound: 4 games
vs. Other Bubble Teams: 5 games
vs. Eliminated: 2 games
vs. Eastern Conference: 1 game
The Ducks are an interesting case, because they were firmly entrenched into a draft lottery position before they fired coach Randy Carlyle on November 30th. And although it took him some time, replacement coach Bruce Boudreau turned the team around. They were 7-13-4 at the time of Carlyle's firing, but have gone 22-17-7 since. At times it looked like this team may be able to make another improbable late push to the playoffs, just like they did last year, but their momentum has stalled recently, going just 4-5-1 in their last 10 games. Last night they suffered perhaps their biggest set-back in weeks, losing 3-2 in overtime to a Colorado team they were desperately chasing. That may end up being the back-breaker for the Ducks' already slim playoff hopes.
Their remaining schedule is far from kind, with the home/away split being good but not great and the competition being fairly tough. They'll have four match-ups with teams already destined for the playoffs, including a visit to Vancouver on 4/3 (though they may very well be eliminated by then) and visits from Detroit, Nashville, and St. Louis, three teams still battling it out for position at the top of the Central Division. They'll get five more games with other teams in the playoff bubble, although two of those are against the Sharks, whom the Ducks have had a sparkling 4-0-0 record against so far this season. Their lone Eastern Conference game is far from a pushover, either, facing an inconsistent yet talented Boston squad on 3/25. On the upside, they get two games against the woeful Edmonton Oilers, hosting them on 4/1 and then visiting Edmonton on 4/5, although it very may well be too little, too late by that point.
With just a 0.1% chance according to SCS, it's clear that the Ducks are going to have to go on a close-to-perfect run to even give themselves a shot. And while this team certainly has the talent to make a go of it, it's hard to see it happening at this point. The next three games will be vital- if they can pounce on an injury-depleted Red Wings squad on Wednesday night (24 hours after they played in LA), beat the Kings they're trying to chase down on Friday, and somehow overcome a very tough Nashville team at home on Sunday, they may end up back in the midst of this race. But if they drop any of those three games, it becomes increasingly impossible to see this team getting in, and I just don't see them going 3-0-0 against that level of competition.
Will they make the playoffs?- No.
11. Los Angeles Kings
Current Record: 32-25-12, 76 points, 27 ROWs, 13 GR, 17-13-4 at home, 15-12-8 on the road
Points Out of 8th as of 3/13/12: 2 (w/ 2 games in hand on 8th place Colorado)
SCS % Chance: 33.2
Remaining Schedule
7 Home, 6 Away
vs. Playoff-Bound: 4 games
vs. Other Bubble Teams: 6 games
vs. Eliminated: 2 games
vs. Eastern Conference: 1 game
Notice the huge jump, both in points and % chance? We're at the real logjam now, as the Los Angeles Kings sit just two points out of the 8th and final playoff spot in the West, with two games in hand on Colorado. As hard as this is to believe, the Kings, currently in eleventh mind you, are also only 5 points back of the Pacific-leading Dallas Stars- yes, 5 points separates 3rd from 11th in the Western Conference. Truly insane.
So the Kings are coming home after a 2-2-0 road trip in which they squandered an excellent opportunity to climb solidly into the top 8, losing to 30th place Columbus and then suffering a heartbreaking collapse to an injury-ravaged Detroit team, losing in regulation after they lead with barely over 5 minutes left in the game. But they managed to beat the Blackhawks on Sunday to at least salvage the split on the road and keep themselves squarely in the mix, and they'll have a good shot at controlling their own destinies down the stretch.
Their remaining schedule is actually nearly identical to Anaheim's, which isn't surprising to anyone who follows either team (their schedules tend to be very similar due to the NHL's schedule-makers generally having any team that comes to town playing both, as you'd probably expect). They've got four games against playoff-bound teams from the West, starting with that same injury-ravaged Detroit team coming into town tonight (Tuesday), six games against fellow bubble teams, a home-and-home with the woeful Oilers, and a visit from the Bruins. The home/road split shouldn't worry anyone, since the Kings have virtually identical records (both a few games over .500) at or away from Staples anyway. The quality of competition gives you a bit of a pause, but six games against fellow bubble teams brings us back to the Kings controlling their own destinies.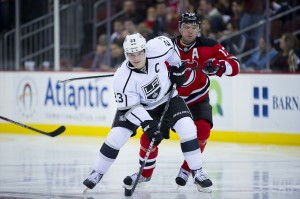 Here's what it comes down to: can the Kings beat the teams they're supposed to beat, and maybe surprise a few others as well? If they can make sure to get all 4 points from the Oilers, beat the Ducks, the Wild, and the Flames (all teams they are capable of beating), that's 5 wins right there. The Bruins are an inconsistent team with little to play for, so there's another imminently winnable game. Add in one win against any of the four élite teams they'll play (maybe some revenge on Detroit perhaps?) and you're up to 7 wins, 14 points, bringing their total up to 90. Take 1 or 2 of their losses to OT or the SO and they have 92 points, which may just end up being enough to sneak in.
In the end though, it may come down to the three games they will play against San Jose: 3/20 in LA, then a home-and-home on 4/5 and 4/7 to close out the season. The Kings have a 1-1-1 record against the Sharks so far, but they haven't played them since all the way back on December 23rd (when they lost in SJ, in a shootout). Both teams always play each other tight, and it would be easy to see the games going into extra time. This is why, in the end, I see both Los Angeles and San Jose getting in. I think both teams will split those three games and end up getting multiple points out of it. For example, one team goes 1-1-1 and the other goes 2-1-0, each picking up 3 or 4 points of the possible 6. Given the rest of LA's schedule, I think this will be more than enough to sneak them in as an 8th or 7th seed. With Jeff Carter heating up (4 goals in his last 5 games) and Mike Richards playing better even though the points aren't necessarily coming just yet, the Kings are in a great position to do some damage down the stretch. They'll make the playoffs, if only by the skin of their teeth.
Will they make the playoffs?- Yes.
10. Calgary Flames
Current Record: 32-25-12, 76 points, 29 ROWs, 13 GR, 18-10-5 at home, 14-15-7 on the road
Points Out of 8th as of 3/13/12: 2 (w/ 2 games in hand on 8th place Colorado)
SCS % Chance: 38.2
Remaining Schedule
8 Home, 5 Away
vs. Playoff-Bound: 2 games
vs. Other Bubble Teams: 9 games
vs. Eliminated: 2 games
vs. Eastern Conference: 0 games
The Flames were a tough case for me, because I very nearly had them getting in. They've got a lot going for them here: more ROWs than LA (even though their record is virtually identical otherwise), a better home/road split of remaining games (and a better home record to go along with it), and a slightly more favorable schedule with quality of competition as well.
But in the end, I couldn't come up with points as easily as I could with LA. In my LA example, I mapped out how I feel they can get to 92 points and perhaps a playoff spot in the West. I can't see the same thing happening for Calgary. Yes, they will probably beat the Blue Jackets & Oilers at home (although you know their Alberta rivals will be dying to play spoilers in that game), so that's 4. Where do the other 12 come from? They've got a home-and-home against Vancouver, a team that will likely be fighting it out for the 1st seed late in the season and a team that Calgary has never matched up well against it. They've got another home-and-home against Dallas, who has been red-hot and will likely be trying to fend off some combination of the Coyotes, Kings, and Sharks for the Pacific division crown. That's 4 games right there that I think they will be lucky to get even 1 or 2 points out of. Throw in games against sure-to-be-desperate San Jose & Phoenix squads and you only get games against Minnesota and Anaheim that perhaps look "winnable". Color me skeptical that this aging squad will be able to pull it off and get to that same 90+ point level I mapped out for Los Angeles. They very well may make a run at it, but I see them more likely to fall short fairly early on and end up falling towards the back of the pack.
Needless to say, perhaps this will lead to the long-overdue rebuild in Calgary, in which case missing the playoffs could very well be the best thing that ever happened to the Flames. One has to feel for their long-suffering fanbase, at the very least.
Will they make the playoffs?- No.
9. San Jose Sharks
Current Record: 34-25-9, 77 points, 28 ROWs, 14 GR, 19-11-3 at home, 15-14-6 on the road
Points Out of 8th as of 3/13/12: 1 (w/ 3 games in hand on 8th place Colorado)
SCS % Chance: 67.0
Remaining Schedule
8 Home, 6 Away
vs. Playoff-Bound: 2 games
vs. Other Bubble Teams: 11 games
vs. Eliminated: 0 games
vs. Eastern Conference: 1 game
If you've been paying attention so far, you already know what my answer will be on the Sharks, because I mentioned it during the Kings entry. They've got one huge thing working in their favor, which is that they've got at least a game in hand (and THREE games in hand on the current 8th seed!) on every other team in the race. The Pacific Division title and the 3rd place seed that goes along with it is also well within their grasp as well, as they sit 4 points back of Dallas with a game in hand on them, and they'll play a home-and-home with them on 3/31 and 4/3 that could end up deciding that division title. Simply put, the Sharks just have too many ways to make the playoffs to think it's very likely they'll end up missing.
If they have anything working against them, it's the total lack of games against the Jackets or Oilers coming down the stretch. Of their 11 games against bubble teams, they've got those two games against the Ducks who as we mentioned earlier they've gone 0-4-0 against so far this season, and no match-ups against the bottom-feeding Wild remaining, either. So they've got a lot of teams who will be fighting for their playoff lives, with a combined 9 games against Dallas, LA, Colorado, Phoenix, and Calgary. Like with LA & Anaheim, their lone Eastern Conference match-up is against those inconsistent-yet-high-seeded Bruins. And they'll face-off against teams in Nashville and Detroit that both still have their sights set on St. Louis and the Central crown, as well. So it's a tougher schedule than a lot of the other teams around them on the playoff bubble. Missing the playoffs is certainly not out of the question for San Jose, and even though they're ranked far ahead of LA in the SCS percentage, I'm actually more confident in my LA pick than picking the Sharks to make it, at this point.
In the end though, it simply feels like this team has too much talent and too much opportunity to end up outside of the top 8. The Sharks will need to show more battle than they've shown recently, but as long as they beat the teams below them and pick up some points against Dallas, they should be able to squeak in, and may yet end up winning the Pacific Division.
Will they make the playoff?- Yes
 8. Colorado Avalanche
Current Record: 37-30-4, 78 points, 29 ROWs, 11 GR, 21-15-1 at home, 16-15-3 on the road
Currently in Playoff Position
SCS % Chance: 21.2
Remaining Schedule
4 Home, 7 Away
vs. Playoff-Bound: 3 games
vs. Other Bubble Teams: 4 games
vs. Eliminated: 1 game
vs. Eastern Conference: 3 games
Any Avalanche fan reading this and seeing their team's current SCS percentage chance at making the playoffs may have a double-take, and feel like their team is hockey's current version of Rodney Dangerfield. And indeed, on the surface it's tough to argue that the Avs aren't getting enough respect. Here they are, sitting right now in the 8th and final playoff spot in the West, and yet their % chance of 21.2 is actually BELOW the three teams immediately behind them in the standings! Even 11th place Los Angeles is given more than 12% greater of a chance at making the playoffs than the Avalanche. It almost doesn't seem fair.
On the other hand, dig a little deeper and it becomes clear just why the Avs are ranked so far below teams they're currently leading in points. The most obvious one is the fact that they're the only team in the entire NHL, nevermind the West, with only 11 games remaining. Every single team below them in the standings has at least a game-in-hand on them, and in the case of that SJ/Calgary/LA trio, it's 2 games-in-hand for Calgary & LA and 3 for San Jose. Simply put, Colorado could win out their remaining schedule and still miss the playoffs, which seems like it shouldn't be possible for a team currently sitting in 8th.
Of course, that's highly unlikely to happen. If they win out, obviously they would almost be assured to get in. But taking a look at their remaining eleven games also reveals a schedule that's more difficult than most. They've got a far less favorable home/road split than the teams that are trailing them, and that they're a far better home than away team means that carries extra weight for them. They start things off with a 3-game Eastern Conference road trip against a desperate Sabres team that's still in the middle of the playoff race, a good Devils team battling for playoff position, and a 1st place Rangers team that's trying to hold off the Penguins for the Atlantic Division crown. It's not at all inconceivable to see them come away with 0 of a possible 6 points there, which would almost certainly cripple their playoff chances right out of the gate.
Even giving them some points on this road trip, their remaining schedule doesn't get all that much easier. They've got no games against the Oilers and just one against the Blue Jackets, on 4/5, when they very well could already be out of it. They've got two games against Calgary, two against Vancouver, and they wrap their season up against Nashville. It's a tougher schedule than almost any other bubble team, and along with that they're such a young team (depending on who's up and who's down between this Avs team and Toronto, they're usually either youngest or 2nd-youngest in the entire league), it's hard to see them holding on to a spot in the top 8. They're going to have to at least get 3 of 6 points on this East trip, beat the tar out of Calgary in their 2 games, and somehow get some points from Vancouver. If all of that happens, they'll be a good bet to make it, but it's tough to see it going down that way at this point.
Will they make the playoffs?- No.
7. Phoenix Coyotes
Current Record: 34-25-11, 79 points, 29 ROWs, 12 GR, 18-12-6 at home, 16-13-5 on the road
Currently in Playoff Position
SCS % Chance: 62.4
Remaining Schedule
5 Home, 7 Away
vs. Playoff-Bound: 3 games
vs. Other Bubble Teams: 7 games
vs. Eliminated: 2 games
vs. Eastern Conference: 0 games
And here we are at another team currently sitting in playoff position by a relatively meager amount, in the Phoenix Coyotes. Once again, they are given less of a chance at making the playoffs by the SCS percentages than a team currently on the outside, as San Jose's 67% chance comes in slightly ahead of them. On the other hand, they're given a far stronger chance than LA or Calgary, not to mention Colorado, and they're just 2 points behind Dallas for the Pacific Division lead (albeit having played 1 more game). So you'd think they're almost a lock, right?
Wrong. They're going to miss the playoffs.
Am I saying I think it's impossible for them to make it? Certainly not. They're currently in a top 8 position, 2 points clear of San Jose and 3 points clear of LA & Calgary. That's a little deceiving, considering SJ also has 2 games-in-hand and LA & Calgary both have a game-in-hand of their own on them, but it's still solid. If they can pick up enough points in their final twelve games, they'll almost certainly make it.
But consider this: Phoenix had an unbelievable February, going 12-0-1. Before that amazing month, they were 21-21-9, literally a .500 hockey team. And so far in March, they're well below that, a putrid 1-5-2, including two losses in regulation to Columbus and a shootout loss to Minnesota.  So you take out that fantastic February, they're 21-26-11, a total non-factor in the playoff race. If you accept the premises that as good as their February was, it was a total aberration driven by incredibly hot goaltending, then it becomes far easier to see how this team can miss the playoffs.
Now, do I think they will continue to be as bad as their March record would indicate? Probably not. But given their unfavorable home/road split as well as the quality of their competition (2 games with St. Louis, 1 in Vancouver, 2 games with the Sharks), I could easily see them continuing at a well-below-.500 pace. Obviously, given the sheer number of teams that are less than 4 points behind them, that simply will not be enough to get them into the playoffs.
They need to pick up 13 points to hit 92, which I'm considering to be my "magic number" for making the playoffs in the West. With 12 games remaining, that sounds doable, as a simple 5-5-2 record (or exactly .500) gets it done. But what of the team's current 1-5-2 pace in March suggests they are suddenly going to become even a .500 hockey team? The bottom line for Phoenix is pretty simple: they need to turn things around immediately if they want to remain in the top 8. If they continue at this current pace, which I happen to believe they will, they are going to end up missing the playoffs. And obviously that would be a huge disappointment in a market that desperately needs the Coyotes to go as far as they can, if for nothing else than continuing to drum up limited fan support. But they simply have not played well enough, barring their incredible run in February, to make me think they can hold on to this spot with so many teams so close behind them.
Will they make the playoffs?- No.
6. Chicago Blackhawks
Current Record: 37-25-8, 82 points, 29 ROWs, 12 GR, 23-7-5 at home, 14-18-3 on the road
Currently in Playoff Position
SCS % Chance: 90.3
Remaining Schedule
6 Home, 6 Away
vs. Playoff-Bound: 6 games
vs. Other Bubble Teams: 3 games
vs. Eliminated: 1 game
vs. Eastern Conference: 2 games
As mentioned earlier in the article, we're not going to spend too much time talking about Chicago or Dallas, simply because both teams appear to be solidly in the playoffs (as their SCS percentages will show). The only thing worth noting about Chicago is their very tough remaining schedule: they have SIX games left against playoff-bound teams, which is by far the greatest amongst the bubble teams, thanks mostly to being in the Central Division (of the 6, they'll play the Blues & Predators twice each and the Red Wings once, with the only non-divisional match-up of this caliber being against Vancouver). They've got only 1 game against a currently eliminated team in the Columbus Blue Jackets, but their 3 games against fellow bubble teams includes a very late-season home-and-home with the Minnesota Wild, who barring a miracle will have long since been eliminated by the time they play them as well. However, their two Eastern games are at home against a desperate Caps team and on the road against a good New Jersey squad. So all things considered, this is a very tough schedule.
With all that said, it would still take a total collapse for them to miss. And with captain Jonathan Toews seemingly on his way back, that sort of collapse seems very unlikely.
Will they make the playoffs?- Yes.
3. Dallas Stars
Current Record: 38-26-5, 81 points, 32 ROWs, 13 GR, 20-12-3 at home, 18-14-2 on the road
Currently in Playoff Position
SCS % Chance: 87.6
Remaining Schedule
6 Home, 7 Away
vs. Playoff-Bound: 4 games
vs. Other Bubble Teams: 7 games
vs. Eliminated: 1 game
vs. Eastern Conference: 1 game
Dallas' biggest asset, other than of course their lead in points, is their 32 wins in regulation or overtime. This puts them 3 ROWs ahead of Phoenix, 4 ahead of San Jose, and 5 ahead of Los Angeles when it comes to competing for the Pacific Division crown, and it will probably help them hang on to that all-important 3rd seed in the West.
Their remaining schedule, though not as tough as Chicago's, does feature some difficult match-ups. They'll go on a 4-game road trip from 3/26 to 4/3 that sees them face the Sharks, Canucks, and Flames, although they also get a game in Edmonton to perhaps soften the blow a little. Their last 3 games of the season sees them welcome in the Sharks & the top-seeded Blues, as well as visit the playoff-bound Predators. So given how tough 6 of their last 7 games are going to be, it's going to be important for them to pick up wins now in the immediate future. They'll get a chance to stomp on Minnesota's playoff chances before going to Winnipeg to face a team that's very difficult to beat on the road, so it will be their 4-game homestand (3/16-3/22, vs. CHI, PHX, VAN, & CGY) that will perhaps be the most important factor in determining whether they hang on to their Pacific Division lead.
Regardless though, even if they drop down into a 7th or 8th position, it's very difficult to see them missing the playoffs at this stage, barring of course a total collapse.
Will they make the playoffs?- Yes.
So that's how I see the Western Conference playoff bubble unfolding. Dallas hangs onto the 3rd seed, Chicago remains in 6th, both Phoenix & Colorado drop out of the top 8, and San Jose & Los Angeles finish in 7th & 8th. I hope you enjoyed this breakdown, because we'll get right back at it in a few days and do it all over again for the teams on the playoff bubble in the East. Disagree with me, on either my methodology or my results? Feel free to sound off, on our comments section, via e-mail (cia.radio.john@gmail.com), or on Twitter (@kinghawkranger). Thanks for reading!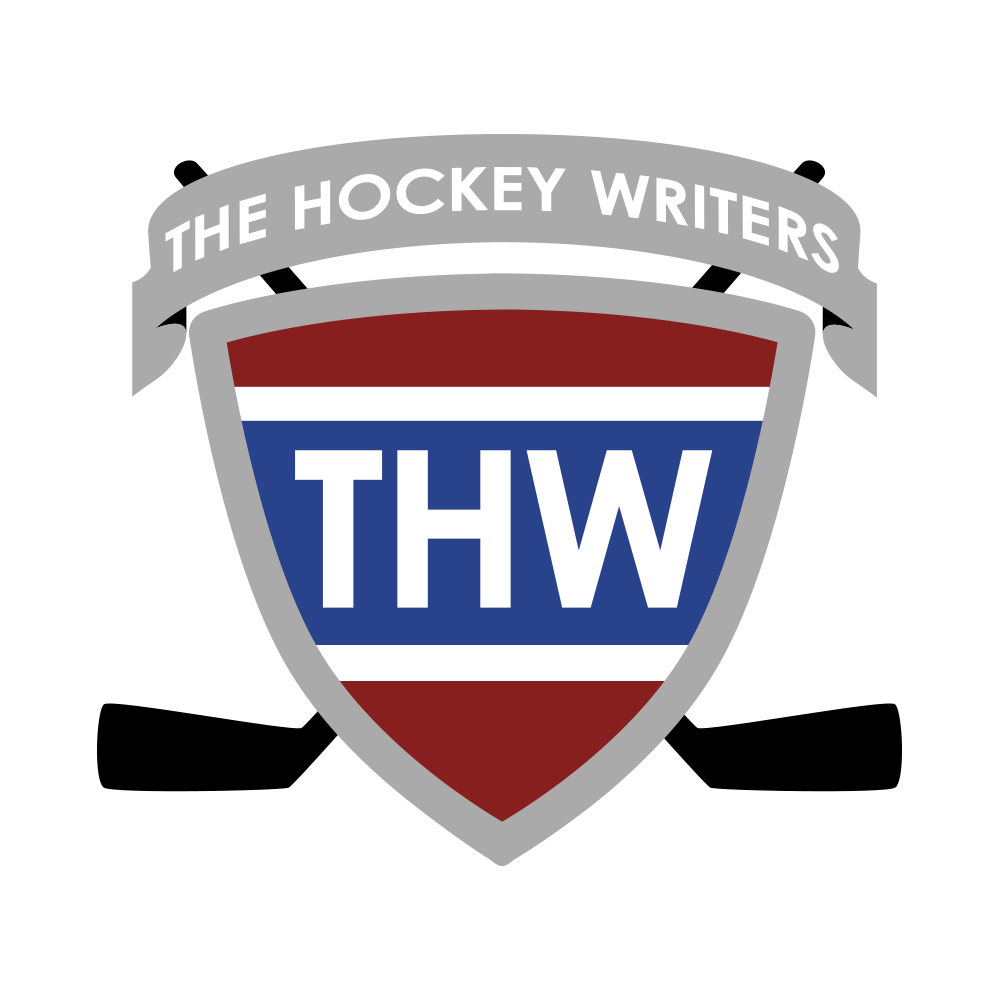 The Hockey Writers is:
1) A top-tier hockey media company delivering a top-notch, in-depth look at the NHL
2) A collective of some of the best hockey writers anywhere
3) A multimedia provider with daily podcasts and YouTube shows
4) Well-respected and widely-cited NHL prospect and draft resource