If the Montreal Canadiens want to take the next step in 2017-18, there are plenty of moves that need to be made between now and October. After another early playoff exit, general manager Marc Bergevin has his work cut out for him. His laundry list includes improving his depth at center, adding more offense, re-signing Russian superstar Alexander Radulov and extending the contract of all-world goaltender Carey Price.
That's just the minimum Bergevin must accomplish. Another box that needs to be checked is the re-signing of ageless wonder Andrei Markov. Markov will enter next season at age 38, and finish it at age 39. However, the unrestricted free agent has shown no signs of slowing down.
The always underrated Markov has had a wonderful career playing for the Canadiens. Despite the cap crunch the Habs face, it's only right that Montreal rewards him for his service with a contract to finish his playing days with the team that drafted him.
2017-18 Outlook
Assuming familiar face Markov is back in the fold, the Canadiens defense will still have a different look next year. The top four will be consistent with Shea Weber, Markov, Jeff Petry and Jordie Benn. Jakub Jerabek and Alexei Emelin will round out the bottom pairing. With the expansion draft looming and Nathan Beaulieu's RFA status, there's no guarantee he'll be back.
Regardless of who the six defensemen are, the Canadiens will manage Markov as a 38-year-old. This means that they'll watch his minutes, and likely shift more of the load to Petry and Benn. This will enable them to keep Markov fresh for spring hockey. Unlike injuries, this is one of the few things the Habs can control.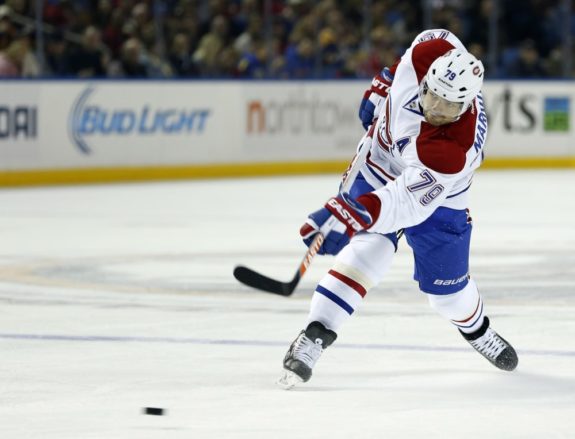 Speaking of injuries, as Markov gets older, the risk of something happening will increase. Unfortunately, he's had his fair share of major setbacks throughout his career which is something the Canadiens will surely keep in mind as the season goes on.
Worries aside, Markov's consistent point production year after year is encouraging. He's shown that even in the late stages of his career that he can still be a reliable force on the backend for the Habs. He might have lost a step, but he's still good enough to hold a top-four role on a contending team.
Markov Approaching Greatness
Even if Markov doesn't play in Montreal next season, he'll likely reach two important career milestones. Markov currently sits at 990 National Hockey League games played. By game ten of the 2017-18 season, he'll reach 1000 games played. If it were not for his slew of knee injuries that derailed past seasons, he likely would have surpassed the 1000 game milestone a year or two ago.
Another remarkable checkpoint that Markov looks to reach next season is 600 points. He currently sits at 572 which makes him 28 off of the magic number. If he does reach 600, it would put him 13th on the Canadiens' all-time points list, passing the likes of Mario Tremblay and Dickie Moore.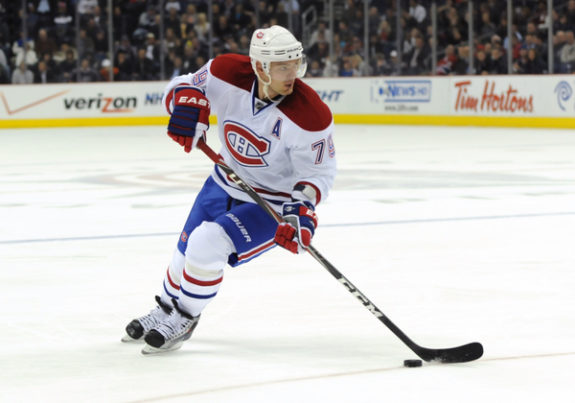 If the veteran can play into his 40th year, he has a chance to pass Mats Naslund (612) and Elmer Lach (623) to move just shy of the top 10. With numbers like that, Markov would be well among the elite of Canadiens history.
Stanley Cup or no Stanley Cup, he would be entering the conversation of jersey retirement. The Canadiens have a prestigious reputation when it comes to retiring jersey numbers. It's almost a pre-requisite that the player has a ring before entering the rafters of the Bell Centre. Whether that's fair or not, it's how it's done when it comes to the Habs. If that's the case, it should just add more fuel to the fire to bring back the Stanley Cup to Montreal.
Andrei Markov Contract Prediction
I think Markov will end up signing a two-year, $4.5 million contract. He'll get to play out the rest of his NHL career in Montreal and the Canadiens would lock up one of their top defensemen at a reasonable cost. Also, signing Markov would mean keeping a mentor for future prospects like recent Memorial Cup champion Mikhail Sergachev.
With the projected contract discussion out of the way, all Markov needs now is a shiny new ring. Regardless of how his last seasons play out, he'll be considered as one of the best defensemen to wear the bleu blanc et rouge. That's saying something.
Nick Guido is a Montreal Canadiens Contributor for The Hockey Writers. You can Follow him on Twitter @nickguidoTHW for his articles, opinions and general Habs talk.