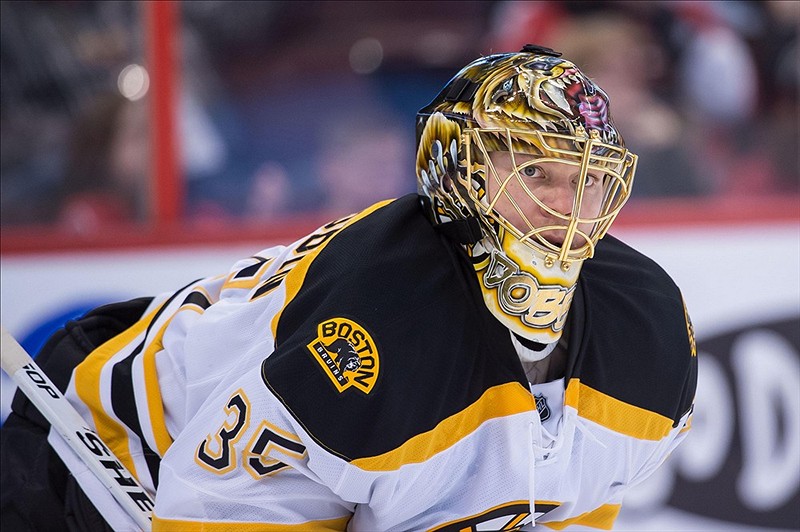 One of Carolina's best moves this off-season, in my opinion, was the signing of 27-old goaltender Anton Khudobin, who had just finished a solid truncated season with the Boston Bruins as Tuukka Rask's backup. A player that has always been a bit under the radar, Khudobin has actually been already North American hockey for several years (he was drafted 206th overall by in 2004). He had a very spot starts with the Minnesota Wild over several seasons, never able to really crack an NHL roster full-time.
Last year was the first that he significant playing time (14 GP, doubling his previous career GP), and he looked pretty good behind one of the best defences in the league. His stats wouldn't justify him knocking Cam Ward from the number 1 spot by a long shot (.920 s%, 2.32 GAA last season), but they are definitely respectable for a backup, and extremely respectable for a measly 800k cap hit. Don't forget that at 27, Khudobin still has room for improvement. Most goalies (minus Cam Ward) tend to reach their peak around Khudobin's age, so perhaps Khudobin's stats could improve further. However, I have reservations if Khudobin can match last season's pace playing in front of Carolina's leaky defense.
The NHL regular season schedule was released on Friday. Check out our partners at TiqIQ for the best deals on Carolina Hurricanes tickets for all 2013-14 games.
There are honestly so many things that could be said about this contract. It's zero risk – just a simple one-year contract for dirt cheap. Khudobin is a much steadier option at the back end than Justin Peters, perhaps even better than the departing Dan Ellis (Dallas). Obviously, a 14-game sample is no way to judge a player, so this contract will test Khudobin to see if he is the real deal. If he proves to be a fit, the Canes could then resign him to a longer contract. Carolina could even attempt to trade him at the deadline if they aren't going to make the playoffs, though I do doubt any playoff team would pay to acquire him unless goalie injuries are rampant next year. Either way, if Khudobin comes even close to his stats from last year, I would consider this contract a huge success.
Cam Ward has been carrying the goaltendering workload for the Canes too much in recent years, and it would be good to see him play a bit less to reduce the wear and tear on his body. Cam Ward has often played close to 70 games a season, and Khudobin could easily help him on some of the tougher back-to-back games. With a strong start, Ward could even make the Canadian Olympic team, albeit as a likely third goalie.
In my opinion, the best utilization of Khudobin would be to give him around 25 starts this year. That would give him enough games to prove his worth, while also giving Ward a few extra nights of rest. If Carolina wants a shot at all of making the playoffs, they will need more wins when playing a backup goaltender. If last year's collapse was any indication, this team still lives and dies by the play and presence of Cam Ward. It will be refreshing to have some much needed depth in net, something the Canes haven't enjoyed for quite a while. Of course, I'm not claiming Carolina's goaltendering is now by any means elite compared to its division foes. However, it is still a considerable upgrade from last year.
This could also spell the end of Justin Peters' career with the Hurricanes (and perhaps the NHL). He was drafted in the same year as Khudobin, but has never really yet been able to crack the lineup full time. He will be the first one called up if either Khudobin or Ward suffers an injury. Next year will be the first time Peters will be under a one-way contract, but I still expect him to start the season with the Checkers. If he doesn't do anything to truly impress management this year, I believe he is on his way out the door.
Alex is a Lead Writer for the Toronto Maple Leafs. Since joining the Hockey Writers, he has also briefly covered the Carolina Hurricanes. He also currently works as an assistant for the Western Mustangs at the University of Western Ontario. Follow him on Twitter @alexmai11.