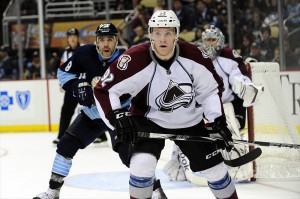 The NHL has released its schedule and with it, the new division realignment for the 2013-2014 season.  While the Detroit Red Wings will be departing the West and the Central Division for the "greener" pastures of less travel of the East, the new Central Division has added four new teams; the Winnipeg Jets, Dallas Stars, Colorado Avalanche, and the Minnesota Wild.  In this 4-part series, we'll take a look at the new teams who were added and why it won't take long to start hating them.
History Lesson: Avalanche and Predators
Predators All-Time Record vs. Colorado Avalanche:
Predators All-Time Record vs. Colorado Avalanche
| | |
| --- | --- |
| Wins: | 27 |
| Losses: | 21 |
| Ties: | 5 |
| OT Losses: | 2 |
| SO Losses: | 0 |
| Points: | 61 |
| Goals For: | 153 |
| Goals Against: | 147 |
The Nashville Predators and Colorado Avalanche have only met 55 times in their franchise history and in that time the Predators have won 27 of the games.  Once again, it will come to no surprise to Predators fans that even with more wins in the series, the goal differential is only plus-6 for the series.
Unfortunately for both of these teams, they haven't trended in a positive direction over the past few years, even though the Avalanche have made a habit of collecting early first-round draft picks.  In the last 10 games of the series, the Predators have a record of 7-1-2 against the Avalanche, including a 4-0-1 in their last five games in Nashville.
Why You'll Hate Them
Typically, it might be difficult for Predators fans to find a reason to draw inspiration to actually dislike the Avalanche.  There's not a long history between the franchise, no intense playoff battles, and neither team is looking like a playoff contender to start next season.
Let's start by rewinding to last season:
Yes, that would be Matt Duchene, being more offside than just about any player in NHL history and the Predators, media, and their fans weren't too happy about it.  If you don't believe me, click here or here or here.  The Avalanche would go on to win that game, although that goal was not the game-winning goal, its difficult to say that it didn't have an impact in a one-goal game.
If that didn't get the blood boiling, its understandable, as it was an early season game, in a shortened season, between Nashville and Colorado that would go on to finish fourth and second respectively, which brings us to the easiest reason to start hating the Avalanche next season:  Seth Jones vs Nathan MacKinnon.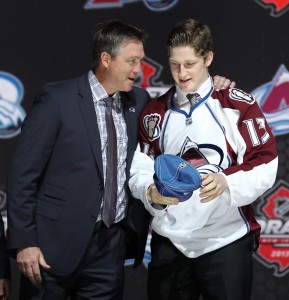 You see it with high draft picks every year and yes, it is no Crosby vs. Ovechkin, but it will be exciting to see Jones take on MacKinnon multiple times a year.  Not to mention, that Seth Jones, the consensus number-one overall pick of most draft analysts, was snubbed by the Colorado Avalanche, in favor of dazzling forward Nathan MacKinnon.
Add into the equation that Seth Jones, spent part of his childhood in Denver, while his father, former NBA player Popeye Jones, was playing for the Nuggets.  If that wasn't enough, while both members of their respective professional teams in Denver, Popeye Jones ran into Avalanche forward Joe Sakic, and Sakic recommended that Popeye Jones's sons take skating lesson and the rest is history.  Except, at the NHL Entry Draft this year, the same person who, in a roundabout way, started Seth Jones on his path to the NHL, was now the Executive Vice President of Hockey Operations for the Colorado Avalanche and decided that Seth Jones was not Avalanche material.
The question you're probably asking at that point is, "Is it worth it to hate MacKinnon and the Avalanche for snubbing Jones, especially since we ended up with Jones?"  While yes, the Predators did hit the proverbial jackpot by snatching up Seth Jones with the 4th overall pick, MacKinnon and Jones have a history that dates back to their junior days, where Jones didn't always get the better of MacKinnon.
When the 2013-14 NHL season finally arrives, the Predators and the Avalanche, non-traditional rivals at best, will at least have some interesting storylines to start the season.  By the first time MacKinnon attempts to fly past the Seth Jones and the Predators' defense next year, it won't be much of a surprise to see the rivalry growing between these two teams.
Join us next time for the fourth installment: Better Know Your New Predators Rival: Minnesota Wild.
The NHL regular season schedule was released on Friday. Check out our partners at TiqIQ for the best deals on Nashville Predators tickets for all 2013-14 games.
Outside of working in politics, Nick also loves watching hockey at all levels. In addition to writing about the Nashville Predators for The Hockey Writers, Nick also writes for Faceoff Factor about his favorite team, the Pittsburgh Penguins.