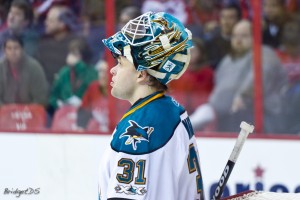 Everybody knows about the clutch play of Edmonton Oilers goaltender Grant Fuhr. Although his statistics were never eyepopping, even for is era, he had a knack for making the big save at a critical junction in the game. His bend, don't break mentality was the backbone of an Oilers dynasty that won five Stanley Cups in seven seasons, with Fuhr as the starting goaltender for four of those runs.
Antti Niemi of the San Jose Sharks has been a very similar goalie in the past two playoff years and whether or not the Sharks win Game 7 of their series against Detroit, he has shown he can make a stop when it is really needed. While he did play poorly in Game 5 against Detroit allowing three goals on six third-period shots, he can't be faulted for losses in Games 4 and 6. The Sharks were in a 3-0 hole early in Game 4, but Niemi, who faced 40 shots to Jimmy Howard's 28, closed the door and allowed the Sharks to tie the game. And in Game 6 he gave San Jose every chance he could to win. It's not his fault  Patrick Marleau and Dany Heatley have combined for one goal during the series.
Grant Fuhr never had good stats, even in his day. But with the wide open, run-and-gun style the Oilers played in the '80s, that was to be expected. In the nine seasons from his rookie year in 1981-82 to the year of his last championship in 1989-90, Fuhr finished 20th or higher in goals-against average seven times. Six times he was at least a full goal per game behind the league leader. But in 410 games over that span he compiled a record of 220-113-51. Sure he played behind a powerhouse led by the two highest scoring players in NHL history, but without solid goaltending at the right times, a team isn't going to be winning very much, especially in the playoffs. Just ask the Philadelphia Flyers. In fact, Fuhr cut his playoffs GAA by half a goal per game over the regular season five times in a row, not counting the 1982-83 playoff in which he only played 11 minutes, proving he played better when the games really mattered.
Niemi is in the same category. He is an unspectacular goalie who, when playing behind the right team, can lead them on a long playoff run. He came out of nowhere to lead Chicago to the Stanley Cup last season and while his .910 save percentage and 2.63 goals-against average were nothing to brag about, he always made the big stops when it really mattered. He also has tremendous bounce-back abilities as evidenced by his 11-4 career playoff record in games after his save percentage is below .900. Twice he was pulled in the first round series against Los Angeles and both times he responded with a win.
He did the same thing last year. In the first game of the Stanley Cup final, the game was tied at 5-5 entering the third period. Flyers coach Peter Laviolette decided to change goalies while Joel Quenneville decided to stick with Niemi. He then closed the door on the Flyers in the third period allowing the Blackhawks to come out with a 6-5 victory. He was phenomenal in Game 2, stopping 32 shots as the Hawks won another one-goal game, this time by a 2-1 score. In the sixth game, he allowed the tying goal with fewer than four minutes remaining as the Flyers sent the game to overtime. They stormed out of the gate and had a few quality chances in the opening minutes of the extra frame, but Niemi shut the door when it mattered most allowing Patrick Kane to score the winning goal just minutes later.
Niemi was shaky in Games 4 and 5, but was able to rebound in Game 6. Tonight will be a huge test as he plays in his first career Game 7 against a powerful and experienced Red Wings team. Every game in the series has been close and this one should be no different. The Sharks are not guaranteed to win, especially if their best skaters continue to be held off the scoresheet, but anything less than a strong performance in net will be surprising. Fuhr always held the fort when absolutely necessary and Niemi will too.