Another loss for Arizona, as the Coyotes came up lame against the Winnipeg Jets in a game that belies the 4-1 score and perhaps sums up the Coyotes' decade season-to-date.
These teams will be intertwined for eternity, even though they are now once-removed in terms of their relationship.  So, how is it that the Jets seem so far ahead in terms of developing their franchise? Their composition is similar and their growth in recent years is parallel.
Young Forwards Provide Speed, Skill
The Arizona Coyotes boast Calder Trophy candidate Clayton Keller up front to offset the Jets' wunderkind, Patrick Laine. It's hard to tell which will be better over the long haul, but I see similarities in the two in terms of their value to their franchise.
Before the arrival of Laine last season, the Jets were regarded as a highly skilled group of forwards with no cohesion. They had Nikolai Ehlers, Brian Little, Blake Wheeler, Mark Scheifele, Andrew Ladd and even Evander Kane at one point, but it wasn't until the Jets brought in Laine that things really seemed to pull together. Sure, the defence and goaltending evolved over the years as well, but this was a team identified by its firepower and youth.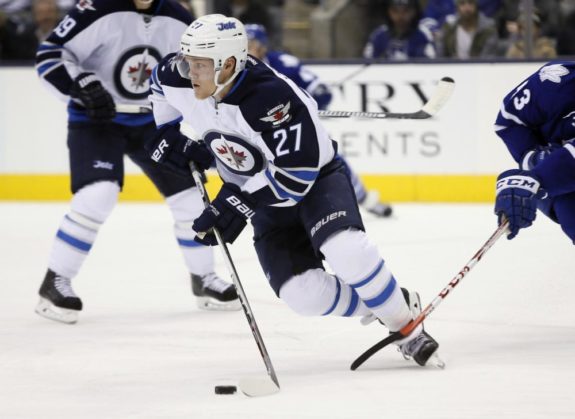 The Coyotes have Keller and have surrounded him with Max Domi, Anthony Duclair, Christian Dvorak, Christian Fischer and soon, Dylan Strome and potentially Lawson Crouse. These names may not fly off the page quite the same way as Winnipeg's stable of talent, but there is no denying the speed and skill levels of these young men. Can Keller jell this collection of high draft picks?
Stepan and Ekman-Larsson Stuck in the Middle
Team unity issue is a pressing issue that no one on the Coyotes seems prepared to deal with. The bulk of their experience is found on the blue line, as beyond Oliver Ekman-Larsson (26) they have Nicklas Hjalmarsson (30), Jason Demers (29), Luke Schenn (28) and elder statesman Alex Goligoski (32).
When the Jets were at roughly this stage of their franchise build (I'm calling it 2011-12), they were anchored on the back end by Dustin Byfuglien with a supporting cast of Tobias Enstrom, Zach Bogosian, Ron Hainsey, Paul Postma and Johnny Oduya rounding out the top-six.  Surely not an overwhelming lineup on paper, but certainly decent (and better on paper than Arizona). This was clearly not where the Jets chose to focus their team philosophy.
Derek Stepan and Oliver Ekman-Larsson look too old to be relevant by the time the Coyotes are ready to challenge for the Stanley Cup but are too young to be the stabilizing veteran leaders in the interim.
Raanta Likely a Stop-Gap
In goal, Winnipeg took a long time finding their number one goaltender.  From Kari Lehtonen's days in Atlanta (with Pasi Nurminen as his backup) to the enigmatic Czech flop Ondrej Pavelec to where they are today:  just barely confident enough in the heir apparent Connor Hellebuyck to acquire Steve Mason as insurance in the offseason. Yes, they still have some lingering doubts between the pipes, but in Winnipeg's case, there's concern about putting too much of a workload on Hellebuyck, as his future as the team's starter has all but been cemented.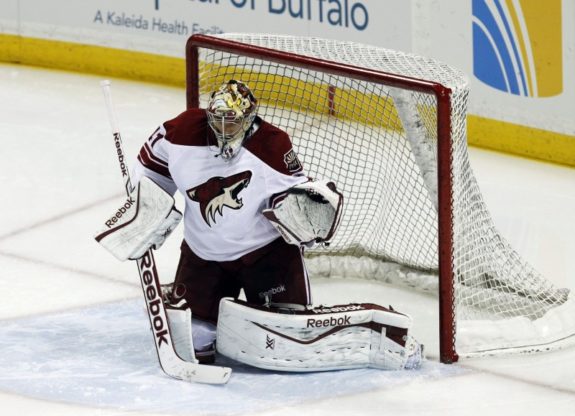 Arizona, conversely, had stability in goal with Mike Smith for the past six seasons before trading him to the Calgary Flames in exchange for goaltender Chad Johnson (immediately left for Buffalo via UFA), prospect Brandon Hickey and a third-round pick in 2017 (traded to Edmonton). But keeping games respectable in those six years doesn't advance a team towards the ultimate goal of winning a Stanley Cup. Losing 1-0 is not really any different than losing 8-6. Would this season look any different had Smith stayed in Arizona?  Or Chad Johnson?
If last night's game is any indication, the answer is "no". Luck affects more than just one player.
WTP Moments and Creating Puck Luck
Winning or losing is often determined by the slimmest of margins, and talent alone rarely triumphs in the end. It also takes determination, persistence and sacrifice.
By rights, the Coyotes should have won two points last night. Antti Raanta was not particularly sharp but held the score at 1-1 through two periods. He finished the night with 17 saves on 21 shots. His counterpart, Steve Mason, made 29 saves in all, including some doozies that should have ended up in the net.
This was one of many WTP ("What The Puck") moments in a game where the 'Yotes just couldn't bury the puck in a wide-open net, partly because, by flailing around, Mason created his own "puck luck". Sure, in this case, the puck eventually went in, but as in so many Desert Dawg games this season, most of their chances did not. While the Coyotes were busy bouncing pucks off of Mason or the ironwork, the Jets were making their chances count.
Take it for what it is, Arizona faithful: this team is closer than most people think. There are glaring weaknesses, but as with many young and developing teams, bringing the infinitesimal details together is the final stage before rising to the middle of the pack, which sounds pretty good right about now.
Don't believe me?  Look at the Jets and where they are today. While Arizona missing the playoffs is a foregone conclusion, it would be a disappointment if the Jets did so as well.
Dan Rakusan has been involved with sports writing and radio for nearly 15 years. He has been a contributor to HockeyRants.com, The Fourth Period.com, Prosportsblogging.com, Sportsfiend.ca and more. Here at TheHockeyWriters.com, expect some offbeat commentary and analysis as he covers the Arizona Coyotes.